Fast start
Manchester City and Jesus Navas further exposed Manchester United's susceptibility to pace in a flying derby opening, writes Peter Fraser...
By Peter Fraser - Follow me on Twitter @SkySportsPeteF. Last Updated: 25/03/14 10:45pm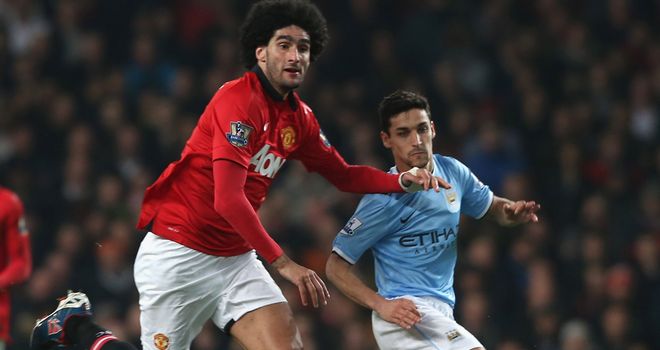 Jesus Navas: The pace of the Spaniard proved too much for Manchester United's struggling players
Never before had Manchester United conceded a goal in the opening minute in the Premier League at Old Trafford. Never before had any team fallen behind in the first 60 seconds of the Manchester derby since England's top flight was rebranded in 1992.
That has now all changed after Manchester City's hugely convincing 3-0 win at Old Trafford on Tuesday night, which further underlined the visitors' growing dominance in Manchester and also gave Manuel Pellegrini's club a major confidence boost in the title race. They are now just three points behind table-topping Chelsea with two games in hand as the end of a brilliant campaign edges towards an unmissable climax.
And credit must go to Pellegrini after the Chilean got his tactics perfect from kick-off, targeting the chronic lack of pace in United's team which has been ruthlessly highlighted this season and particularly so since David Moyes' horribly flailing squad suffered their humbling at the hands of Liverpool earlier in March.
Pellegrini's thinking was clear; hit United fast and hard from the start. This was not in the sense of the physical collisions as would be expected in a derby of past decades but was instead in the manner of agile, speedy, intelligent players.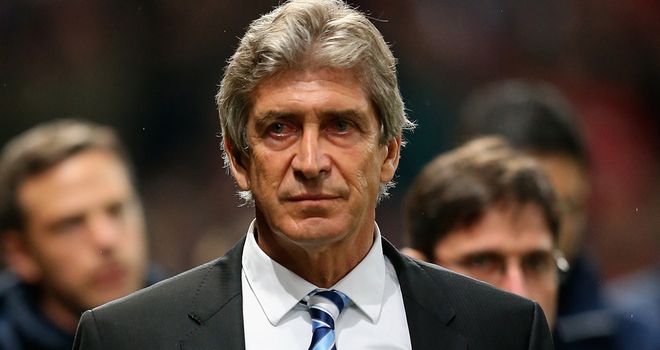 Manuel Pellegrini: Huge credit must go to the Chilean for a tactical masterclass at Old Trafford
For that reason, the City boss handed Jesus Navas a rare start away from home. The £15million signing from Sevilla last summer had caused United all sorts of problems in their hammering at the Etihad last September but that was no guarantee he would also start at Old Trafford.
Navas was making only his sixth appearance in City's first XI on their travels in the Premier League. The Spaniard has more often been used as an away, impact substitute by City, making eight away appearances from the bench in the 2013/14 league - which is more than any of his squad-mates. This is presumably due to the fact Pellegrini thinks Navas' lightening legs can expose tired hosts on the counter-attack and relieve pressure on his team-mates by carrying the ball up field.
Navas has at times been a frustrating figure in his short career to date in England but, before kick-off against United, he was still City's second most creative player behind David Silva having created 34 chances in the league this season along with six goal assists. That gave Pellegrini the faith to start with Navas, in place of the slower James Milner, at Old Trafford and he was not let down in a blistering opening 15 minutes.
City's intent was clear and two frantic interceptions from Rafael and Rio Ferdinand represented the only United players to touch the ball between kick-off and Edin Dzeko opening the scoring after just 42 seconds. Unsurprisingly, the goal came from City attacking down their right-hand side, where Navas - linking with the imperious Silva - played the pass inside to the centre of the field to lead to the goal.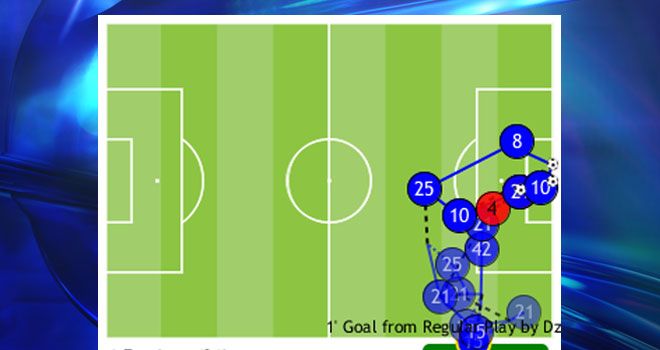 Navas (no.15) played a role in City's opening goal, playing the ball in from the right in the move
Silva was sensational in that opening while Fernandinho would go on to win the man of the match award but Navas' role cannot be underestimated as his pace persistently put United on the back foot. Consequently, 48 per cent of City's attacks went down their right flank in that first 15 minutes as Pellegrini's men relentlessly went for the killer blow. Silva was calling the tune and had clearly been told to get the ball to Navas whenever possible. In that opening quarter-of-an-hour, Silva and Navas had passed the ball between each another on eight occasions, more than any other City combination.
It was also important that Navas kept his positioning. Unlike on the left, where Samir Nasri (no.8) was pushing high and narrow on the field, Navas (no.15) stayed wide and deeper in order to have room to pick up the ball and then run on to it before carrying it at, and past, United left-back Patrice Evra (see graphic below).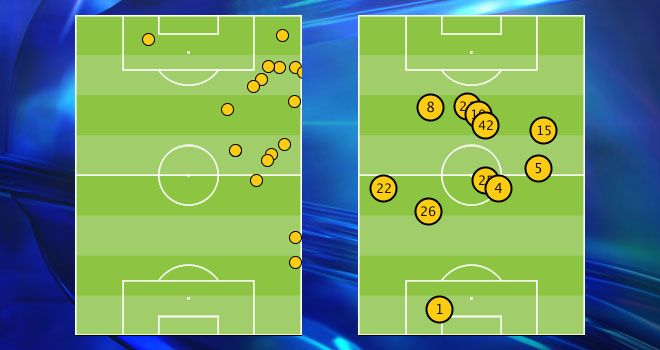 The majority of Navas' (no.15) touches in the first 15 mins came in areas which could hurt United
After 10 minutes, Navas had touched the ball 15 times. After 15 minutes, Navas had touched the ball 18 times. Both of these totals were only less than Silva among the City players and all but three of the touches were in areas which could hurt a United team who looked like they did not know which way to turn.
At the end of that 15 minutes, such was City's dominance, there was an inevitable decrease in their pressure and United came slightly into the game as the half progressed. But the impact of Navas, combining with Silva, meant City had done their job.
They had their goal lead, which Dzeko and Yaya Toure would increase in the second half, they had a platform and they had dented their opponents' confidence like a boxer landing the first, painful punch in the opening seconds of a heavyweight contest. United's players were wary and had their fragile self-belief rattled.
Navas had played a critical role in that and, with 15 minutes on the clock, had made more sprints and covered more ground than any of his team-mates (see table below). It could have appeared a gamble in Pellegrini selecting the unpredictable 28-year-old in game of such magnitude but he was fully justified.
| | | | | |
| --- | --- | --- | --- | --- |
| Jesus Navas | Sprints | Distance Covered (km) | Average Speed (km/h) | Top Speed (km/h) |
| Opening 15 mins v Man Utd at Old Trafford | 11 | 1.63 | 8 | 31.9 |
Navas was taken off in the 68th minute at an almost identical time to September's derby at the Etihad, where he had been replaced in the 71st minute. Again, he had long since completed his task and Pellegrini knew it.
Navas left the field with 22 minutes still to play but, at the final whistle, had still completed more sprints (53) in the game than any of his team-mates who played the full match. City had aimed to use their pace to destroy United in a fast start and it worked pretty much impeccably.
LIVE and exclusive on Sky Sports
Table
Barclays Premier League
Related
Man Utd v Man City 2014
Manchester United's Marouane Fellaini will face no FA action after it was alleged he spat towards Pablo Zabaleta.
Marouane Fellaini has protested his innocence after his forearm smash on Pablo Zabaleta during the Manchester derby.

Manchester City captain Vincent Kompany is staying cool over his side's title chances after their win at Manchester United on Tuesday.