The scapegoat?
Having talked the talk, now was the time for Tom Cleverley to walk the walk. But was it a strut or stumble? Peter Fraser uses Opta data to analyse the Manchester United and England midfielder's response in the goalless draw at Arsenal...
By Peter Fraser - Follow me on Twitter @SkySportsPeteF. Last Updated: 13/02/14 10:22am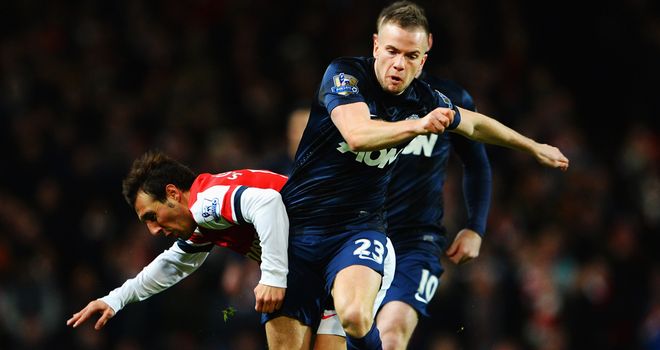 Tom Cleverley: The central midfielder's passing was disappointing against Arsenal at the Emirates
In a much-talked-about interview with the Daily Mirror which was published on Monday, Tom Cleverley had delivered an impassioned response to his critics - those people who ask, 'what is the point of Tom Cleverley?'.
"My job goes under the radar at times," said the 24-year-old, who was in the past hyped as the future of English football. "I am not a player who is going to beat three or four people and stick it in the top corner or go round tackling people like Roy Keane."
Against Arsenal on Wednesday night was therefore the perfect opportunity for the former Leicester City, Watford and Wigan Athletic loanee to demonstrate what he can do.
The 0-0 draw at Emirates Stadium will certainly not live long in the memory and it dropped United to 11 points off the top four in the Premier League, regardless of whether or not the defending champions could be the happier with the stalemate. But, here, we assess Cleverley's performance.
Passing
"I watch Spanish football a lot. If they pass the ball sideways but keep possession, the fans clap them."
That was another quote from Cleverley's interview. It suggests a perception that the simple pass is the right pass; It suggests Spanish football must always be considered the yardstick; It suggests Cleverley considers keeping simple possession as one of his strengths.
There is of course a lot more to a modern midfielder but, before kick-off against Arsenal, Cleverley was indeed United's second best passer this season with a completion rate of 90.1 per cent having only been overtaken by January signing Juan Mata.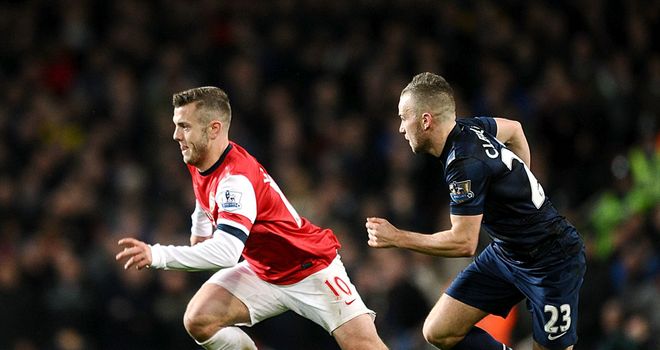 Cleverley went head-to-head with Jack Wilshere, who is a rival for a place in the England team
But at half-time against Arsenal, Cleverley had played 23 passes at a completion rate of just 73.9%. If this was compared to his fellow Englishmen of team-mate Michael Carrick and opponent Jack Wilshere, who both also started among the two deep midfielders of the opposing sides' respective 4-2-3-1 formations, it does not reflect especially positively. Carrick had played 31 passes at an 80.6% success rate and Wilshere had played just one less pass than Cleverley at 22 with a success rate of 81.8%.
Not only that but, when United were again in need of a bit of creativity, that sideways or simple pass of which Cleverley is apparently so fond was his go-to setting. His most frequent pass in the first half was to right-back Rafael on five occasions and then to centre-back Chris Smalling (four) and Antonio Valencia (four). Whenever Cleverley attempted a more expansive, longer pass in the first half, it was unsuccessful.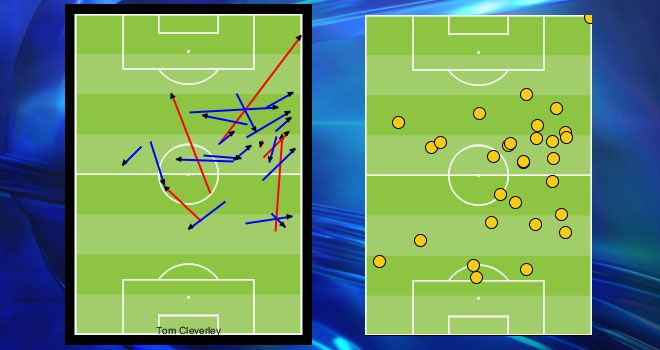 Cleverley's long passes (red) failed in the first half while he saw most of the ball near the right of the centre circle (right)
Whether the cautious passing was by order of United manager David Moyes, who - including his time with Everton - has now not won away at the big four of Arsenal, Chelsea, Liverpool or United in 49 attempts, is open to debate.
However, Cleverley's passing success (79.1%) was again less than Carrick (80.7%) and Wilshere (81.4%) at the final whistle. Even Arsenal's Mikel Arteta, the fourth player on the field who was operating in the deep midfield positions, had played just one less pass than Cleverley's 43 at full-time but had a success rate of 88.1%.
Distance
In the first half, Cleverley had covered 5.64 kilometres. This was less than Carrick (5.83km) and Arteta (5.75km) and was only 0.02km more than Wilshere (5.62km). Even taking into account age and the differences between the different mentalities or tactics of a home team and a deep-sitting away team, Cleverley's first-half distances were not overly impressive.
At full-time, though, Cleverley (11.30km) had significantly improved by covering more distance than almost every Arsenal player involved in the game - with only Arteta (11.71km) covering more distance. It was also only United's Carrick (12.08km), who covered more distance than any other player in the match, and Wayne Rooney (11.95km) who had covered more distance overall. That points to Cleverley having excellent endurance levels, combined with the fact he spent less time walking than both the older Arteta and Carrick.
| | | | | | |
| --- | --- | --- | --- | --- | --- |
| Distances Versus Arsenal (Metres / Kilometres) | Sprinting | High Speed Running | Running | Jogging | Walking |
| Tom Cleverley | 181.87m | 169.27m | 610.44m | 529.63m | 2.43km |
Attack and Defence
It was far from an exhilarating classic, with both teams looking short on attacking confidence in the wake of chastening results against Liverpool and Fulham, respectively, resulting in just seven shots on target shared between the two rivals in the 90 minutes plus injury time. United managed only two of those efforts on target and both of those came from former Arsenal striker Robin van Persie.
But Cleverley, when he did get forward, did create two chances for his team-mates. That was more than any other United player in the match. However, it is significantly less than the likes of Arsenal's Santi Cazorla (four) and Mesut Ozil (seven) - the latter of which has come under intense scrutiny for his slump in form. Too much of Cleverley's play was in and around the right-side of the centre circle and did not hurt United's opponents.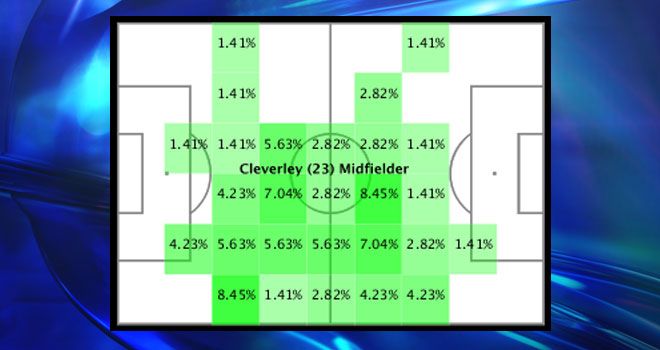 Cleverley's position saw him around the right of the centre cirlce but he did cover 11.30km in the match
Defensively, Cleverley did some of the unfashionable work for United. His total of three tackles was only less than Patrice Evra (four) and Smalling (four) among United's players. Meanwhile, it was only Carrick (five) who made more interceptions than Cleverley (four) for United. In United's outfield players, only Valencia matched Cleverley's total of gaining possession on 10 occasions.
Conclusion
"All I can do - and I keep saying it - is we will try and win the next game and pick it up"
David Moyes Quotes of the week
It is the stick with which Cleverley will always be beaten - he does not have a clearly defined strength. His passing, despite this season being a success, is simple and lacking in imagination. He does not play the killer pass and his overall success in this game against Arsenal was less than other players on the field who were operating in the same role.
He undoubtedly has excellent fitness levels and is able to break up play and get forward at times as a result. Perhaps, as Cleverley said himself, this does go "under the radar".
But it is otherwise all so steady and as a consequence unspectacular and predictable. That Cleverley himself in that recent interview with the Daily Mirror focused on what he does not do rather than what he does do possibly best sums it up. He needs a bit of spark. He remains a reflection of what United themselves are at present lacking.