What next?
David Moyes needs a plan to get Manchester United winning until the end of the season. It is a task which looks a lot easier said than done. Matt Stanger examines the defending champions' most recent upset in the defeat at Stoke City...
By Matt Stanger - Tweet me. Last Updated: 02/02/14 1:14pm
David Moyes: Has the Manchester United boss put too much emphasis on wide areas?
Although Juan Mata, Robin van Persie and Wayne Rooney started together for the first time on Saturday, there was no expected improvement in Manchester United's performance as they slumped to an eighth Premier League defeat of the season. David Moyes blamed the result on bad luck and the defending champions' failure to take their chances but he also said: "Overall, I think we played well." He is beginning to sound like a broken record.
This was Stoke City's first victory over United since 1984 and the match once again emphasised Moyes' farcical doublethink. "It was a good performance, we just did not take our chances," he reasoned in his post-match interview. But if the performances are not lacking, then how have United succumbed to five defeats in eight matches in 2014? That is not merely ill fortune; instead, it points to the absence of a convincing plan to lift the champions out of their malaise.
"I do not know what we have to do to win," Moyes also confessed in his post-match interview, although the admission was hardly necessary. He talked up United hitting the byline "eight or nine times" before cutting the ball back into the middle but it is precisely this tunnel vision towards the wings that has left a familiar groove to the champions' displays. In the first half, only two of 16 crosses found a teammate. By full-time, United had completed five of 33 deliveries.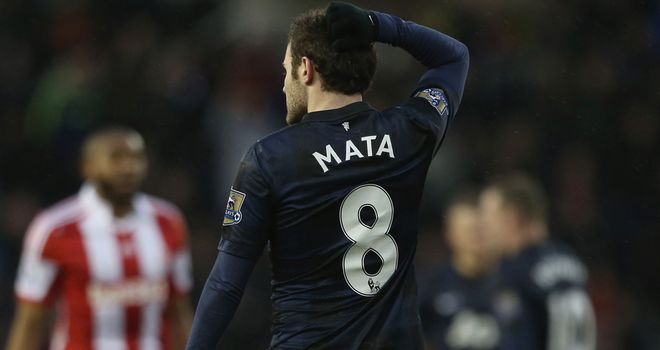 Juan Mata: The big-money January signing could not help United in their defeat at Stoke
Of course, the players are also to blame for executing the manager's plans in such poor fashion, while United were hindered by injuries to Jonny Evans and Phil Jones. But Moyes must work quickly to dismiss the idea that allowing him to sign Mata is like giving a smart phone to your grandparents. That almost half of United's attacks came down the left wing, where Patrice Evra partnered Ashley Young, illustrates the manager's failure to get the most out of his new playmaker. Mata must wonder whether constantly looking for the wide option is the best use of his talents.
That was not the only problem with United's display, however, and Moyes' opinion that he still requires a new left-back and central midfielder will have been fortified by Evra's poor form and Rooney's cameo in midfield. "If you asked me what I needed most, I would have said a central midfielder and a left-back. But sometimes you do not always get the pieces of the jigsaw at the time," he said after signing Mata. It was perhaps odd that Darren Fletcher - a useful piece he does currently possess - remained on the bench when Jones was stretchered off.
Is the fact that Chelsea also lost at the Britannia earlier in the campaign any comfort to United? That point could be argued but the debate is futile when the gap between the two teams stands at 10 points. As Jose Mourinho said following the Blues' 3-1 victory over the champions at Stamford Bridge, such a chasm is insurmountable, and United's sole focus now must be to break into the top four. To do that, Moyes must not only work out a way to win, but devise a plan to keep winning until the end of the season. It is a task that is easier said than done.
A version of this article first appeared on Football365.
Table
Barclays Premier League
Related
Stoke v Man Utd

Manchester United legend Ryan Giggs has backed Juan Mata to become an all-time great for the Premier League club.
Peter Odemwingie insists the win against Manchester United was the perfect way to mark his first home game for Stoke.

Stoke's keeper Asmir Begovic was pleased to be a part of a rare victory as Stoke beat Manchester United 2-1 at home.