Toon fury
Infuriated fans and a dreadful derby defeat mean the storm clouds over St James' Park show no signs of clearing. The sale of Yohan Cabaye is at the heart of the turmoil at Newcastle and Hatem Ben Arfa demonstrated against Sunderland that he is no quick fix
By Peter Fraser - Follow me on Twitter @SkySportsPeteF. Last Updated: 02/02/14 3:53pm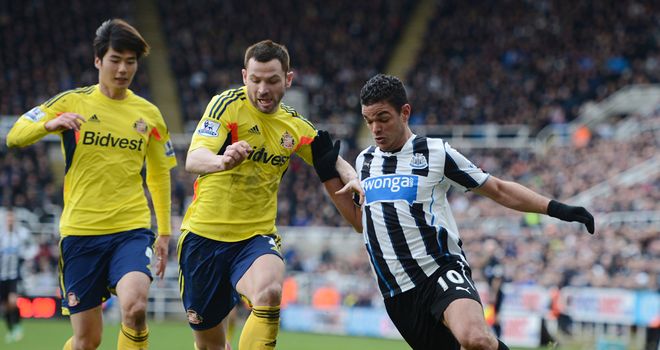 Hatem Ben Arfa: Played just 47 passes of which 36 were in the opposition half versus Sunderland
Alan Pardew has never been shy of talking up Hatem Ben Arfa. Whether it is because the Newcastle United manager believes the Frenchman is truly a world-class talent or whether it is because he wants to motivate the No.10 is purely open to speculation. But what is certain is that it only occasionally seems to translate on to the pitch.
Before Saturday lunchtime's 3-0 derby humiliation against Sunderland at St James' Park, Pardew had been encouraging Ben Arfa to become the replacement for Yohan Cabaye following the January sale to Paris Saint Germain of a player who was widely regarded as Newcastle's best talent.
Pardew explained of Ben Arfa: "I said to him, 'you have been waiting and you have been patient', because he has conducted himself well in and around the building and his temperament has been great. Now his time has come and, in football, you have to take the moment when it arrives."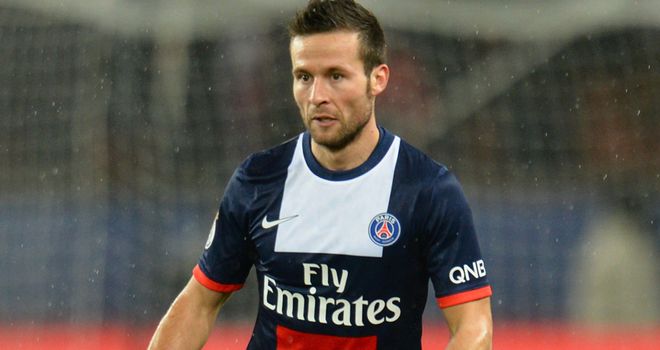 Yohan Cabaye: Left Newcastle behind and made his PSG debut against Bordeaux on Friday
This was no doubt an honestly held belief but was also probably an attempt to appease thousands of irate fans who have been left outraged at the sale of Cabaye, another departure of one Newcastle's key men in recent years, and the subsequent failure of director of football Joe Kinnear to sign a replacement.
Either Lyon's Clement Grenier or Montpellier's Remy Cabella were expected to come in with the £19million banked from the sale of Cabaye but it did not materialise. Kinnear instead has still only signed two loans, Loic Remy and Luuk de Jong, who made his debut in the second half against Sunderland, since taking up his role on Tyneside in the summer of 2013. It is a state of affairs which led Kinnear to explain the sale of Cabaye in the match programme before kick-off but it did little to calm the furious Newcastle supporters - some of whom invaded the pitch in the second half on Saturday afternoon.
And so, with Grenier and Cabella not moving, it fell to Ben Arfa to fill the Cabaye void in the Tyne-Wear derby. However, Newcastle, who had looked good against Norwich City in midweek without Cabaye, were dreadful in falling to their third successive loss to Sunderland for the first time since 1923 and Ben Arfa is clearly not a suitable replacement.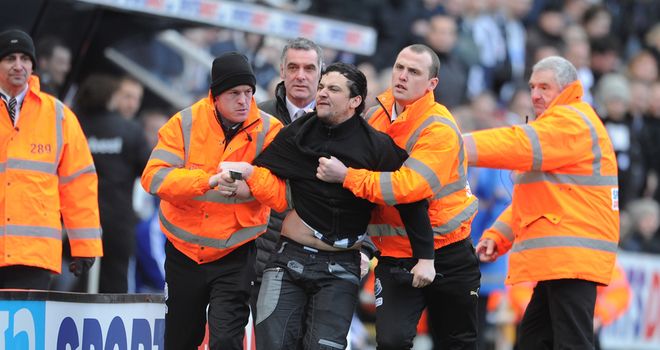 Eye of the storm: Newcastle fans are livid at the club's management for their transfer business
The French 28-year-old should be at the peak of his career but has only showed flashes of brilliance since his initial loan move from Marseille in 2010 was made permanent in 2011. Unfortunate and serious injuries have played their part in his inconsistency in his time in England but his performance against Sunderland was simply another of those days to forget.
Ben Arfa is of course a different type of player to Cabaye, who made his PSG debut on Friday as a second-half substitute in the win over Bordeaux. The former has more pace and prefers to dribble at his opponents while the latter's strength is in his passing and break-up play. Cabaye is clinical while Ben Arfa is explosive. This is not Ben Arfa's fault and only serves to explain why Newcastle fans are so upset at the apparent lack of planning in the transfer window.
This was emphasised against Sunderland. Newcastle did not seem to know what they wanted to do with Ben Arfa, who was frequently shifted across the pitch throughout the game from left to right. It resulted in an average position in a central area similar to that in which Cabaye operated in his final game for the club against West Ham United but both Ben Arfa and his team-mates looked confused and lost.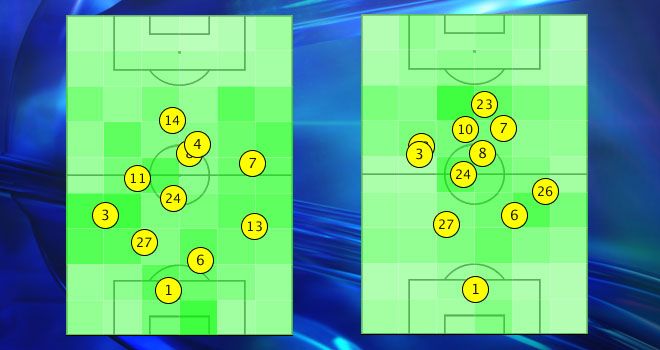 Cabaye (No.4) v West Ham (left) was in a similar position to Ben Arfa (No.10) v Sunderland (right)
In the first half-an-hour, Ben Arfa linked up well with Cheick Tiote but had touched the ball only 16 times. His passing was accurate, playing 15 overall at a success rate of 86.7%, but it was not in areas which would hurt Sunderland owing to the fact he does not have the passing range of Cabaye. When half-time arrived, Ben Arfa had touched the ball only 20 times and only three of his Newcastle team-mates had seen less of the ball.
The absence of the suspended Remy should not be underestimated as hindering Newcastle in not providing them with a point man for Ben Arfa to operate behind versus Sunderland. But if Ben Arfa is to influence games to the extent of Cabaye, he would need a clearly defined role in the team which he appeared to lack this weekend. He did not know whether to stick or twist and, although he created more chances than any of his team-mates, he did not have a single shot in the game.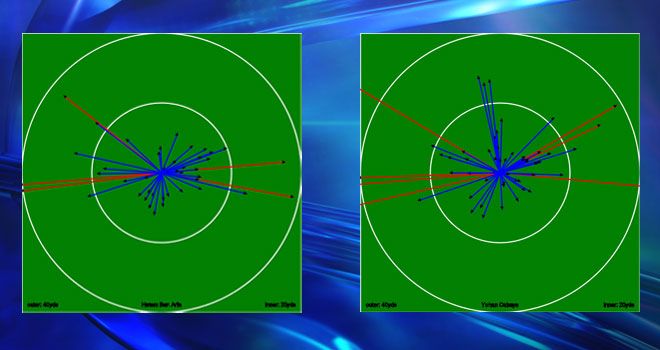 Ben Arfa's passing v Sunderland (left) was not of the same forward range as Cabaye (right) v West Ham
It is perhaps harsh to judge Ben Arfa in a derby but this was not the blood-and-thunder type Tyne-Wear encounters of past seasons and was crying out for someone to take charge in midfield. The problem was, and is, that Ben Arfa is not a man to dictate central areas with his passing. He is at his best when running at the opposition and finishing moves.
Against West Ham, in an away game in which he also scored two goals, Cabaye played 47 passes of which 36 were in the opposition half. Versus Sunderland, at home, Ben Arfa played 36 passes in total of which only 28 were in the opposition half. It might not sound like the biggest difference but these are the fine margins which win Premier League matches.
Ben Arfa simply does not read the game as well as Cabaye or, indeed, Grenier and Cabella. This is underlined by the number of key passes they have played in league games this season, with Ben Arfa having an average per game less than those three counterparts.
| | | | | |
| --- | --- | --- | --- | --- |
| League Record 2013/14 | Games | Assists | Key Passes Per Game | Pass Success % |
| Hatem Ben Arfa | 20 | 2 | 1.1 | 83.9 |
This is more than an anxious issue for Newcastle fans and also Pardew. It will be increasingly worrying that Ben Arfa appeared to lose heart as it became clear the game was up when at 2-0 deep in to the second half. That Ben Arfa was then the man to lose possession to Jack Colback before the Sunderland player scored his side's third goal summed up the match.
If ever there was evidence that the sale of Cabaye and subsequent failure to sign a replacement is a big problem for Newcastle, it came on Saturday. To make matters all the more embarrassing and painful, it came against Sunderland.
"The better team won for sure. Of course I am disappointed at the result and performance. We were not our usual selves today. Perhaps we were too hyped up but everyone was giving the ball away and that is a little unlike us and we struggled, to be honest."
"The players deserve the credit. They go on the pitch and know how hard it is to play in a derby - the fans, the atmosphere, the pressure and you need to be strong but at the same time relaxed to play the football we want to play."