Bright future
Alex Oxlade-Chamberlain possesses the natural athleticism to exploit a deep midfield role but he must be encouraged to do so given he lacks the passing and tackling skills. Peter Fraser uses Opta data to analyse Arsenal's victory over Crystal Palace...
By Peter Fraser - Follow me on Twitter @SkySportsPeteF. Last Updated: 02/02/14 9:16pm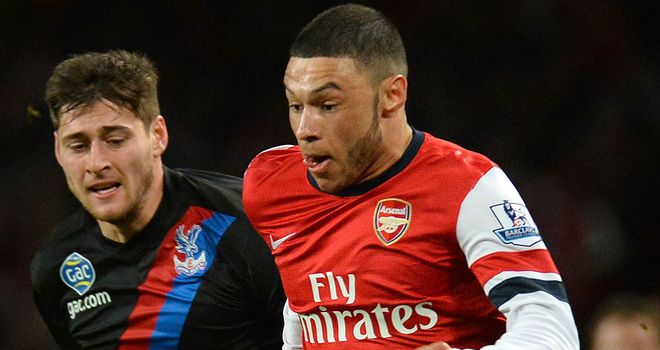 Alex Oxlade-Chamberlain: 'In the first half, it was my duty to make more runs off the ball and I feel I did not do enough'
Starting his first Premier League game for Arsenal since the opening day of the season, Alex-Oxlade-Chamberlain gave a perfect example of why he is considered one of England's most talented young players with the match-winning contribution in the 2-0 victory over Crystal Palace.
Oxlade-Chamberlain reaction
The England international began the contest as one of the two deeper midfielders in his club's 4-2-3-1 formation, with Arsenal manager Arsene Wenger telling Sky Sports before kick-off: "He plays central midfield, where I think his future lies. He can play on the flank and central. I like him central. It is a good test for him today."
It was indeed a test and, despite Oxlade-Chamberlain still easing his way back to full match fitness and sharpness with his first competitive 90 minutes for club or country this season, the conclusions are almost all positive.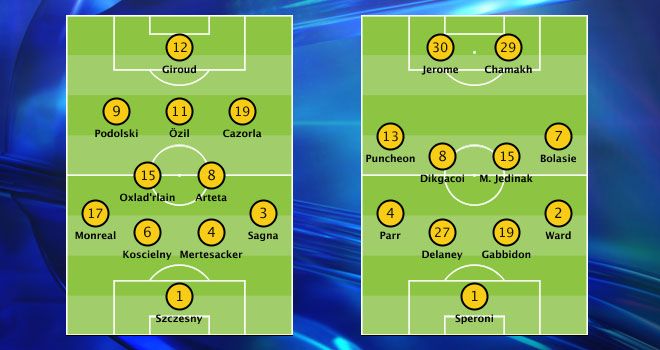 Oxlade-Chamberlain started as one of Arsenal's deep-sitting midfielders alongside Mikel Arteta
As a strong, fast and technically-gifted footballer, Oxlade-Chamberlain has already demonstrated he can mix it in central midfield, as in the past against AC Milan in the UEFA Champions League. But there is still room to debate about his specific position - does that deep-sitting role suit the 20-year-old? Does he have the maturity in that position? Does it waste his attributes?
Oxlade-Chamberlain is a natural box-to-box midfielder. It can therefore be argued that his talents are not best utilised in that deeper role in central midfield while maybe he lacks the technical delicacy to play a more advanced playmaking role of the likes of Mesut Ozil. Perhaps Oxlade-Chamberlain is a victim of the modern 4-2-3-1 formation when in a 4-4-2 he would have more of an opportunity to get forward and back in central areas? Perhaps, too, it is unlikely he will stay in that position when the likes of Mathieu Flamini, Jack Wilshere or Aaron Ramsey are again available for selection?
Sitting alongside Mikel Arteta, it seemed Oxlade-Chamberlain was not quite sure how to play the position in the first half against Palace. He wanted to get forward but seemed aware of the need to keep the handbrake on. He was given more freedom to advance than the older and more experienced Arteta but there was still an air of uncertainty.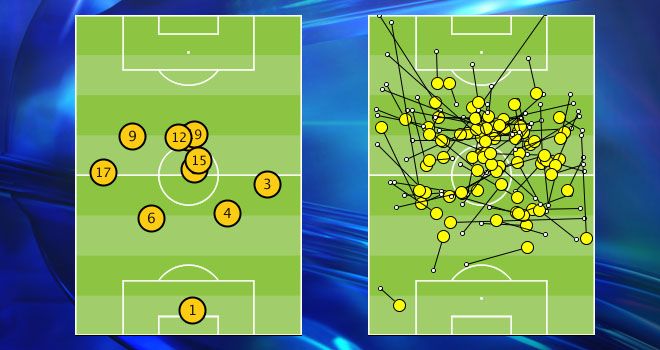 Oxlade-Chamberlain's (15) average position v Palace was in the centre circle but his passing was erratic
The first-half indecision versus Palace from Oxlade-Chamberlain was reflected in his passing statistics. The deep-sitting midfielders are normally among the most responsible passers in any team, pinging short passes to team-mates. But, at the interval, Oxlade-Chamberlain had a pass success rate of 84.8 per cent, which was less than any of his fellow Arsenal midfielders in the starting line-up. He had also played only 34 passes in Palace's half of the field at a success rate of 82.4%. Both of those latter statistics were again less than any other Arsenal midfielder.
Wenger defends Kallstrom signing
Oxlade-Chamberlain had also lost possession 12 times before half-time and had won only 37.5% of his eight duels owing to tackling not being one of his strengths. This must be qualified by the fact he was still feeling his way back into first-team action and so could have been understandably rusty while, at the same time, Tony Pulis' Palace were superbly organised and committed opponents in this London derby.
Passing, though, is not one of Oxlade-Chamberlain's greatest skills. Indeed, it is common among young British players to struggle with their passing before they mature as a player, which is underlined by the fact that the most successful Englishman in terms of passing in the Premier League this season aged 23 or under is Manchester United's Danny Welbeck with a completion rate of 88.2% - which ranks as only 27th in the top-flight's individual passers. And, in the second half, Oxlade-Chamberlain's passing statistics were less than the first half, ending the game with 84 passes at a success rate of 83.3% of which only 58 were in Palace's half at just 77.6%.
But also in the second half, probably after a word or two of orders or even more freedom from Wenger, Oxlade-Chamberlain came in to his element. He scored the two goals, netting at club level for the first time since December 2012, to return Arsenal to the top of the table. This was more attributed to his movement and game awareness than his use of the ball.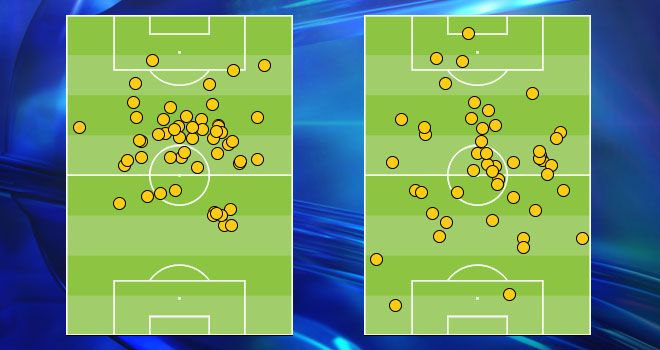 Oxlade-Chamberlain was in tight areas in the first half (left) before improving his movement in the second half (right)
His position in the deeper role in this case meant he was able to time his forward runs and make decisions to move around the field, something he had not been doing in the first half. It could be argued Palace opened up once falling behind but the increased intelligence of Oxlade-Chamberlain's runs was unquestionable. Oxlade-Chamberlain explained as much in his post-match interview, as he told Sky Sports: "In the first half, it was my duty to make more runs off the ball and I feel I did not do enough."
His improved off-the-ball running was more than evident in the opening goal in the 47th minute. Starting from behind play, Oxlade-Chamberlain ran off the back of former Arsenal striker Marouane Chamakh to meet a pass, take a touch and dink a very clever finish over advancing Palace goalkeeper Julian Speroni.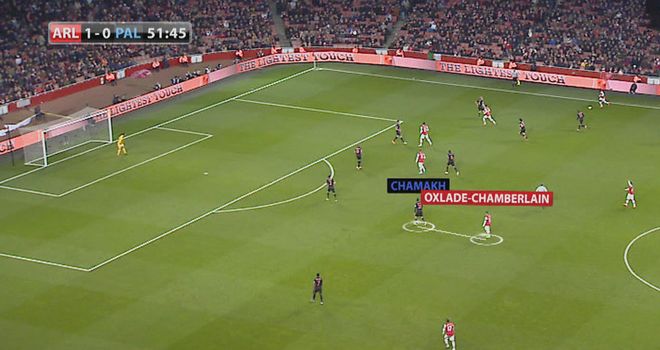 The opening goal demonstrated how Oxlade-Chamberlain ran from deep off the back of Marouane Chamakh
The second goal, in the 73rd minute, was again a demonstration of what Oxlade-Chamberlain can do when running from deep, this time with the ball at his feet, and only served to emphasise that he must be given the opportunity to get forward.
That is the main positive for Arsenal, Wenger and, in the long term, England in Oxlade-Chamberlain's performance against Palace. But it also comes with a conundrum. Oxlade-Chamberlain does not have the tackling ability or passing standards to give consistent control and dictate in that position so will always needs to be partnered by a more experienced team-mate, such as Arteta or Flamini. This luxury role for Oxlade-Chamberlain could be exploited by more talented and skilful opponents than Palace in the Premier League title race, when the UEFA Champions League returns against Bayern Munich later in February, or even at this summer's World Cup.
However, Oxlade-Chamberlain does possess the natural athleticism to really dominate the position by running from deep. The key for Wenger and, similarly Roy Hodgson, will be in giving Oxlade-Chamberlain, who is still learning his trade, the guidance, encouragement and confidence to keep making those runs to avoid the confusion he suffered in the first half against Palace.
LIVE and exclusive on Sky Sports
Table
Barclays Premier League
Related
Arsenal v Crystal Palace

Arsenal will approach their daunting run of February fixtures without fear, according to Wojciech Szczesny.

Crystal Palace manager Tony Pulis was disappointed with his side's defending during Sunday's 2-0 defeat at Arsenal.

Tony Pulis says he was disappointed at the manner in which Crystal Palace conceded the first goal in their 2-0 defeat away to Arsenal.