Rodgers adapts
The Merseyside derby proved to be a one-sided affair as Liverpool triumphed 4-0 over Everton at Anfield on Tuesday evening. Sarah Winterburn argues that this was as a result of Reds boss Brendan Rodgers learning from his mistakes against Aston Villa last time out...
By Sarah Winterburn. Last Updated: 28/01/14 11:46pm
"You have to feel that we are [in the title race] and we have the confidence and belief in ourselves."
"I have great confidence in the team of players and for us the key is Champions League qualification."
What happened between those two quotes from Brendan Rodgers was a sobering draw against Aston Villa directly caused by his arrogance; he picked a 4-4-2 with no natural defensive midfielder against a counter-attacking side who picked off the exposed and flawed Liverpool defence at will. He blindly believed that his title-chasing side had enough attacking talent to destroy lowly Villa - this despite Paul Lambert's habitual apple-cart tippers having won 3-1 at Anfield barely a year before.
Ten days later, with sights adjusted to a more realistic target and Lucas absent though injury, rather than arrogance, Rodgers showed once again that he possesses a precious quality in a coach: He can learn from his mistakes. Instead of simply assuming that his free-scoring frontmen can outscore any opposition, he adjusted his formation, if not his personnel, to attack the Toffees' weaknesses.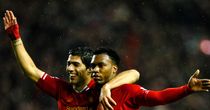 The midfield was bolstered by Philippe Coutinho moving back into his best position in the centre (where he has revelled in home wins against Norwich, West Ham and Hull) after struggling on the peripheries in recent weeks and Everton were pressed into mistakes which could be exploited by the pace, energy and panache of Luis Suarez, Daniel Sturridge and Raheem Sterling (who only lacks the panache). The pitiable Antolin Alcaraz and Phil Jagielka too often found themselves dealing with four swarming Liverpool players and their lack of pace was badly exposed, while Suarez and Sturridge took turns scaring rookie right-back John Stones.
Credit
Barring his headed opener, Steven Gerrard - clearly chastened by his first-half performance against Villa - took a back seat, relishing the battle with Ross Barkley and restricting himself to few forays forward. With Coutinho in front of him - doing a passable impression of Oscar - there was less pressure on the Liverpool captain to get close to the forwards. This formation suited him, Jordan Henderson and Coutinho (back to cute through balls rather than potshots from distance) and for that Rodgers must be given credit.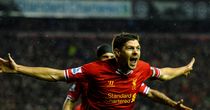 "For me, the system is irrelevant. The style will always be maintained to control and dominate games," said Rodgers after that Villa draw but there was no needless attempt to dominate possession or territory against Everton. This was more like Mauricio Pochettino's ball-hungry Southampton than Rodgers' ball-greedy Swansea - pressure came at the right times in the right areas, and the counter-attacks were swift and ruthless.
Liverpool were of course helped by Everton suffering injuries in key areas - Aly Cissokho was spared a potentially difficult night by the absence of Seamus Coleman and the withdrawal of Romelu Lukaku pushing Kevin Mirallas into the middle - and damaging brainfades at key times, but you could not fail to be impressed by the Reds' movement and finishing.
The worry remains that Suarez, Sturridge and Gerrard are responsible for scoring 42 of their 57 Premier League goals and their only attacking back-up is the underwhelming triptych of Luis Alberto, Iago Aspas and Victor Moses, but against Everton, Rodgers found a way to get the best from their meagre (in numbers, if not talent) resources. There are other issues with Rodgers' squad that are tediously familiar to Liverpool fans but for now the transfer frustration should be set aside as we admire Rodgers' recovery and Liverpool's near-perfect performance.
This article originally appeared on Football365
Table
Barclays Premier League