Spurs on the march
Tim Sherwood's dream start to management shows no sign of slowing after a record equalling fifth successive away victory, but Michael Laudrup should be starting to get worried as Swansea extended their winless run to eight games with a 3-1 defeat at the Liberty Stadium, writes Alex Dunn
By Alex Dunn - @skysportsaldunn. Last Updated: 20/01/14 8:22am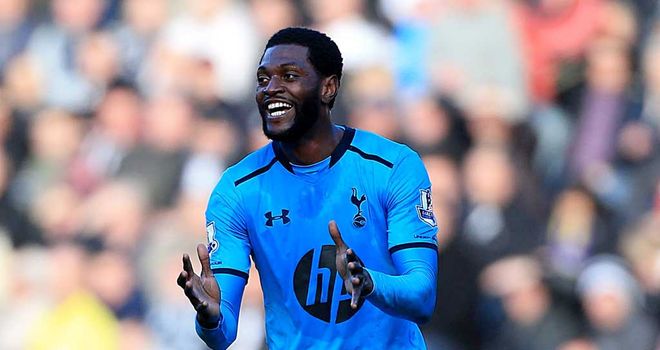 Emmanuel Adebayor: Appears to be a symbol of a changing mentality at Tottenham
The great Bill Nicholson was in charge of Tottenham the last time they recorded five successive wins away from home and while it's unlikely Daniel Levy is planning a bust of Tim Sherwood just yet, it's nonetheless a measure of the job he's done to date that a 3-1 victory over Swansea City matches a record which has stood since 1960.
The rejuvenated Emmanuel Adebayor was again the toast of the travelling Spurs faithful as his well taken brace sandwiched a Chico Flores own goal to render Wilfried Bony's late effort the scantest of consolations as Swansea extended their winless run in the league to eight matches.
With four consecutive games against opposition below them in the table to come - Fulham, West Ham United, Cardiff City and Stoke City - it remains a distinct possibility the debonair Michael Laudrup will ride out the roughest period of his spell in charge unruffled. At the same time he will be acutely aware that with Swansea just three points off the drop zone there is also a danger that his stylish but slight side could enter the annuls of those 'too good to go down' but did all the same.
Selection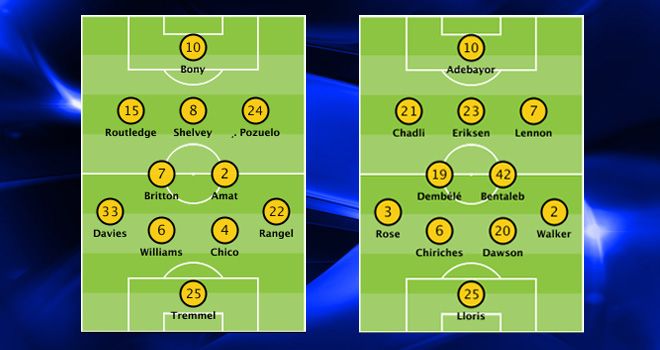 Swansea v Tottenham starting lineups, Liberty Stadium
Sherwood elected to drop Roberto Soldado to the bench in the only change from the victory over Crystal Palace last weekend as Nacer Chadli came in.
Laudrup also elected to make just one change, enforced by injury, as centre-half Chico came in for Jose Canas with Jordi Amat being pushed into midfield.
STORY OF THE GAME
Change of shape
There's a certain irony that a fifth win in six Premier League games was achieved employing a formation favoured by Andre Villas-Boas given Sherwood has been celebrated for restoring the 'Tottenham way', which under his predecessor saw the cockerel cooked to within an inch of its life.
Sherwood's restoration of a strike partnership to Tottenham's starting XI has been seen as positively quaint by those who consider 4-4-2 to be antiquated, if not obsolete, in the modern game but it's a formula that has worked wonders for a Tottenham side that laboured to the point of being portly under Villas-Boas.
It was then with surprise that Soldado was benched to accommodate Chadli as Sherwood elected to use the in-form Christian Eriksen in behind Adebayor as Spurs matched their hosts in going with a 4-2-3-1.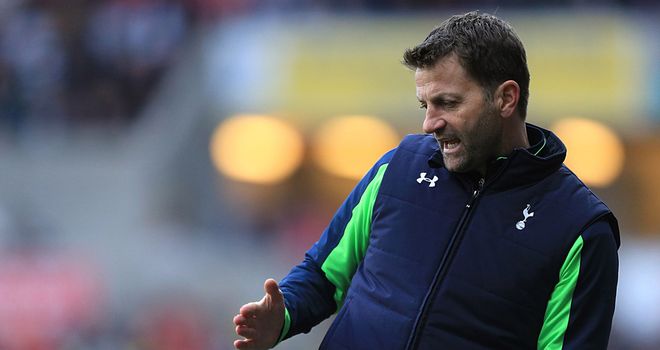 Sherwood has had his tactical credentials questioned but was happy to change the shape of his side
Pre-match Michael Laudrup said: "First of all I was surprised with their line-up. This is the first time they've played with one striker. I see this as a big respect and a huge compliment to us. They know if they want the ball they need three in midfield." Platitudes not points have been plentiful for Swansea this season.
Given Sherwood's rhetoric since he took the reins has echoed Bill Shankly's famous quip that 'football is a simple game made complicated by idiots', it will be with considerable relief that the changing of a winning side achieved the same result.
Same old Swansea
Up until Adebayor's opener ten minutes before half-time Swansea, for all their profligacy in final third, looked the more likely. Bony's drive from the edge of the area threatened to snap the bar while the bright Jonjo Shelvey - who later went off with a hamstring injury - had three shots before Spurs had even registered an effort on goal. When they did, the deadlock was broken.
Referee Martin Atkinson will not enjoy explaining to Laudrup how he failed to spot Michael Dawson pushing over Bony in the penalty area either.
There's much to admire about Swansea and whilst their football was again pretty, it does appear as though they have been worked out.
"When I was a player I was taught not to be worried about the ball being in front of you all the time," Graeme Souness attested in the Sky Sports studio pre-match. His words proved prophetic.
The central problem is that with teams happy to drop deep and let Swansea weave intricate patterns in front of them, there's scant danger of getting in behind. Only once did Bony do so throughout, when he was thwarted by Hugo Lloris' quick dart off his line in the first half.
Shelvey is happy to take on a shot but rarely runs in behind a central striker, while neither Wayne Routledge nor Alejandro Pozuelo have a league goal to their name this season. In short, if you stop Bony - you stop Swansea.
Sherwood's decision to employ an extra man in midfield was vindicated as whilst Swansea still had greater possession at 56.2 per cent to 43.8, Tottenham had enough of the ball to give their own creative triumvirate behind Adebayor opportunity to shine - which they did once the game's opener deflated the home side. By matching up it was always likely to be a case of who worked the ball better in the final third would prove decisive.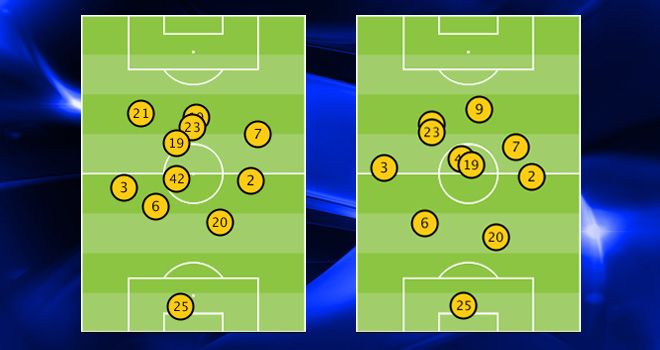 Spurs v Swansea (first half) and Spurs v Palace (90 minutes) average positions show Adebayor was not left isolated despite playing on his own
Swansea currently top the Premier League charts in terms of possession on 59.51 per cent, but of 13072 passes made this season a mammoth 6274 have been played in their own half. Possession for possession's sake has often been levelled at them and given Southampton have made the next most passes in their own half at 4943; it's starting to ring true.
Once Tottenham took the lead, there was only ever to be one winner.
Adebayor at the double
Emmanuel Adebayor has now scored as many Premier League goals as Dennis Bergkamp - 87. Whilst he will likely retire a player who polarizes opinion, what cannot be disputed is that on his day he can be as effective as he has too often been infuriating.
His brace here, which takes his total to six in seven games under Sherwood, equals his record from last season which was achieved in 25 matches. A penny for Villas-Boas' thoughts on the Togolese right now.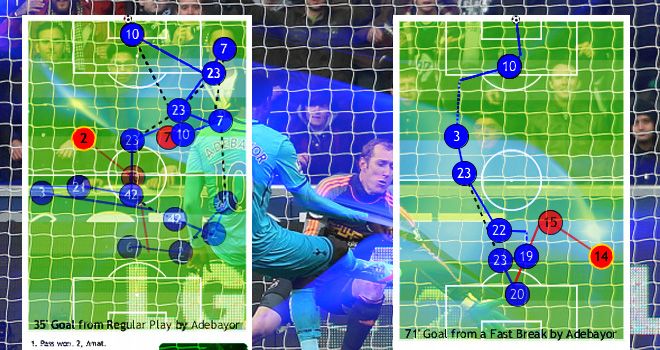 Both of Adebayor's goals rounded off well constructed Tottenham attacks
An out-of-sorts Adebayor would make just about as imperfect a lone front man as humanly possible, but again he was superb as a muscular presence that held the ball up effectively as Eriksen in particular had joy playing in the pockets of space around him.
His first goal owed everything to the quality of delivery by Eriksen, who like Adebayor is starting to flourish under what one suspects is a less restrictive job description under Sherwood. A pinpoint cross from the right, one of six put in by the Dane, after a cute interchange with Aaron Lennon was given the finish it deserved as Adebayor stooped to nod home.
Chico finished the afternoon with an own goal symbol next to his name as he inadvertently finished Kyle Walker's cross, but it is Swansea substitute Roland Lamah who was most culpable with a piece of positional play that needs to be seen to be believed, as he allowed Spurs' buccaneering full-back to get in behind with frightening ease from Dawson's pass.
Given Swansea had 13 attempts on goal to Tottenham's 11 it was very much a case of quality coming to the fore and from Danny Rose's daisy cutter of a pass from the left after a quick Spurs break, Adebayor's cool and cocksure dispatch was the sign of a striker at the peak of his powers. When Adebayor competes in 17 duels over 90 minutes you know he's enjoying his football.
Bony earns his spurs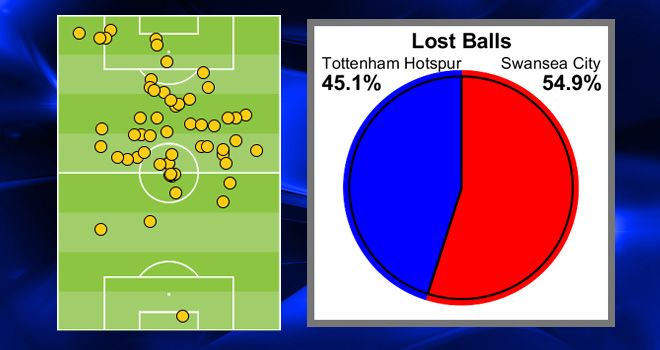 Wilfried Bony was a busy presence all afternoon but Swansea were uncharacteristically sloppy
Perhaps the solitary chink of light for Swansea at present is the form of Bony. Michu's absence means Swansea are unable to stretch sides and whilst Bony can take a touch too many, especially when on the turn, the big Ivorian has at least enough facets to his game to cause problems even when the service to him is substandard.
A stylish cushioned finish for his consolation goal was just desserts for a tireless shift which saw him have six attempts on goal, trouble the scoresheet, strike the bar, draw a decent stop from Lloris and put himself about enough to compete in a game-high 20 duels. What needs to be worked on is his hold-up play as he was guilty of conceding possession on no less than 22 occasions.
At the moment though, that's the least of Swansea's worries.

Michael Laudrup's view
"I thought we were the better side for half-an-hour. Again, we showed great attitude, we put them under pressure and had a couple of good chances. It was a fantastic strike from Bony and then the first time they have a shot on target, they scored. There was a lot of shape for five or 10 minutes but then again, that's something that happens when you're a team that's struggling a bit."
Tim Sherwood's view
"I thought we played well. Even though Swansea were having some chances from distance in the first period and they knocked it around, I thought we ironed it out in the end and got to grips with it. They do play a different way, they are brave on the ball, they do pass when marked and credit to them for that but we always thought that we could catch them. Even when they were having a lot of possession, I always thought we were the most dangerous side and it was just a matter of time before it clicked."
LIVE and exclusive on Sky Sports
Table
Barclays Premier League
Related