103 not out
After watching Manchester City smash the 100-goal barrier for the season with a 4-2 defeat of Cardiff City, Alex Dunn calls for Manuel Pellegrini to be given more credit for the superb job he's done in a transitional season of his own...
By Alex Dunn - @skysportsaldunn. Last Updated: 18/01/14 10:38pm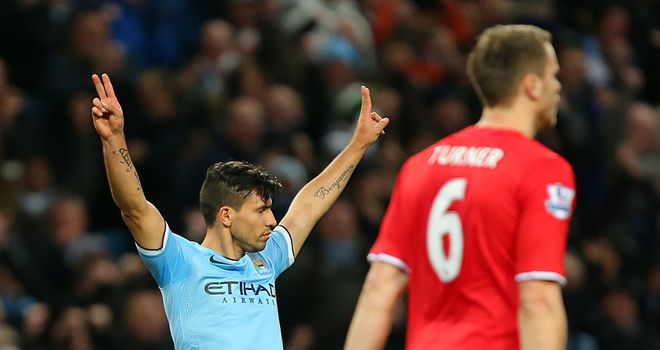 Sergio Aguero's goal capped off another virtuoso display from Manchester City
Amid the clamour to perpetuate the season's most newsworthy narrative of Manchester United in almost tragicomic decline by painting a portrait of David Moyes as being gloomier and more weathered by the day, it's become almost a footnote that across the city Manuel Pellegrini has in a transitional campaign of his own quietly transformed Manchester City from being perfunctory under his predecessor to almost pathological in their pursuit of goals.
A demeanour that is more shrugs and half smiles than histrionics is hardly conducive to being headline news, but after a 4-2 victory over Cardiff City, which brought up a 100th goal for his side before mere mortals have even had time to break January resolutions, it would be remiss not to pay dues to the Chilean's quite remarkable impact. On a weekend when other 'special' managers are likely to provide the most quotable sound bites, it's worth noting City have chalked up a century in all competitions nine games faster than any other side in a single Premier League season. He's breaking records with barely a nod to his achievements.
In the opposite dugout, Ole Gunnar Solskjaer will draw comfort from the fact his Cardiff team were in the contest long enough that Yaya Toure's goal, City's third fifteen minutes from time, was needed before any lingering consternation in the home crowd was abated. Make no mistake though this was a contest that had the look of plucky contender pitted against a seasoned heavyweight from start to finish. On this occasion it was the Ivorian who provided the knockout blow with a strike possessing the violent power and precision of a Sonny Liston jab.
Selection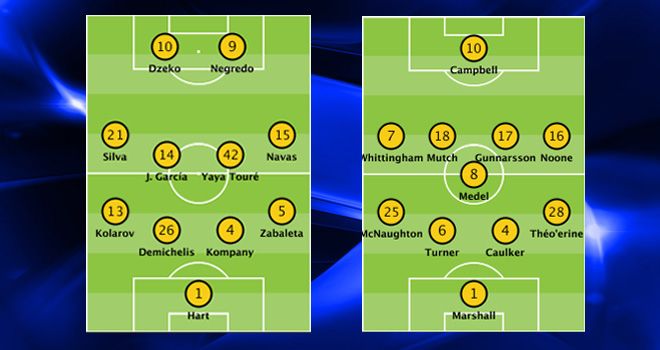 Starting line-ups for Manchester City v Cardiff City at the City of Manchester Stadium
It's a measure of City's strength in depth that after a 5-0 midweek victory, albeit against Championship opposition in Blackburn, Pellegrini was afforded the luxury of making seven changes.
Unfortunately for Cardiff, three of those drafted back into action were Vincent Kompany, Toure and David Silva.
Jordon Mutch handed Solskjaer a fitness fillip as he recovered from a knock to start; with three further changes made to the side that kicked off the Norwegian's tenure with a home defeat to West Ham last weekend. New signing Magnus Wolff Eikrem has named on the substitutes' bench.
STORY OF THE GAME
100 not out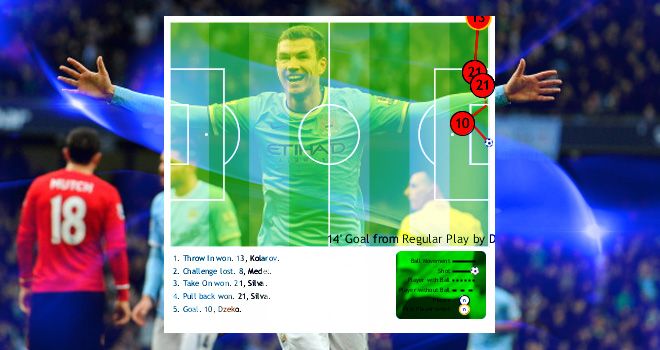 Manchester City's 100th goal of the season was scored by Edin Dzeko
Pre-match Pellegrini said: "I know that if we score this afternoon it will be the 100th goal we have scored this season and that pleases me a lot. It's an important amount of goals and a good milestone."
Medals not milestones will be the criteria Pellegrini is judged against come the end of the season and yet at the same time, it would take a brave punter to back against City securing at least one trophy, against a benchmark of five in five years as set by the club's hierarchy.
Trying to dissect why Cardiff failed to stop Manchester City is like trying to explain to a line of perfectly pleasant young ladies why they failed to pip Marilyn Monroe in a beauty contest. The reasons would fill even the thickest of reporters' notebooks, but the central crux is that this is a City team positively ravenous, make that gluttonous, in its desire to first create and then finish chances. Forget Norma Jean, in this type of form you'd have more fun on a Saturday afternoon at the Etihad. 24 attempts on goal seems to be about the norm these days at City.
Of the 99 that went before Edin Dzeko's landmark goal few will be scruffier. Take nothing away from Silva's turn on the touchline that Gary Medel will still be trying to work out on the long journey home, but that the Bosnian's 14th minute effort, his 16th of the season, required goal-line technology despite being hit from no more than five yards out says a lot.
Fluid interchanges
The graphic below depicts the first half action areas and average positions for both sides. With Cardiff forced back, Kompany (4) is almost a one-man defence. Martin Demichelis has been much maligned but what he does offer is an assuredness in possession (at least when given time) and an ability to become a second holding midfielder when needed. Over the 90 minutes only Toure (82) and Silva (80) made more passes, with tellingly 89.6 per cent of Demichelis' 79 passes coming in Cardiff's half. Cardiff centre-halves Steven Caulker and Ben Turner made 17 pass between them in the home side's half.
It's perhaps no surprise then that when Kompany is absent City suffer so badly given the defensive responsibilities he shoulders.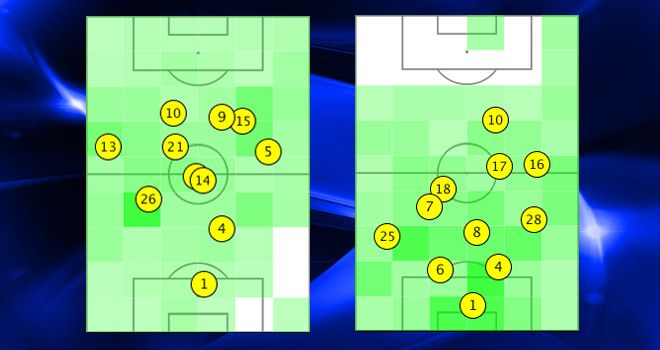 The graphic shows how Man City's incessant attacking forced Cardiff to retreat into their own half
The attacking mentality starts from the back then, with full-backs Aleksandar Kolarov (13) and Pablo Zabaleta's (5) average positions no deeper than playmaker Silva's (21). The assurance that width will be provided on the overlap gives Silva licence to drift infield and in the first half it was the Spaniard and compatriot Jesus Navas that were at the hub of much of City's best work. Silva had more touches (58) and made more passes (49) than any other, whilst Navas - who gives City natural width when he starts amid accusations they can attack too centrally at times - more than earned his goal, that restored the home side's lead going into the break after Craig Noone had briefly restored parity. Over the 90 minutes as the chief sources of balls in from either flank, Navas (nine) and Kolarov (11) put in 20 crosses between them.
David Silva (l) was busy in the first half with a range of passing, while Jesus Navas (r) provided real width
It's premature perhaps to talk of Total Football but with full-backs masquerading as wingers and centre-halves acting as auxiliary midfielders and a front five incessantly interchanging, it's arguably as close to the Dutch masters as we've had in the Premier League. Enjoy it while it last because this type of football doesn't come along often.
Noone saw that one coming
Few have impressed more for Cardiff this season than Noone and again he was excellent. The flip side to Kolvarov's buccaneering tendencies is that he can leave space in behind and on a defensive level he will have few tougher afternoons. Noone's goal after he imperiously dropped a shoulder from Aron Gunnarsson's flick to leave Kompany for dead before calmly slotting past Joe Hart at his near post was indicative of a performance that bristled with brio.
Twice more in the second half, at key junctures in the contest, he scared Hart with goal-worthy efforts from outside the area. In an attacking sense with Fraizer Campbell too isolated it was Noone who provided Cardiff's only realistic route to goal. In the busiest of performances he scored, had two shots saved, put in eight crosses and competed in 22 duels (Kolarov was next on 14) - of which he won 50 per cent, which isn't a bad return for a winger.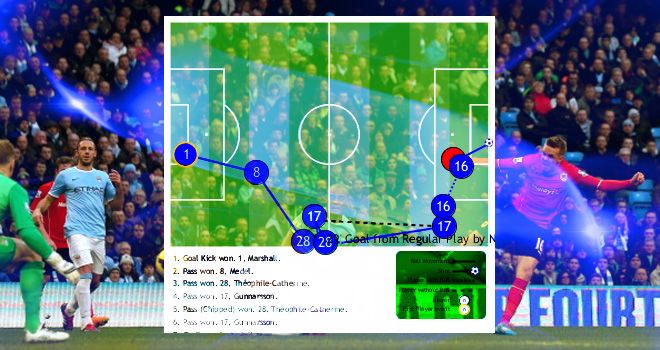 Craig Noone was full value for an excellent goal that briefly pulled Cardiff City level
Toure masterclass
In terms of a check-list for Manchester City match reports, 'juggernaut' is usually ticked off within the opening three paragraphs and no-one evokes the image more than captain Toure. For two of City's four goals his sheer physicality played a major role. As the architect of Navas' effort his cuffed pass with the outside of his right boot that set Dzeko on his way will rightly be applauded but it was the sight of Aron Gunnarsson bouncing off him, like a skittle on impact with a bowling ball, that best surmises his twin talents. A destroyer who can thread an eye of the needle pass is a rare thing indeed.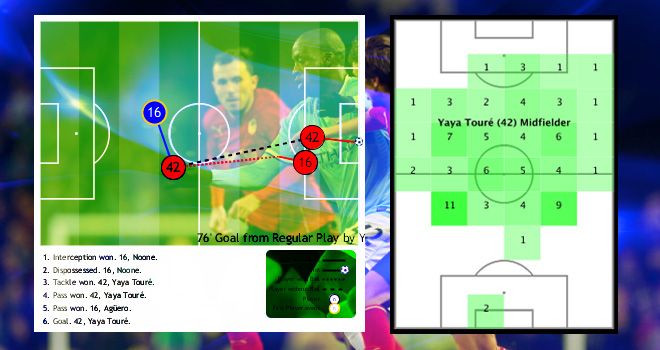 Yaya Toure scored a fine goal and was a busy presence all over the pitch
Toure's goal was probably the pick of the day. Noone, for all his infectious endeavour, was no match for a shoulder-to-shoulder contest with Toure in the centre of the field and after making inroads he used Aguero, who'd cutely made space just inside the box, to bounce a wall pass off before lashing past David Marshall.
Aguero's own effort, after coming off the bench for a second half cameo, was similarly glorious. Given his recent extended lay-off had it been scored by any other player it'd probably be worthy of further investigation.
Instead we'll leave it at this...typical City.

Pellegrini's view
"I don't think the scoreline reflects the match. We did fantastically first half. We had at least four great chances to score but we only went in at 2-1. In the second half, Cardiff had some good shots on goal and scored at the end from the corner. Really, it was a game where we missed so many chances - but the team played very well in the first half. To score 103 goals at this moment of the season reflects what the team wants. We have a clear style of play and we hope to continue that way in the future."
Solskjaer's view
"We were in the game until 15 minutes to go and I was very pleased with the response of the lads after the bad start we had. That's got to change. We can't just come here and let them do what they want, because we could have been three down after 10 minutes. That mindset's got to change, definitely. Then we scored a terrific goal through Nooney, and we had a few other decent efforts I thought. To be still in the game with a quarter of an hour to go, you might have a chance."
Table
Barclays Premier League
Related