United in crisis?
After watching Manchester United fall 14 points behind the leaders with a 3-1 defeat at Chelsea, Daniel Storey draws some tough conclusions. United's defensive sloppiness is crippling progress, whilst Jose Mourinho can rely on the work-rate of Willian and actual goals from strikers.
By Daniel Storey - @danielstorey85. Last Updated: 20/01/14 8:36am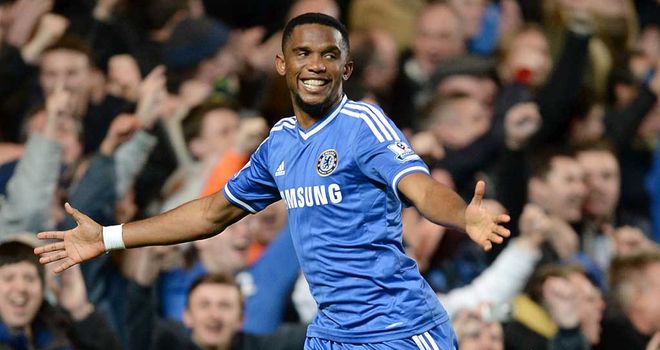 Haves and have-nots
A match to truly highlight how far United have fallen, and how shaky this side currently looks defensively. It wasn't even that David Moyes' side played particularly poorly for large periods, but they were still left utterly demoralised. United were not outclassed, but out-fought and out-thought, although that will provide little consolation to fans after a seventh Premier League defeat of the season. Even with 16 games remaining, that's as many as they have lost in each of their last nine seasons.
Chelsea looked sluggish at times, particularly during the first half, and yet finished it 2-0 up thanks to two moments in which concentration was found lacking in the visitors' defence. The best teams simply don't commit such errors.
It is these crucial moments, on which games and titles are decided, that United have fallen critically short. The split-second decision to cover the run of your opposite number, the accuracy of that final ball or the opportunistic finishing of a chance - these are the incidents that decide the haves and have-nots. On almost each and every one, United are falling short.
Mourinho versus Moyes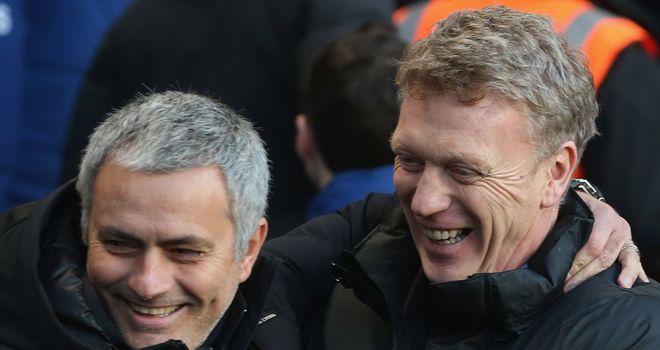 After being overlooked for the manager's job at Old Trafford, this victory will have had a certain shine for Jose Mourinho - I think we can be sure enough of the man's ego to make that conclusion. That it was his 100th Premier League victory (comfortably quicker than any other manager in Premier League history) against the same (and lofty) opponents as his first will have made it all the more sweet.
His Chelsea side have also looked utterly ruthless in the big games this season, gaining exactly what they want from the important matches. Draws away at Spurs, United and Arsenal, and victories at home to Liverpool, Manchester City and now United. It's ominous stuff with big games to come at Stamford Bridge.
There has been a great deal written this week about whether Mourinho should have been chosen as Alex Ferguson's replacement (and such sweeping judgments are far easier to make in hindsight), but the majority opinion seems to be that it became a choice of long-term project vs short-term success. The choice of the former over the latter looks shaky right now, and the pertinent question must remain - would Jose Mourinho have this United side in a higher position than their current place of seventh, 14 points behind the leaders.
United fans taunting the Portuguese for being overlooked during early periods of the match were noticeably quieter once their side conceded the third goal. I'm not saying this 90 minutes has changed their opinion, but it sure focuses the mind on that particular issue somewhat.
Selection issues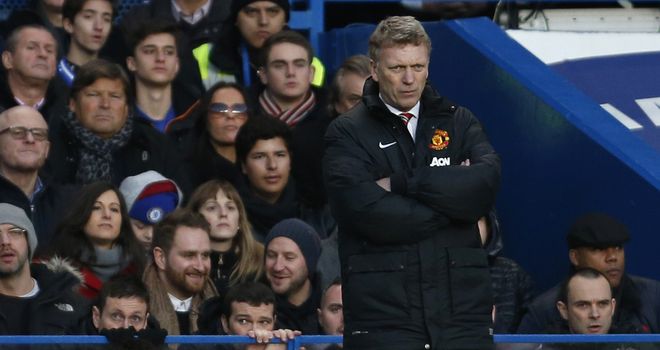 Moyes didn't help himself with his selection. The first big call, dropping Fletcher back down to the bench in favour of Phil Jones and Michael Carrick in midfield, could be seen as permissible given Fletcher's substantial layoff. Scotland's captain is yet to play in a game of this magnitude since his return, and only Moyes will know how recent fixtures have fatigued him.
His other decision was far more debatable. Cesar Azpilicueta has been mightily impressive of late but playing a right-footer at left-back always raises the risk that they may struggle against tricky feet and pace on the wing, exactly the characteristics boasted by Adnan Januzaj.
Instead of allowing Januzaj free reign to take on Azpilicueta with Shinji Kagawa in the middle, Moyes opted to operate Januzaj in the most advanced role, with Antonio Valencia on the right and Ashley Young on the left. It was uninspiring at best.
It may not have proved totally effective, but the positioning of Januzaj as the focal point of attack is a huge fillip for the youngster. His performances may have justified such faith, but you still have to take a step back and consider that such is the level of the teenager's ability, he was picked as the lynchpin at one of the world's biggest sides in one of their biggest games of the season. At 18 years of age.
It's an enormous compliment, and whilst Januzaj struggled to impact in the latter stages, his effervescence in the opening periods of the match allowed United to create. The principal concern must now be holding on to their newest star if the promise of Champions League football fails to materialise.
Jack of all trades?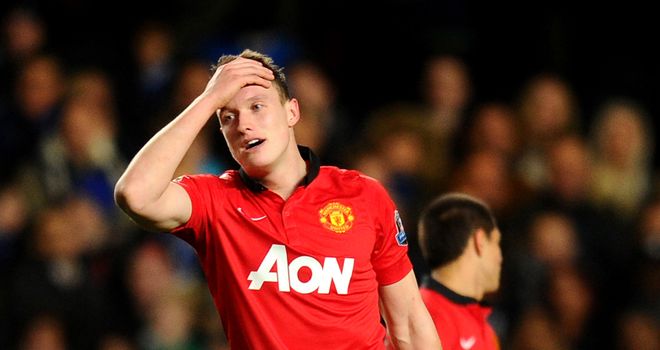 Despite pre-match reservations over United's tactical set-up, it was clear which side opened the game the better. The visitors were quick out of the blocks, perhaps aided by then element of surprise in Chelsea seeing Januzaj so far forward. In the first ten minutes Chelsea saw just 22% of the ball as United racked up 67 passes in comparison with Chelsea's 22. As a further indication of this, Samuel Eto'o touched the ball just twice in the first 15 minutes.
And then came the bolt out of the blue, courtesy of Eto'o's third, fourth and fifth touches.
Whilst it was a cruel deflection from the Cameroonian's shot off the toe Michael Carrick, that gave David De Gea little to no chance, the damage had been done through the weakness of Phil Jones. Evidently chosen as the anchor in midfield in order to cope with the threat of Chelsea's attacking midfielders, one of the most basic remits would have been not to commit himself into the challenge unnecessarily.
Jones fell far short of that task. He may have expected Eto'o to take the ball to the touchline on his right foot and lay it back for a team-mate, but the placement of his weight onto his left side made it easy for Eto'o to leave him looking rather foolish indeed.
It once again forces the question to be asked - where is Jones' best position? In commentary, Gary Neville stated his belief that centre-back is his eventual destination but, having played just five of his 18 matches there this season, is there any indication that David Moyes shares Neville's view?
Instead, the majority of Jones' appearances this season have been in central midfield, a position that Jones is surely unlikely to make his own on the evidence of Sunday. It may seem harsh, but Jones will be judged on such occasions. There is a very real danger that he could become tarnished by the 'Jack of all trades' tag.

Set-piece issues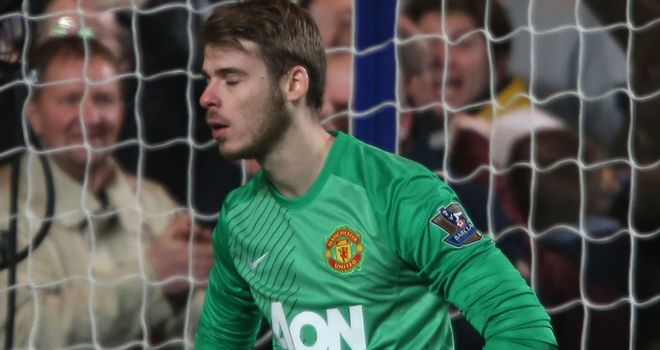 If the defending for the first goal left much to be desired, things went from bad to worse before the break, when Eto'o was again left free in the area, this time following a set piece. Whilst Antonio Valencia was initially tasked with marking Eto'o (a bizarre choice in itself given United's height with Jones, Vidic, Evans and Carrick), when the corner was cleared he ventured out.
The responsibility then fell to Rafael, who can be seen on the replays looking straight at the Chelsea forward. However, rather than sticking tight to his man (or at least putting pressure on him), the Brazilian was left standing on the penalty spot as the striker made it 2-0. United fans will be getting sick of the sight of Vidic standing with arms raised, questioning why he has been left alone to thwart danger.
It got no better for the third. With Valencia again tasked with sticking to Eto'o (although arriving remarkably late to carry out his duties), the Ecuadorian proceeded to simply hold his opposite number without any designs on clearing the ball. Whilst that is a tactic used more and more on set pieces recently, it only works if you actually stop your opponent getting to the ball. Valencia didn't, and that was that.
"We got unlucky for the first goal but after that we conceded from two set pieces. That's our own fault, no-one else," was David Moyes' post-match assessment. "That's been the difference today."
Jose on the money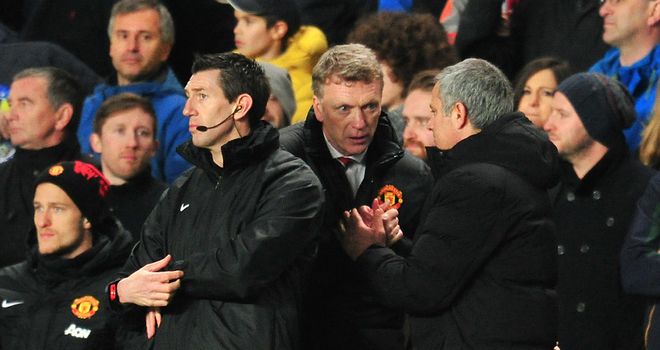 If the debate over David Moyes' selection and strategy is open to debate, Jose Mourinho typically made the perfect call with his big decision. With two goals in his last three games, many would have expected Fernando Torres to have got the gig up front, but Jose instead plumped for one goal in seven Samuel Eto'o. The striker repaid the faith impeccably.
It is 16 months since Eto'o last scored more than once in a league game (against FK Krasnodar) and his last hat-trick was in September 2010, but he delivered at the perfect time. His manager will have been convinced that he can be relied upon for future assignments.
As an aside, remember when Chelsea strikers didn't score goals? That's now six goals in four games from any of Chelsea's trio of forwards.
End of Kagawa?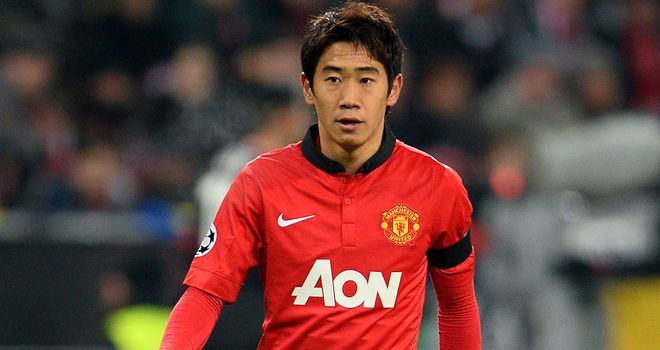 Ashley Young's selection must also act as a firmly hammered in nail to the coffin of Shinji Kagawa's Manchester United career.
Kagawa had one of his better games for United against Swansea last weekend, and surely merited a place in the side? He has so evidently not impressed sufficiently when farmed onto the left wing during his United career, but surely still offers more than a winger whose only moves are to cut inside and pass or throw himself to the ground. Neither are particularly useful tactics.
It may sound hyperbolic, but there is a line of thought that once you are demeaned below Ashley Young in the pecking order for the biggest matches, you might as well start looking for a new club. Kagawa may well feel like doing just that.
Young's 56 minutes provided one shot, on two minutes when he fired straight at Petr Cech when given a clear sight of goal, no chances created, four crosses and a yellow card borne out of frustration.
Willian takes plaudits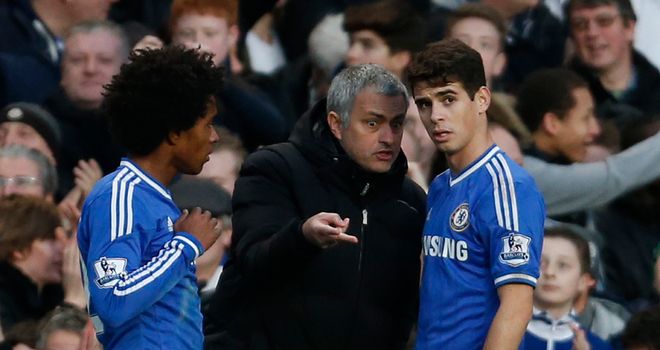 There is a reasonable argument to suggest that Eden Hazard is the best attacking midfielder in Europe on current form, but United's determination to thwart his threat was largely successful. Instead, the real midfield star was Willian.
Mourinho received plenty of criticism for his ignorance of Juan Mata for large periods this season, partly because Mata is so lovely and partly because we like to think that we know best. Quite obviously, Jose does.
Willian is everything that Mata isn't, and that is not meant as an insult to the Spaniard. The Brazilian harried and hustled and pressed during a first half in which Chelsea were often second best. He is part of a new breed of attacking midfielder who operates in a dual role, expected to assist in defence from an advanced position. He made more tackles than nine of his team-mates, and gained possession from opponents more than the same number. When this is combined with touching the ball more than any other attacking Chelsea player, also making more passes, it is clear to see that Mourinho has recruited an all-action footballer.
Senseless challenge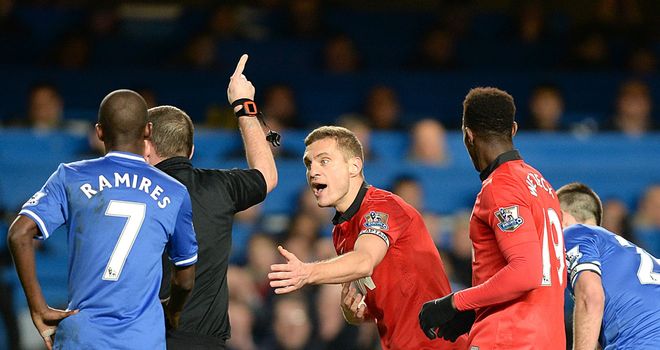 Sometimes you really do wonder about professional footballers. Nemanja Vidic is an international. He has played more than 200 Premier League games for Manchester United and is the captain. One can understand the frustration felt at the current situation, but to dive in for such a wild challenge is nothing but an immature and needless move.
There could be an argument for it being a booking, but to me it almost represented violent conduct. Much like the challenge from Mapou Yanga-Mbiwa last weekend, there was clearly no attempt to play the ball, instead halt an opponent that had left you beaten in the most cynical manner available. The ball was at least two foot away.
Speaking of two feet brings us nicely to Rafael, who was incredibly fortunate to remain on the field. Having completely lost his head, it was evident that the Brazilian deliberately jumped in with two feet from the floor. We have had assurances from the officials that these are the type of challenges that are worthy of red cards, reckless and without possible means of control. The booking received should protect him from further punishment, but for that the law is plainly wrong.
And so now, Vidic will miss three games when United need him most. The squad must rally round each other and prepare for a cup semi-final second leg that may provide United with their only opportunity at silverware. That they will take on Sunderland (plus Cardiff and Stoke) owes much to the rashness of their captain.
Perspective needed?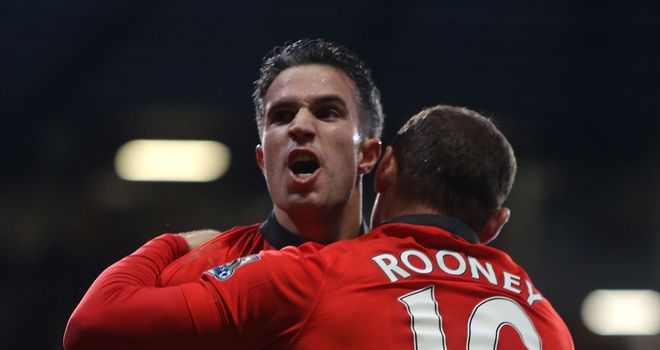 Sympathy may be rare for David Moyes, but let's end with some. One has to point out the manager's misfortune over the loss of both Robin Van Persie and Wayne Rooney. Last season, of the 24 matches that the pair both started in all competitions, United won 19, drew four and lost just one.
This season, Moyes has been without one or both of his striking options for 14 league games out of a possible 22. United have taken just 17 points from these 14 games. Conversely, in the 8 league games in which the two have featured, United have won six and drawn two. That's a difference of 1.3 points per games, or 59 points over a season. Sink or swim, effectively.
LIVE and exclusive on Sky Sports
Latest Poll
Table
Barclays Premier League
Related