Class of champions?
After watching Chelsea demonstrate all their power and class in steamrolling over Southampton with an immaculate second half display at St Mary's, Alex Dunn can't help but be amused by Jose Mourinho's post-match assessment that his side are not serious contenders for the title
By Alex Dunn - @skysportsaldunn. Last Updated: 02/01/14 9:07am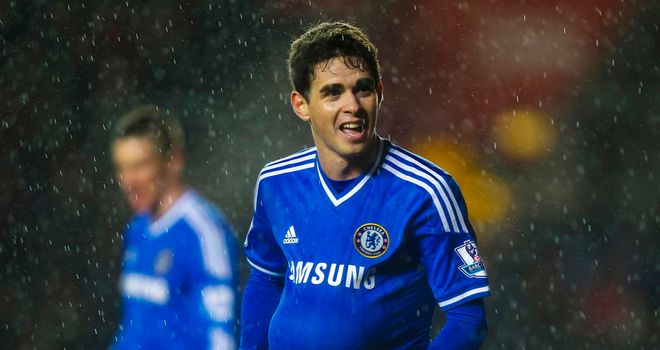 Oscar's introduction off the substitutes' bench swung the game firmly in Chelsea's favour
If the common consensus is that Manchester United won the title last season largely virtue to having the best manager, then Chelsea are starting to look ominous. A victory over Southampton at St Mary's that took their accumulative points tally over the festive period to ten from a possible twelve and moved them to within two points of leaders Arsenal owed much to Jose Mourinho's incisiveness and tactical acumen.
A double substitution with barely five minutes of the second half having elapsed, with the game goalless and delicately poised at the time, saw Andre Schurrle and a particularly disgruntled Juan Mata given the hook for Oscar and Willian respectively.
By the time Oscar had cemented Chelsea's win with a third to cap off what was a truly virtuoso cameo from the Brazilian, even Mata would have to concede his manager got the biggest managerial call of the afternoon spot on at just the right time.
Selection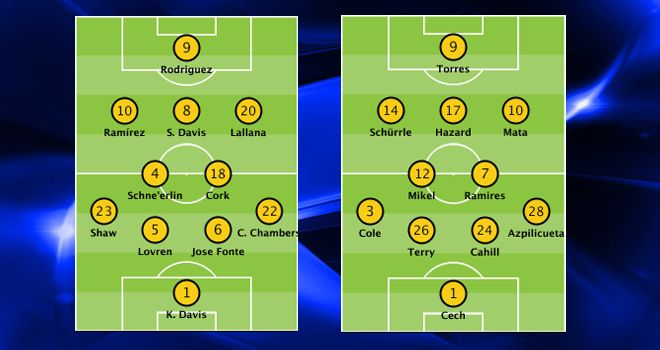 Southampton versus Chelsea starting XIs at St Mary's
On the back of an impressive defeat of Liverpool in their last outing it was anticipated Mourinho may stick with his hand but on the contrary he chose to shuffle his pack to the tune of six changes.
In fairness a couple were enforced as Ramires came in for the suspended David Luiz, while Ashley Cole replaced the injured Branislav Ivanovic. Frank Lampard was also ruled out with injury.
Samuel Eto'o's winning goal against Liverpool was not enough to cement his starting spot as Fernando Torres came in, with John Obi Mikel, Mata and Schurrle also promoted from the bench.
Mauricio Pochettino made two changes, with Gaston Ramirez handed his first league start of the season after his stunning strike in Southampton's defeat at Everton, while the influential Morgan Schneiderlin also returned after a one-match ban. James Ward-Prowse and Rickie Lambert made way.
THE STORY OF THE GAME
Even first period
To the casual observer flicking through the full-time scores a 3-0 victory for a title chaser at a middling side with only one win in eight would be filed under 'routine win', but for 45 minutes it was very much nip and tuck in conditions best described as bloody miserable.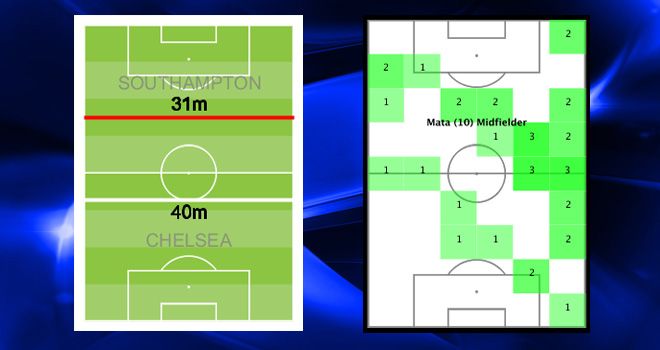 Chelsea played Southampton at their own game as they won possession high up the pitch (first 15 mins), while Mata had just one touch in the box
In spite of billowing south coast winds belching across the pitch to complement driving rain, the football dished up by both sides was engaging if not entirely engrossing. Only two shots on target were conjured between the two teams - Chelsea's Ramires with both of them - but that's not to say there were not facets of the game that intrigued.
Given Southampton had taken three points from 24 going into the game Pochettino's decision to leave Lambert on the bench, despite Dani Osvaldo's absence, raised the question of whether the Argentine was considering tinkering with his side's shape and deviating from a fail-safe 4-2-3-1.
As the graphic below demonstrates, when comparing Southampton's last game at Everton with how they lined up on Wednesday, it proved to be more a change of personnel than positions.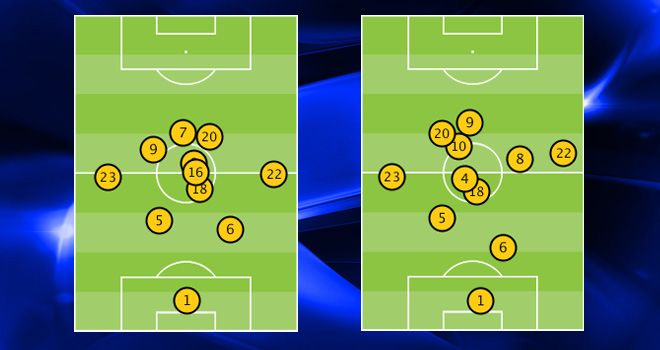 Southampton's average positions versus Everton (l) in their last match and Chelsea (r) in first half
The average positions show how Jay Rodriguez (no.9) shifted from the left to a more central role at the tip of Southampton's attack, as Ramirez (no.10) and the again impressive Lallana (no.20) - particularly in the first half - provided support either side. His articulate and at times beguiling shifts inside, from the left flank onto his right foot, will not have gone unnoticed by the in attendance Roy Hodgson.
What remains consistent to Pochettino's clear vision for his side, even in a patchy period, is their ability to keep the ball; 57.1 per cent possession in the first half with a passing accuracy of 81.5 per cent, which was far superior to Chelsea's at 68.3 per cent, is testimony to the fact they recovered from a sluggish start to be more than equals heading into the break.
Can Torres kick on?
The proverbial enigma wrapped in a riddle will be pleased with a shift in which he became the first Chelsea striker since December 2012 to score a Premier League goal away from home. The fact it was Torres who also scored that day at the Stadium of Light will hardly disguise the fact the Spaniard's goal - Chelsea's first on the hour mark - was his third in 33 Premier League matches.
What will please his manager though, as much as his goal, was a work ethic and light footedness that belied the surly and at times disinterested look that has characterised too many of his 150 appearances in a Chelsea shirt.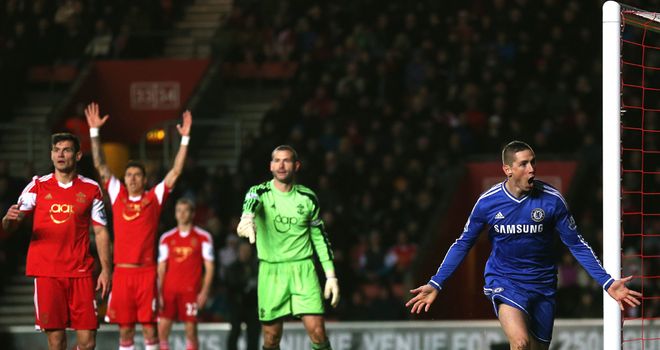 Fernando Torres got Chelsea off the mark with a smart instinctive finish
In the opening sparring he was dynamite. Dejan Lovren and Jose Fonte were bullied at times as he had seven touches in the first five minutes alone, whilst enjoying a 100 per cent win rate from four duels. An angry Torres is clearly a good thing. One early angled run across the box culminated in a deflected drive just wide but the half-time stats told a too familiar story - three shots, zero on target.
When Mourinho stated pre-match that there will be 'no new strikers in January, because we trust these guys and we go with them', eyebrows were raised given Chelsea's front men had managed just six goals between them this season (Luis Suarez has 20 after his effort today).
Torres' goal after Oscar had seen a cross-cum-shot deflect off Kelvin Davis' far post was an instinctive and well controlled finish from close range. And while one goal does not a striker make, it would be churlish to suggest Torres' performance didn't at least hint, at times, of the player he once was.
Chambers catches the eye
Scant consolation can be gleaned from a 3-0 home defeat but the performance of Calum Chambers is worthy of note. Luke Shaw, who went off at half-time with a knock, has deservedly stolen the plaudits since Southampton's return to the top flight but it was Chambers on the opposite flank who was the best of the four full-backs on show.
If we look at the attacking territories of both sides it becomes clear Southampton targeted Chelsea's full-backs from the off. Whereas the majority of Chelsea's attacks in the first half went through the centre of the pitch (39 per cent to 28.7% right and 32.3% left), Southampton largely bypassed the middle third at just 22.7 per cent to focus their attacks from wide positions - 37% left and 40.3% right. It's a remarkable show of faith on the part of Pochettino that he places such emphasis on getting the ball to a pair of teenage full-backs, given he chooses not to employ traditional wide players but inverted wingers.
Chambers, who like Shaw shows remarkable composure for his age, made 20 passes in the first period at an impressive 95 per cent accuracy - with 92.9 per cent coming in Chelsea's half. That he put in six crosses, the next highest player on either side was just two, said much about his buccaneering attitude to playing on the overlap. Like his team-mates he faded considerably after the interval but Hodgson cannot but have been impressed with the scant concern he showed at going head-to-head with a player of Cole's (neither he nor Cesar Azpilicueta put in a single first half cross) calibre.

Embarrassment of riches
The day belonged to Chelsea though as a powerful second half performance, whisper it quietly, showed all the fortitude of champions. When Mata was replaced on 53 minutes he had made 27 passes (the joint-most with Eden Hazard) at 94.1 accuracy and in brief spurts had looked as inventive as any of his team-mates. It is hard not to feel for a talent that would arguably start in every other Premier League side but when Mourinho's alternative is Oscar it reminds of when Jennifer Aniston was dumped for Angelina Jolie. Some guys have all the luck.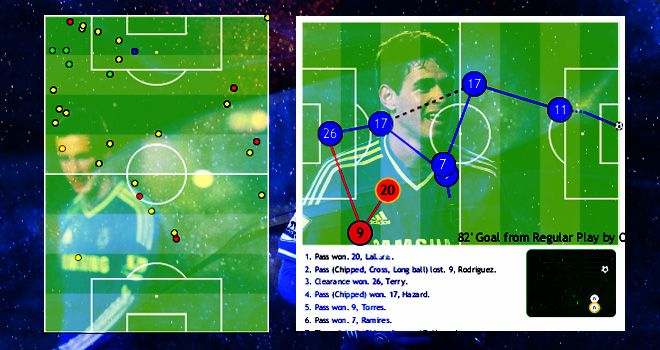 Oscar's passes (yellow), dribbles (green), tackles (red), goal (blue) + how his goal was constructed
Everything the Brazilian did in his 37-minute cameo, save for a peculiar dive when he had already rounded Davis that deservedly brought a caution thanks to a fine spot by referee Martin Atkinson, was majestic. Even those in Team Mata, who earlier in the season threatened to take Mourinho to the Court of Human Rights, would concede the Brazilian is a special player.
If his first assist for Torres was a touch fortuitous a second for Willian, who is now really starting to find his feet, was a grandiose show of skill as he toyed with Southampton's beleaguered backline down the right to provide the perfect pass for his team-mate, who made a yard with his first touch before crisply dispatching from the edge of the area with a decisive second.
Mourinho's comments in his press conference that his door is always open for players that want to leave is unlikely to reassure either Mata or Michael Esssien.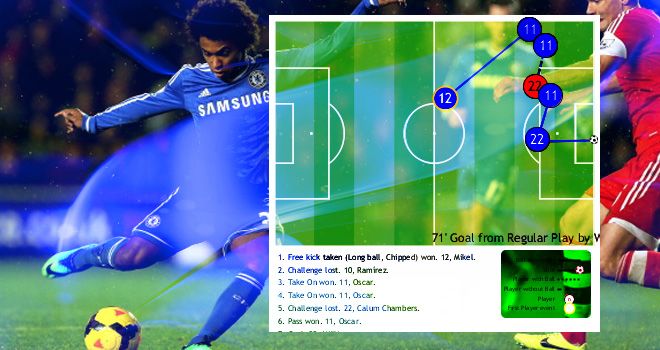 Willian has come to the fore over the key festive period for Chelsea
Oscar's goal, a cool near post strike after Fonte failed to push up in line with his team-mates from Hazard's almost obnoxiously good pass, was the type of finish the best players make look easy. Southampton were well beaten by this stage and while it's no disgrace when tired legs over a busy festive period capitulate at the sight of Oscar, Hazard et al running at them, the fact they have now conceded three goals in three of their last four home games will concern Pochettino, although as he conceded post-match: "Rome wasn't built in a day."
Mourinho's comments were equally as dry, as he offered with his best poker face: "We are not candidates. We are just candidates to win always the next match - and the next match is Hull City."
Whatever you say Jose, whatever you say...
Pochettino's view
"Rome wasn't built in a day. We have been facing some of the top sides and that has been tough. We are a young side and we are still learning. We have to keep on believing on our style of play."
Mourinho's view
"I keep saying I know what I am building at the club. I know that next summer will be a moment for us to go to a couple of clinical buys to improve definitely our team in that direction but at this moment we work, we improve, we try to bring in people like Eden Hazard, Willian and Oscar to a different level of playing football and I think we are doing that quite successfully."
Barclays Premier League

Wed 1st Jan

Swansea

2 - 3

Man City

Arsenal

2 - 0

Cardiff

C Palace

1 - 1

Norwich

Fulham

2 - 1

West Ham

Liverpool

2 - 0

Hull City

So'ton

0 - 3

Chelsea

Stoke

1 - 1

Everton

S'land

0 - 1

A Villa

W Brom

1 - 0

Newcastle

Man Utd

1 - 2

Tottenham
Table
Barclays Premier League
Related