On the march
The Roberto Martinez derby in South Wales went the way of the Spaniard as another piece of individual Ross Barkley brilliance secured Everton a 2-1 victory at Swansea City that takes them up to fourth in the table
By Alex Dunn - @skysportsaldunn. Last Updated: 22/12/13 10:07pm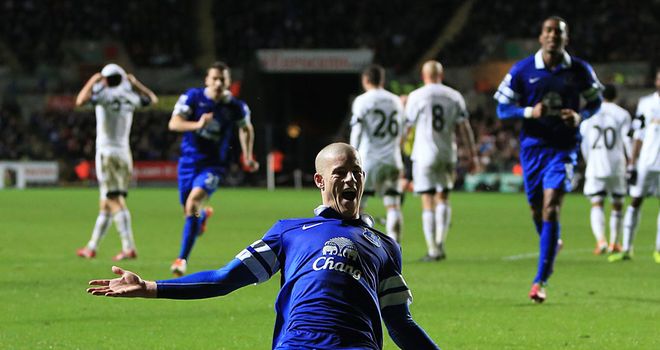 Ross Barkley: On this form is there a better English midfielder?
"When David [Moyes] first came to see me, he sat down 11 years ago and we were in a bad state, and he said 'we're not going down'. Roberto's first words were 'I'll get you in the Champions League'."
The words of Bill Kenwright on June 5 upon unveiling David Moyes' successor caused more than the odd raised eyebrow amongst the assorted press in attendance to witness Roberto Martinez's first day in his new job, but as we approach the turn of the year with Everton deservedly sat in fourth place, the Spaniard's expectations now look more prophetic than optimistic.
Much has been made of Martinez's ability to impose his own aesthetic philosophies on his new side whilst retaining the physicality so integral to his predecessor's tenure, but again at the Liberty Stadium this fusion of disparate qualities was shown to be in full working order.
When Swansea's Dwight Tiendalli prod for goal off Bryan Oviedo levelled out Seamus Coleman's jackhammer of a strike after what was a largely anaemic first period with 20 minutes remaining, Martinez was posed with the proverbial managerial $64,000 question: stick or twist?
This is a new Everton. An Everton side that is happy to trade blows with Arsenal at the Emirates is unlikely to be cowered by a swinging of momentum at Swansea. Would Everton last season have seized the initiative back, or returned to Merseyside safe in the knowledge a point at Swansea is a more than respectable haul?
After James McCarthy was felled after a driving run from deep on 84 minutes, the precociousness of youth was in evidence in all its glory as Ross Barkley demanded responsibility for the ensuing free-kick before dispatching it past Gerhard Tremmel with a pace and precision off the underside of the bar that was almost violent in its execution.
Selection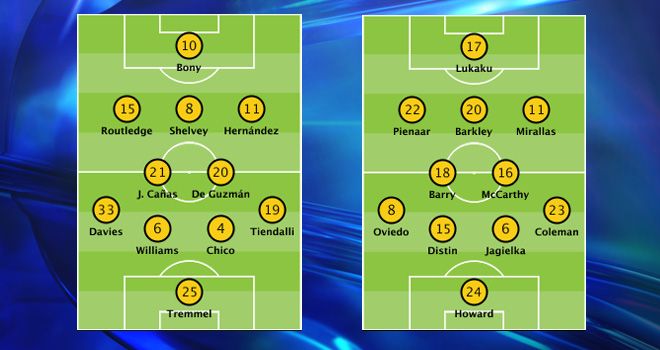 Swansea v Everton starting line-ups
Michael Laudrup made five changes to the Swansea side that started their last Premier League game, a 1-1 draw at Norwich City.
Tremmel, Tiendalli, Chico Flores, Wilfried Bony and Wayne Routledge were all handed recalls with Michu (ankle), Michel Vorm (knee) and Nathan Dyer (ankle) among the Swansea absentees.
Martinez made two changes on his return to his former club. McCarthy came back from suspension at the expense of Leon Osman in midfield, with Kevin Mirallas coming in for the injured Gerard Deulofeu.
Story of the game
I pass, therefore I am
Given both sides are ingrained with Martinez DNA, it was hardly surprising the first period was more about polite sparring than knockout blows. If this was a Rumble in the Jungle, both teams would be Muhammad Ali. Neither goalkeeper was unduly tested as a pair of well-drilled defences made light of quelling the increasingly brooding twin presence of Wilfried Bony and Romelu Lukaku at either end.
The diagram below shows the myriad of passes that dissected the middle third of the pitch but largely bypassed both areas. Only one player on either side had fewer touches than Bony (21) and Lukaku (20) respectively. There was nothing intrinsically wrong with how the ball was being moved, but with both sets of wingers performing their defensive duties admirably, there was scant space for two sets of buccaneering full-backs to get in behind. Swansea, who are the first side this season to make over 10,000 passes (Manchester City have made the second most on 9,100) shaded possession 52.5 per cent to 47.5, but it was Everton who conjured the only two shots on target. Poor decision making on Mirallas' part meant Everton failed to capitalise on Chico's almost calamitous casualness in possession.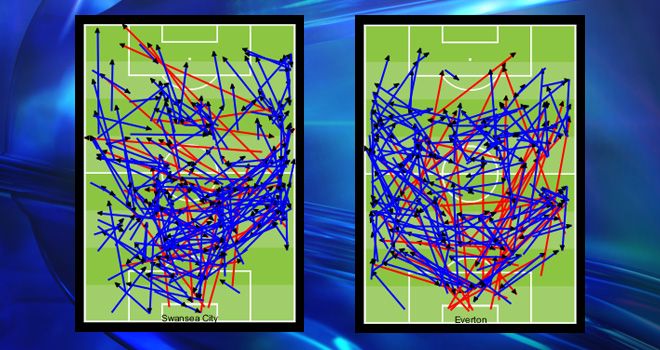 489 passes were made in the first half but very few ended up in either box
Press, press, press
It was said Everton played at Arsenal as if they were the home side and it's been a feature of their play all season. Martinez has always been an advocate of pressing high up the pitch and it was evident again on Sunday. In the opening half hour, there was a snappy belligerence to their play that pressed Swansea towards their own goal and disrupted the home side's usual game-plan of patient build-up from the back. Everton's average possession winning line at 34 metres compared to Swansea's at 23m tells the story as well as any other stat manifest from the first half.
Swansea and Everton's possession winning lines and Everton's tactical formation (after 30 mins)
Everton's average positions from this period are also telling. Swansea's form at home has not been great of late; they've won just three from 14 at the Liberty, but nonetheless they remain a dangerous opponent. Coleman (23) and Oviedo (8) act as almost auxiliary wingers here though, with Gareth Barry (18) and McCarthy (16) tucked in deep as Steven Pienaar (22) and Mirallas (11) act as inverted wingers to give both full-backs the remit to push into the space they vacate. "It is as if Oviedo is like a winger, always inching forward. The licence him and Coleman have to get forward really suits them," said Niall Quinn on co-commentary duty.
As Glenn Hoddle pointed out in the Sky Sports studio at half-time, this is an interchangeable and easy-on-the-eye Everton side but it is also one that is incredibly well drilled. It helps that in Barry, Phil Jagielka and Sylvain Distin, they boast three of the division's most defensively savvy campaigners. It's oft been quoted that four of Everton's back five have played every game this season and whilst that's clearly an attributing factor to their success (they've conceded the fewest goals in the league - 16), the discipline shown by McCarthy, Barry and Osman in front of them is arguably just as key. Barry (65 passes with a success rate of 87.7 per cent, including 40 in Swansea's half) in particular has been a revelation. It's not as though England will need to keep the ball in the humid climes of Brazil...
Defence best form of attack?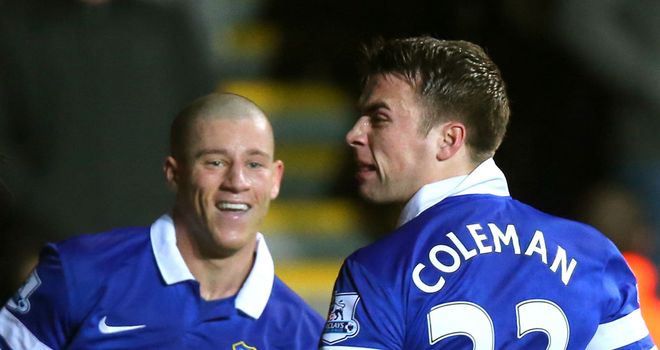 Barkley and Coleman: A pair of young talents at the peak of their powers at present
From the shrill of the referee's whistle to commence the second period to his final toot of the afternoon, Coleman was a man possessed. A frankly ridiculous endeavour to reach a hopeful Barry ball into the corner had the Everton fans behind Swansea's goal beating their chests with pride not long after the restart and it set the tone for what would follow thereafter.
Twice he drifted in from the right flank to first go close to connecting with a left-wing delivery before a mazy dribble was curtailed only by a third Swansea player's attempt to dispossess him at the expense of a corner. His finest moment though arrived in the 66th minute.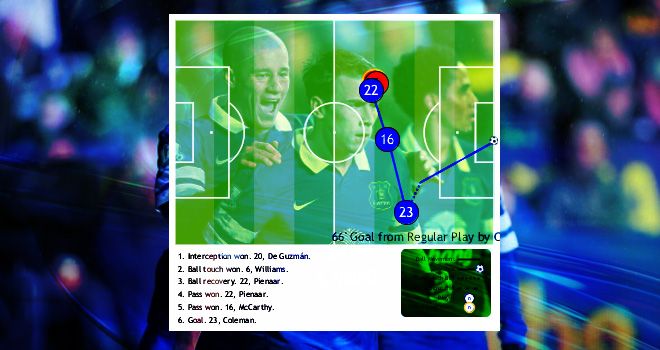 Seamus Coleman's goal was reward for his taking the game by the scruff of its neck
His own torpedo of a strike will likely be forgotten in the clamour to proclaim Barkley as England's saviour (glass houses, I know) but a searing drive from 25 yards was also a thing of no little beauty.
Everton defenders have now supplied eight goals in the Premier League, more than any other club.
The final word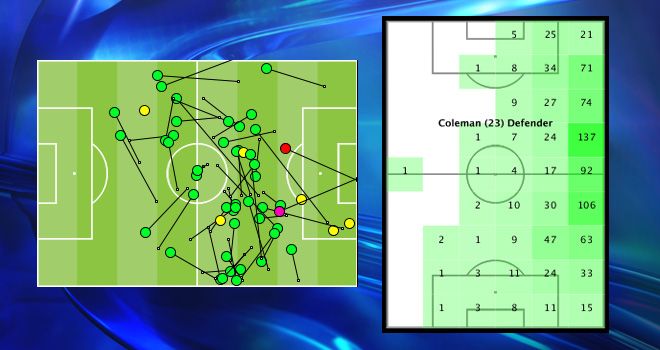 Barkley's event map (passes - green, dribbles - yellow, goals - purple, shots - red) & Coleman's touches for the season
It's becoming a theme that the final passage of any Everton report belongs to a 20-year-old who spent most of last season on-loan in the Championship. If there is a more edifying sight in football than a burgeoning talent in bloom, this reporter is yet to bore witness to it. After being outshone by Jonjo Shelvey for much of the first half, Barkley, like Coleman, belied his tender years to dominate the contest when Everton needed it most after the break.
Swansea's equaliser could have seen Everton retreat but instead it seemed to invigorate Barkley. Out came his chest as his sizeable physical presence when coupled with a fine spatial awareness had Swansea at times holding two arms to their face as the Watertree-born younger started to box clever. Surging straight-back runs recall Paul Gascoigne in his pomp and while Tremmel's fingertips were extended to push over one from range, the German was powerless to prevent Barkley sending another telegram with love to Roy Hodgson six minutes from time.
| | |
| --- | --- |
| Premier League - Dribbles completed | |
| Player | Dribbles |
| Eden Hazard | 57 |
| Andros Townsend | 57 |
| Ross Barkley | 44 |
| Mousa Dembele | 42 |
| Mohamed Diame | 42 |
It this kid isn't on the plane to Brazil, there'll be riots.
Michael Laudrup's view
"We did not deserve to lose, conceding such a late goal at a moment when Everton, I think, were OK with a draw. They had made two substitutions, taking out two offensive players and putting in two midfielders. Barkley made a great run and they scored from the free-kick. It was harsh and the least we deserved was a point. That's how football is."
Roberto Martinez's view
"The goal from Ross gave us something to be proud of and something I want to savour. We have a few youngsters. Ross, John Stones, James McCarthy, Romelu Lukaku, Seamus Coleman... We have a real nice blend and what pleases me is that in the group, everyone is prepared to work hard for the team. Ross is growing game by game and is a diamond of English football. The free-kick was an example of what he can do."
Jamie Redknapp's view
"Barkley is a sensational footballer. Players like him don't come around very often and what a miss it was for Moyes to not get this different-class footballer and pay £27million for Marouane Fellaini instead. The way that he moves, the way that he touches the ball, and the power that he has is outstanding, and he's got one of the most ferocious shots I've seen off either foot in a long time. He was the difference against Swansea, who couldn't live with his pace and couldn't kick him off the ball, and his free-kick capped it off."
LIVE and exclusive on Sky Sports
Table
Barclays Premier League
Related