Falling short?
Arsenal and Chelsea played out a goalless draw at the Emirates Stadium on Monday Night Football. Adam Bate saw the Gunners dominate the ball but raises concerns over Olivier Giroud, while wondering what Chelsea's reactive approach says about Jose Mourinho's commitment to exciting football.
By Adam Bate - Follow @GhostGoal. Last Updated: 23/12/13 11:53pm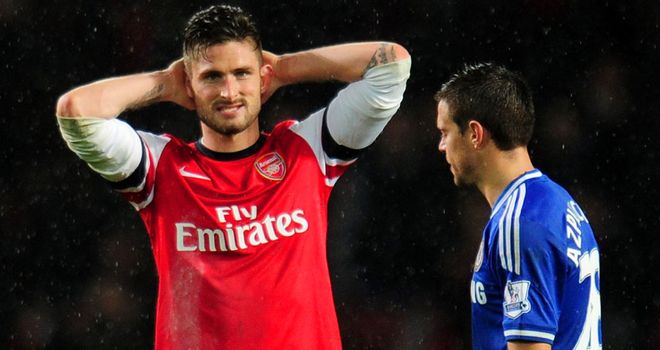 "It's a game where - for the losers - there will a lot of questions asked about whether they are in the title race," said Jamie Carragher prior to kick-off. It was something that both sets of players seemed to have at the forefront of their minds throughout much of the 90 minutes of football that followed.
With Arsenal edgy and Chelsea cautious, neither side was able to fashion a goal and the points were shared at the Emirates Stadium. Here we look at some of the key issues including Jose Mourinho's pragmatism and Arsene Wenger's need for a striker who can make the difference in the biggest of games.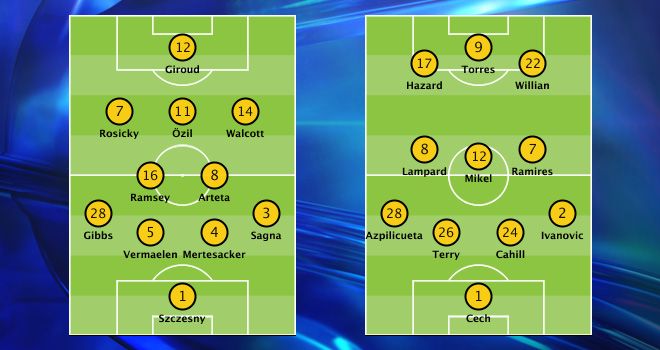 Arsenal v Chelsea starting formations
Selection
Laurent Koscielny was unavailable due to a laceration to his leg so club captain Thomas Vermaelen had an opportunity to start at centre-back alongside Per Mertesacker. In midfield, Tomas Rosicky came in for the suspended Jack Wilshere.
For the visitors, John Obi Mikel replaced the suspended Michael Essien and formed a midfield three with Ramires and Frank Lampard as Mourinho opted for a more solid line-up than he has fielded for much of the season. That meant Oscar and Juan Mata had to settle for a place on the bench.
THE STORY OF THE GAME
Arsenal v Chelsea - Chances created
Player
Club
Chances created
Eden Hazard
Chelsea
3
Frank Lampard
Chelsea
3
Willian
Chelsea
2
Aaron Ramsey
Arsenal
2
Solid Chelsea
The fact that John Terry and Gary Cahill shared the man of the match champagne tells you plenty about the defensive performance by the Blues as Arsenal were restricted to just a couple of opportunities. "They defended deep," said Carragher and that's clearly a strength of both of the Chelsea centre-backs. "They did their job," agreed Gary Neville. "It was a defender's night and those two stood out."
Defending deep and soaking up pressure. It's very Mourinho but weren't Chelsea supposed to be exciting these days? The boss has his answer. "Our plan is to go in a new direction," he told Sky Sports in his post-match interview. "That is what we want in the future. Creative players, use the ball, be offensive and kill opponents. But there are some matches where I have to take a step backwards and play sometimes for a result with a different philosophy." Ever the pragmatist.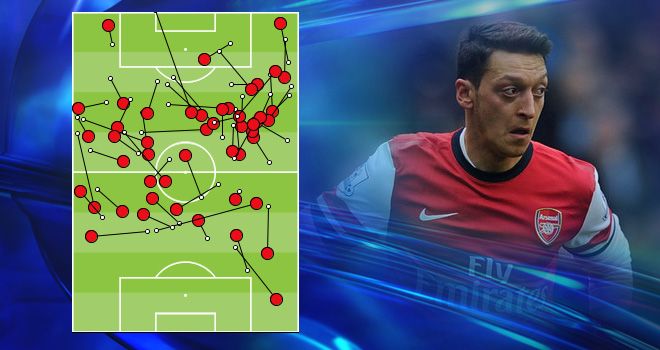 Mesut Ozil had to come deep to get the ball and did not get into threatening areas often
Stifling Ozil
"I can't stop thinking about Mesut Ozil and Eden Hazard," said Neville before kick-off. "Big players need to dominate in big matches." Unfortunately for Arsenal, Mourinho had a plan for the man he knows so well from their time together at Real Madrid. "Mikel normally delivers that positional balance and that's something I want to have in this game," explained the Portuguese coach. "I know that is where Ozil can decide matches and we want to control those Mesut areas."
It worked well as Mikel occupied the zone in front of the Chelsea defence with Ramires and Lampard providing energy around him. Ozil was soon coming deep to receive the ball in areas where he was less likely to hurt his opponents. "They'll want to get Mesut Ozil on the ball a little further forward than this," said Alan Smith on co-commentary. Despite an improved second half, it didn't happen - Ozil played 15 passes in his own half but just one in the Chelsea 18-yard box (the touch that could have brought a penalty when Willian clipped Theo Walcott).
John Obi Mikel (12) played a key role in protecting the Chelsea defence and denying Arsenal space
Arsenal v Chelsea - Passes
Player
Club
Passes
Mikel Arteta
Arsenal
97
Aaron Ramsey
Arsenal
75
Per Mertesacker
Arsenal
58
Sterile possession
"We think about Arsenal players getting in those little pockets and they didn't do that tonight," said Neville. In that sense, it was job done by Mourinho in much the same way that he masterminded the 2-0 win here in the Capital One Cup back in October. "It was game from a defensive point of view was controlled by us," he claimed. "We gave them the ball and let Arteta play free and pass the ball from side to side from full-back to full-back."
Arteta played 97 passes in the match, more than twice as many as any Chelsea player. But as Mourinho points out, his side was happy for the Spaniard to spread the ball wide from where Terry and Cahill could happily head away the subsequent cross. While Arsenal dominated possession, the fact that Chelsea had twice as many shots on target is a telling one.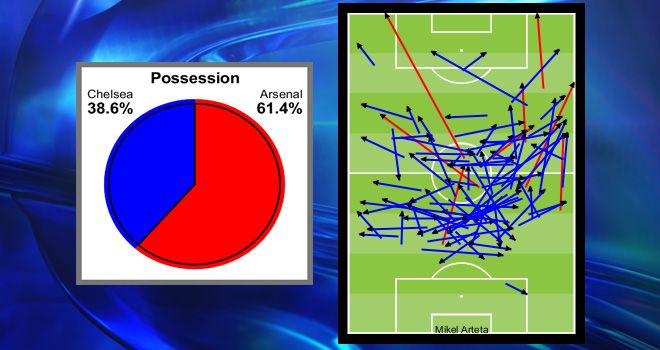 Mikel Arteta played lots of passes but Jose Mourinho insisted he was content with the situation
Giroud finishing
Of course, there was one clear opening for Arsenal when Giroud arrowed a shot wide of the near post from an admittedly tight angle. Aaron Ramsey's delightful lofted pass had set the Frenchman away and Petr Cech's decision to rush from his line should have made up the striker's mind as a side-foot lift over the goalkeeper would have been enough to find the net. Instead he screwed his effort wide and the chance was spurned.
Giroud has had plenty of praise after starting the season in good goalscoring form but he is on a lean streak right now. In fact, he has scored in just one of his last 13 appearances for club and country (a brace against Southampton). While nobody is likely to be flattered by a comparison to Luis Suarez right now, that's not great when you consider that the Liverpool man has managed 19 goals in that period of games and could prove critical come May.
Vermaelen plays his part
Wenger will have been encouraged by this performance from the skipper. Arsenal had lost three of the previous seven matches in which Vermaelen had featured but he played his part in this clean sheet and showed that while the Mertesacker-Koscielny partnership remains important it might not be crucial to their title ambitions.
And title ambitions they are. This draw has extended Wenger's record against Mourinho to 10 matches without a victory but they reach Christmas level on points with Liverpool at the top and in the thick of the race for the crown. One suspects that'll do for now.
Arsenal dominated possession against Chelsea but the action areas were closer
Wenger's view
"I think in the final part of the game we should have won it. They came here to defend well and hit us on the break. At the start of the game we were a bit edgy but we took control of the game in the second half and should have won it. There were a few opportunities we had but it was a game of very few chances. When you cannot win a game, don't lose it and that's what we did. It is a solid point but two points dropped at home. But the team tried very hard."
Mourinho's view
"It was a tactical match. A match that Arsenal want to win but don't want to lose and a match that Chelsea want to win but don't want to lose. I think we could win because we had the biggest chance of the game. But we were not aggressive or sharp enough in the final third to get the goal. They had one chance in the second half. The goalkeepers were not in the game. It was completely in control. It was very important for us not to lose because there is a big difference between being two points behind the leaders and being five points behind the leaders."
Gary's view
"I don't think either (manager) will be unhappy. It was important for Arsene Wenger that Arsenal didn't lose tonight. Chelsea had a couple of good chances in the first half, Arsenal had a couple at the end. Neither team really did enough to win the game and you got the feeling, a little bit like the game between United and Chelsea at the beginning of the season, it was a game that both teams couldn't afford to lose because of the effect it might have had on them."
LIVE and exclusive on Sky Sports
Table
Barclays Premier League