Etihad talking points
Manchester City's remarkable 6-3 win over Arsenal on Saturday afternoon felt like a critical moment in the Premier League title race. Matt Stanger discusses the key issues that emerged from an astonishing match...
By Matt Stanger. Last Updated: 14/12/13 8:26pm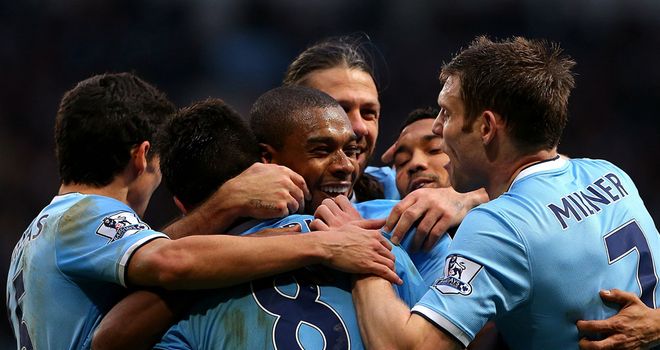 Please can someone hand Manuel Pellegrini a calculator? This was a simply breathtaking encounter between two hugely talented teams, displaying some of the finest attacking football we have seen in the Premier League for a long, long time. Both managers will be disappointed with the astonishing defensive errors that contributed to the silly 6-3 scoreline, but the mistakes only increased the entertainment, which descended into farce in the final five minutes.
Manuel Pellegrini will obviously be the happier manager after a result and performance that underlined why City are favourites for the title and have been for several weeks despite Arsenal's 13-week stay at the top. It seems only a matter of time before they close the three-point gap to first, while they already better the Gunners' goal difference by 13 strikes. This team is simply unstoppable at home and may finally have ended their away woes with the 3-2 win at Bayern Munich in midweek.
It will always be a mystery how City were responsible for three of Sunderland's nine points with the 1-0 defeat at the Stadium of Light, but on their own patch no-one is a match for Pellegrini's side as Arsenal were made to realise over a pulsating 90 minutes. Hull are the only opponent to travel to the Etihad and concede fewer than three goals this year, with City scoring more at home than any other team has managed in total.
City's record at home clearly breeds enormous confidence, which rippled through the players as they took the game to Arsenal in the first half and swatted away the significance of Theo Walcott's equaliser as though it was a baby rabbit bouncing in the path of a bulldozer. Even as Arsenal pressed to get back into the game after City's third, eventually cutting the score to 3-2, it always felt as though they were kept at arm's length. No matter how hard the Gunners pushed, City were like a cat toying with a mouse before eventually devouring it. There was never any fear that they couldn't score more if they needed to, and there is no greater hallmark of a superior side.
"I don't see why you should be scared," said Arsene Wenger before kick-off, but City provided resounding evidence of why caution is the best approach at the Etihad. That isn't to say that Wenger wasn't pragmatic in his approach, mind, but he will be hugely disappointed with the lack of care and attention his side showed in defence.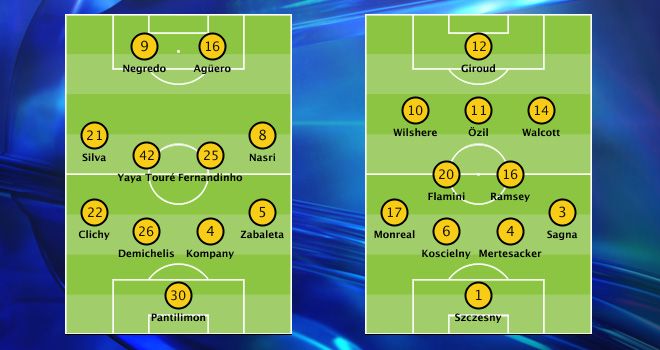 In truth, it was an embarrassing display at the back, with a sorry roll call of miscreants responsible for the catastrophic scoreline. Laurent Koscielny switched off on the first to allow Sergio Aguero to volley home; Jack Wilshere and Nacho Monreal did the same for City's second; Mesut Ozil couldn't resist an assist for Fernandinho; Thomas Vermaelen and Per Mertesacker conspired to leave David Silva free for the fourth; Wilshere lost the ball too easily in the build-up for Fernandinho's second strike; and Serge Gnabry was guilty of starting the City move that led to Yaya Toure's penalty.
Arsenal had conceded only twice in their last eight matches before Wednesday's defeat to Napoli but, after shipping eight goals in two games, Wenger suddenly has concerns about his team's resolve, especially now Koscielny could face a spell on the sidelines.
Before we cut and dice the Gunners any further, it should be noted that there are mitigating circumstances for the defeat and performance. Playing five games in 15 days is a tough challenge for any team, and becomes even more difficult when the last two fixtures in that run are crucial away matches against strong opponents. City should be credited for taking full advantage of Arsenal's fatigue, but they benefited from being able to rest players against Bayern after it appeared that the battle for top spot in Group D was over.
Selection matters
Speaking of resting players, it was interesting to see Wenger leave Santi Cazorla on the bench as Wilshere and Aaron Ramsey returned to Arsenal's starting line-up. Although Cazorla is undoubtedly a crucial player for Arsenal, his form has been lacking recently and he has only scored one goal and provided one assist in 11 top-flight appearances so far, ten of which were starts. It was telling that Wenger opted to introduce Gnabry and Nicklas Bendtner as he sought a recovery from his team, with Cazorla seemingly having to prove himself to the manager.
Now, back to that first goal, which felt like a lifetime ago by the time the final whistle was blown. Although the blame was piled on Koscielny for switching off at the back post - and the Frenchman was certainly worthy of rebuke - not enough praise was awarded to Martin Demichelis for his fine run and assist. It was a well-worked move from the training ground as the big Argentine attacked the space at the front post and flicked the ball to the lurking Aguero - something City tried to repeat later in the first half.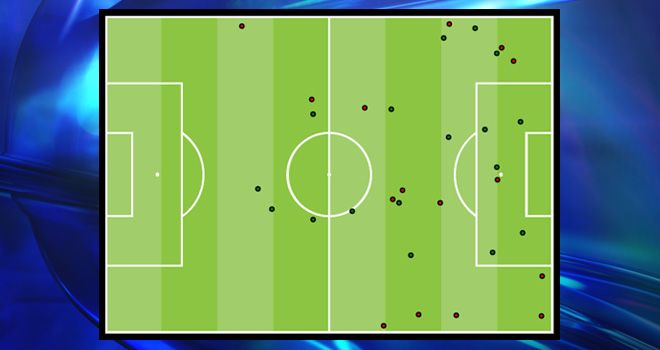 It was too easy for Manchester City - The green dots are the successful dribbles against Arsenal
It's also worth noting that City won the corner through a lovely passage of play between Aguero and Negredo as the pair once again demonstrated their unrivalled understanding. The duo's movement and vision was a key feature of City establishing control - as it has been all season - and at the moment there is no better strike-partnership in Europe. It's still puzzling why Pellegrini didn't start Negredo in the 2-1 defeat at Chelsea.
"You can never fault Koscielny," said Thierry Henry in his role as a Sky Sports pundit on Wednesday, but even he would have to admit that the defender endured a torrid time before his unfortunate injury. As well as losing Aguero for the opening goal, Koscielny was caught horribly out of position for Negredo's strike that somehow resulted in the laceration to his knee.
Koscielny wasn't the only Arsenal player at fault for swiftly handing the advantage back to City, however, as Wilshere and Monreal also failed to fulfil their duties. This replay of the goal reveals a number of troubling mistakes that are possibly best outlined in bullet form...
Mistakes

1) Why was Mathieu Flamini so deep when Yaya Toure was approaching the edge of the box? You can see Koscielny urge his teammate to close Toure down before eventually stepping up himself to leave space for Negredo to attack. It's no wonder Wenger had a stern word with Flamini on the touchline soon after.
2) Wilshere was far too narrow. He acknowledged Pablo Zabaleta's presence on the right but failed to move across until it was too late. The understanding between the England international and Monreal was poor throughout, as Zabaleta, Samir Nasri and, later, Jesus Navas, all benefited from space down the right.
3) Monreal - who struggled to adapt from his previous role as a 'closer' this season to starting in place of Kieran Gibbs - neither stuck with Negredo, who he was initially marking, or recovered to cut out Zabaleta's cross. Watch him again - what on earth is he doing?
4) Even if Negredo had missed the cross, Mertesacker had allowed Aguero to escape him at the back post from where he would surely have converted.
All told, it was a mess.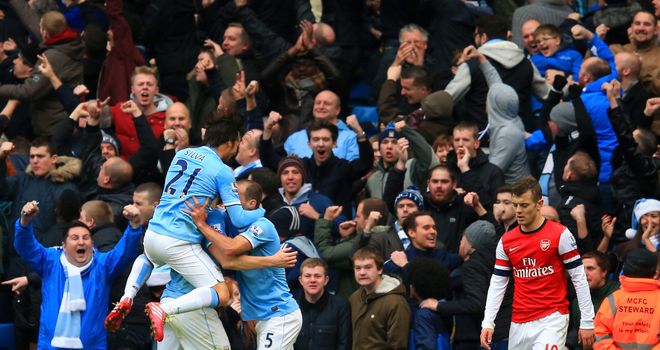 Despite focusing on Arsenal's errors, Toure should also be praised for playing a perfect pass to find Zabaleta, who notched his fifth assist of the season - more than any other defender and more than any player has managed for Chelsea or Spurs. Toure was responsible for carelessly losing possession to Aaron Ramsey in the lead up to Walcott's equaliser, but he quickly made amends and showed no further complacency before getting his reward for a commanding display with a late penalty.
Goalkeeper issues
While Toure deserved criticism for his part in Walcott's strike, there were also questions over Costel Pantilimon's reaction, or lack of. The keeper seemed to anticipate a deflection that never came as he failed to dive for a shot that lacked both power and placement.
There were rumours before kick-off that Joe Hart was set to return between the sticks and, even though he was left on the bench for a sixth successive Premier League match, the England keeper will have been encouraged by a poor display from Pantilimon. The Romanian dropped two crosses, punched another one straight to Ozil on the edge of the box and generally looked a bag of nerves in his biggest game so far. It might not see him replaced immediately, but the battle for the No 1 spot could be swinging back in Hart's favour.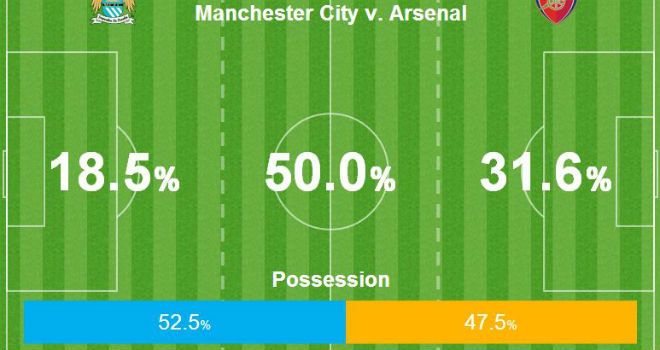 It would be churlish not to mention Walcott's performance in more depth as the winger impressed on his return to the starting line-up for the first time since September. While Walcott clearly offers pace to get behind the opposition defence, he also possesses good awareness and timing when making his runs, evading Gael Clichy twice in the early stages and providing a brilliant cross that Wilshere failed to convert.
It was from one such run behind the City defence that Walcott scored his superb second, while he also had a strong shout for a penalty after Wilshere's through-ball struck Zabaleta's arm. This extra facet to Arsenal's attacking play should be encouraging to Wenger, with his team displaying imposing variation in the final third to worry City's backline and, of course, score three goals, which would probably have been enough to claim victory against any other team in the division.
Indeed, were it not for Olivier Giroud wasting two chances soon after City's third, Arsenal may have been able to turn the screw even tighter. The Frenchman has led the line superbly this season, but there is a sense that both he and Ozil are in need of a break as Wenger struggles to juggle his small squad. It would be negligent for the manager not to pursue another striker to provide relief to Giroud in January and bolster his team's title challenge, even though Lukas Podolski should soon make his comeback. That Bendtner played any part on Saturday shows that another dip into the transfer market is a matter of urgency.
Fernandinho impressive
While some may have been surprised by Fernandinho's performance, those who have watched City a little more closely this season won't have been surprised by the midfielder's dominant display. It took a bit of time for Fernandinho and Toure to find the right balance at first - with both players favouring quick transitions which occasionally left a void in front of the defence - but they have since established themselves as the strongest central midfield partnership in the Premier League. That Ramsey and Ozil were largely peripheral figures is testament to Fernandinho and Toure's contributions, with the former also scoring two delightful goals to open his City account. Surely it's time for Big Phil to give Fernandinho a chance to prove himself for Brazil?
In contrast, there appear to be issues with Arsenal's midfield. With the Gunners always chasing the game, it seemed that the fluid nature of their front four/five actually worked against them. As Wilshere, Ramsey, Ozil and Walcott all moved across the final third to try and find gaps in City's defence, Zabaleta and Clichy were both granted space to bomb forward and support the hosts' attack. At times it appeared that Arsenal's players had too much freedom to roam, when perhaps more distinct roles were required against such a threatening opponent.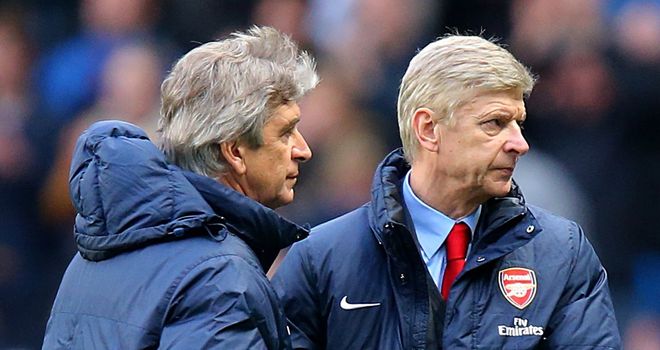 You have to wonder whether Wenger regrets his gamble to replace Flamini with Gnabry with 20 minutes remaining. While Gnabry and Wilshere were responsible for losing possession in the build up to the last two goals, they also owed much to the space in front of the back four vacated by Flamini. A 4-2 defeat would obviously have been hurtful to Arsenal, but much less so than a 6-3 thrashing.
Of course, while this was a damaging defeat for Arsenal, they are still very much in the title race and we can expect them to remain in the hunt for the foreseeable future. It is difficult to stomach back-to-back defeat for the first time since February, but they have shown previously this season that they are capable of a swift recovery. And what better way to return to winning ways than against second-placed Chelsea next week?
As for City, they can further prove their title credentials in a run that sees them face four away matches in seven fixtures before the clash against Chelsea at the Etihad on February 3. Pellegrini was frustrated at conceding three goals on Saturday, saying "It's very important to be an entertaining team but I would prefer we won 6-0 rather than 6-3", but the return of the Matija Nastasic-Vincent Kompany partnership should help in that respect.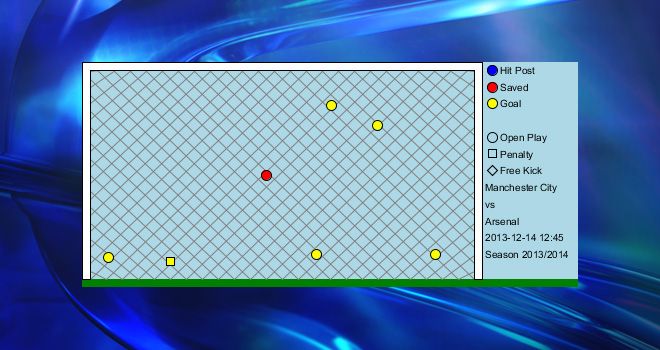 Manchester City's finishing against Arsenal was clinical with Wojciech Szczesny making just one save
Pellegrini's view
"Attacking, it was a very good performance, it's not easy to score six against Arsenal - the best defence in the Premier League but I think we had four more good, clear chances to scores goals, so in that sense I'm very happy but we must keep improving. It's possible to [win in attacking fashion without conceding] but the whole team must know how to defend. I will watch the game again but I don't remember Arsenal having that many chances to score more than three."
Wenger's view
"We had the best defence in the league but we conceded many goals. Honestly, we could have scored at least six today as well. It was a very open game, we made too mistakes though. Our strength until today was our defensive strength but that went today. City were not unbeatable today. City are one of the teams to beat this season but not more so than other teams we have played this season. We've played Everton who are as good as City. We've played Southampton who are as good as City."
Table
Barclays Premier League