Nice to Michu?
Goals from Danny Graham and Chico Flores ensured the points were shared at the Liberty Stadium but the dip in form of Michu developed as a talking point. Peter Fraser analyses Swansea's draw with Hull
By Peter Fraser - Follow me on Twitter @SkySportsPeteF. Last Updated: 10/12/13 10:20pm
Michu showed his frustration in the second half after being outmuscled by Hull's Alex Bruce
What has happened to Michu? Admittedly the Spaniard was returning from five weeks out with an injury in the draw with Hull City but he still looks a shadow of the star player who scored 18 Premier League goals in his debut season.
That the 27-year-old was back after more than a month on the sidelines can be argued as a reason for a rusty performance on Monday night, along with the fine defensive performance of the visitors at the Liberty Stadium, however, his unimpressive displays go much further back.
Michu has now gone six Premier League games without a goal, equalling his previous worst run in the competition between last December and this February. In his first 18 games in England's top flight, he scored 13 goals but has since managed just seven in the subsequent 28 matches.
The £2million summer 2012 signing from Rayo Vallecano has at times been playing in his preferred withdrawn role this season since the arrivals of Wilfried Bony and Alejandro Pozuelo, meaning there is more of an emphasis on him as a provider than a scorer. But he has still only managed one assist so far in the league as the halfway point in the campaign approaches, having produced two in 2012/13.
Against Hull on Monday, Michu returned to the leading striker role from which he ripped the Premier League to shreds in the last campaign but he cut an incredibly frustrated figure. So what has changed? Why is he struggling? Is it a lack of service, a dip in personal form or is he simply less willing to play in a position with which he has never been especially comfortable?
Selection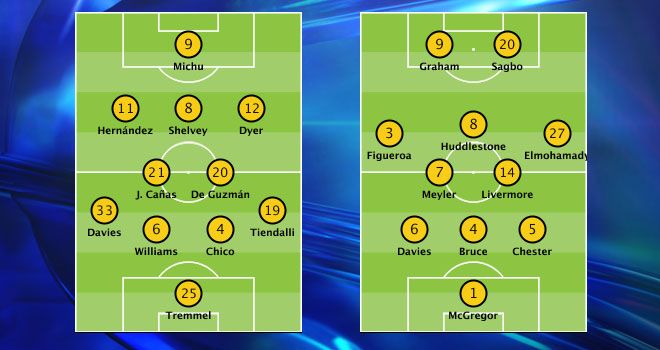 Swansea City v Hull City starting line-ups
Michu returned from the ankle and knee injury he had sustained in the derby defeat by Cardiff City. And Michael Laudrup had no doubts about bringing back the forward, who had been working on his fitness on an anti-gravity treadmill - as revealed on Twitter by squad-mate Alvaro Vazquez in November (see below). Swansea boss Laudrup told Sky Sports in his pre-match interview: "There is no gamble. He [Michu] is back, because he is fit. He has been training with us for a few days with the squad. Of course he is not 100 per cent match fit, after five weeks sidelined, but he is back and his injury is behind him. We are happy to have him back."
De Swansea a la luna.. @Michuoviedo pic.twitter.com/3ILNwV8tYl

- Álvaro Vázquez (@AlvaroVazquez91) November 12, 2013
Along with Michu, Nathan Dyer and Gerhard Tremmel were also returned to the starting line-up, as Michel Vorm missed out with a knee problem. Jonjo Shelvey, flanked by Dyer and Pablo Hernandez, was the man tasked with supplying the service to Michu, who was playing against a Hull back three of James Chester, Alex Bruce and Curtis Davies. Bony remained absent with the injury sustained against Valencia.
Story of the game
Michu began well, playing a pass from the centre circle which set Dyer through towards goal before the move broke down, but he then struggled and stayed too deep. In the opening 15 minutes, within which Hull took the lead in the ninth minute through former Swansea man Danny Graham, the Spaniard touched the ball just seven times. Only goalkeeper Tremmel and full-back Ben Davies touched the ball less than that total in the same time period for Swansea.
The sight of Michu flapping his arms and punching the air in frustration in the 18th minute after Jonathan De Guzman had run offside wide on the right epitomised the forward's display amid the subdued atmosphere at the Liberty Stadium. And Sky Sports' co-commentator, Alan Smith, said of Michu: "He is continually coming deep for a lone striker. He is not trying to stretch that Hull back three and he is not trying to work the channels."
Smith was correct. Michu's average position in that opening 15 minutes found him located in the centre circle while those seven touches of the ball had come nowhere near the penalty area, where he might have been able to have a shot on goal. Instead, the image of the forward flailing his limbs in annoyance at his team-mates became a repetitive scene.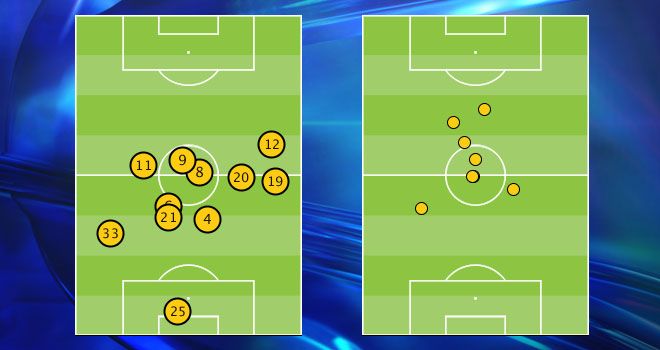 Michu (nine) was in the centre circle in the first 15 minutes (l) and he had just seven touches
An exasperated Michu did have a point. After half-an-hour, he had seen more of the ball - increasing his total touches to 18 and creating another chance, with a clever step-over setting up a shot for Ben Davies. But, despite Swansea having a trademark 68 per cent dominance of possession, Michu was having to work on scraps. Swansea were moving the ball too slowly. Shelvey, Dyer and Hernandez had played the ball to Michu on a combined total of only seven occasions and, in their desperation, Swansea as a team were launching too many unsuccessful long balls.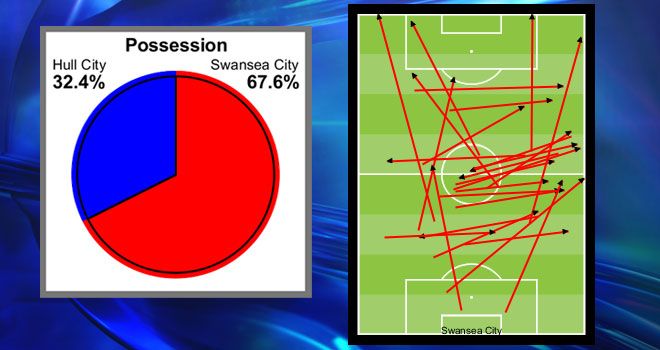 Swansea dominated the early possession but played too many long balls which did not work for Michu
Boos greeted the half-time whistle and it was easy to understand. Swansea had not provided Michu with the necessary service, despite their total of 406 first-half passes being more than double that of Hull's 200. The home team's tendency to go long was underlined in that just 49.2% of their passes had been in the opposition half. Yet Michu still had to take some of the blame for Laudrup's men having failed to have a shot on target in the opening 45 minutes.
Swansea had focused a 50% first-half majority of their attacks down the right, with full-back Dwight Tiendalli and Dyer pushing further wide than Hernandez and Ben Davies on the left. This did give their play an element of predictability. But it was more a failure to push into high areas of the pitch, as the home team, than a lack of width - particularly against a side with three centre-backs - which was causing the problems. It seemed to be that Michu's tendency to drop deep, perhaps trying to find room against those three centre-backs, was consequently meaning his team-mates also had to drop off.

The issue can be highlighted by comparing Swansea's 4-1 home victory last season over Queens Park Rangers, who were playing 4-4-2, when Michu scored one of his four two-goal hauls of that campaign. Against QPR (see left image in below graphic), Hernandez (No.11 under No.15) was similarly still narrow on the left while Dyer (No.12) and the right-back, this time Angel Rangel (No.22), were also again much further wide on the right. That was almost identical to against Hull in the first half but the key difference was in Swansea as a team, led by Michu (No.9), being further forward versus QPR (compare left image to right image in below graphic).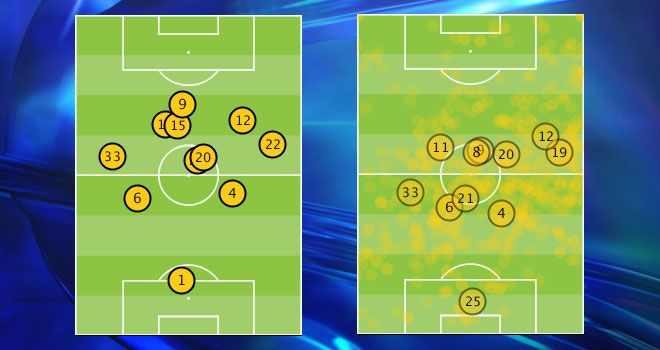 Swansea were far further forward against QPR last season (l) than in the first half versus Hull (r)
Michu, of course, is not an out-and-out striker and it is perhaps why his performance last season was all the more impressive. He played a more withdrawn role at Rayo Vallecano. Indeed, Michu said in an interview in FourFourTwo in April: "My biggest strength is bombing into the box as a second line of attack that nobody notices. I prefer to play as a No.10, because it is easier to find that space... I can understand why I have been playing as a centre forward and I will continue as long as the manager picks me but I love playing off the striker." It was a reason why Laudrup decided to bring in the likes of a traditional centre-forward in the form of Bony this summer.
But Laudrup clearly had a word at half-time. Regardless of whether Michu was outnumbered by Hull centre-backs, Swansea needed him further up the pitch. Smith said early in the second half: "It looks to me when Swansea have got the ball in these positions [the halfway line], Michu is stopping further up the pitch than he was in the first half." He had moved into more advanced areas, as demonstrated by his average position (see below graphic), and this helped Swansea before they equalised in the 60th minute through a fortunate Chico Flores as a cross seemed to ricochet off the centre-back's arm.
But the goal was still only Swansea's first 'shot' on target of the game. At that hour mark, Michu had touched the ball just 34 times and played 31 passes. In the 75th minute, after unsuccessfully chasing another long ball, the scene of his irritated arms being shrugged and slapped down to his hips again returned. Not long after, he unleashed a bizarre roar at Bruce having been outmuscled by the Hull centre-back in a shoulder-to-shoulder challenge.
Michu's best moment of the night came in the 79th minute after collecting a back-heel from substitute Wayne Routledge in the inside left channel of the penalty area before shooting at Allan McGregor. However, it was the Hull goalkeeper's first save of the night and that told its own story.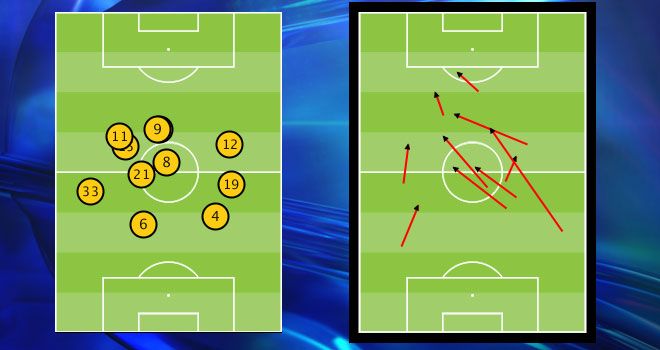 Michu (nine) did get further forward in the second half (l) but Shelvey only played 10 passes to the Spaniard (r)
At the final whistle, Michu had touched the ball 44 times, a total less than any other outfield Swansea player who had started the game. He had also won only one of his three duels and had mustered only that one, late shot on target along with creating those two earlier chances. He did not have good service on the night, with Shelvey ending the game having played the ball to his team-mate on just 10 occasions - with not one of those passes being into the penalty area, and he was of course not match sharp against a well organised Hull defence. But his performance was still a microcosm of his season so far as his dip in form continues. It seems more a case that he is less happy with his role in the team.
"I think it is a fair point. It was not a very good game to watch. I think in the first half we played much too slow, there was no pace in the ball, so it was quite easy for Hull to control and to defend. They got a good goal from a good cross, and it was a good finish from Danny. In the second half we did much better and were much quicker, and got the equaliser. We had the chance maybe for the second goal, but I think after the first half we did not deserve to win this game today."
"I am pleased for Danny Graham. All strikers have it [a drought], even the great ones go through a time in their career. It was going well for Danny, who scored 13 goals just after Swansea got promoted and then all of a sudden in the last 12 months, for whatever reason, it has not gone so well for the lad. The thing you have to do is to keep working hard at it, keep persevering and hope that it will turn round."
LIVE and exclusive on Sky Sports
Table
Barclays Premier League
Related
Swansea v Hull*

Michael Laudrup conceded Swansea City did not deserve more than a point following a 1-1 draw with Hull City.

Steve Bruce felt Hull City were denied a 'clear-cut penalty' during the 1-1 draw against Swansea City.

Hull City goal scorer Danny Graham and Man of the match Ahmed Elmohamady are happy with their hard earned draw at Swansea