Chelsea control
Chelsea produced an impressive performance of real maturity to beat West Ham 3-0 at Upton Park on Saturday evening. Frank Lampard got the goals and Oscar the acclaim but Adam Bate also pinpoints Jose Mourinho's selection of John Obi Mikel as a vital one in improving their away form...
By Adam Bate - Follow @GhostGoal. Last Updated: 23/11/13 10:00pm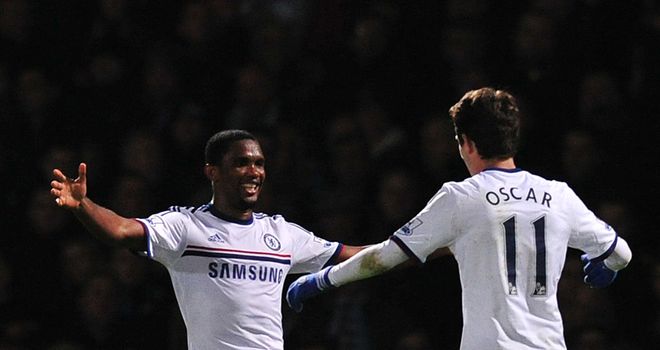 Samuel Eto'o and Oscar were both impressive as Chelsea outplayed West Ham
Chelsea produced a dominant performance at West Ham to beat their London rivals 3-0 on Saturday Night Football. Frank Lampard scored two of the goals - including the opener from the penalty spot - against his former club, while Oscar netted the goal of the game in a convincing display.
The Hammers contributed to their own struggles as Guy Demel's ill-judged backpass saw Oscar draw the foul from Jussi Jaaskelainen midway through the first half and Lampard did the rest by converting from 12 yards. James Collins then added to the home side's difficulties before the break, attempting to nip in ahead of Eden Hazard only to leave Oscar free to double the lead in style.
Sam Allardyce made two changes before the interval and the game opened up in the second half but it was Chelsea who got the third goal and sealed the victory through that man Lampard. The win closed the gap on Arsenal at the top, leaving West Ham deep in the relegation mire.
Here we look at the Opta stats to find out more about where the game was won and lost, whether West Ham's formation was to blame and how the selection of John Obi Mikel can help it all come together for Chelsea on their travels...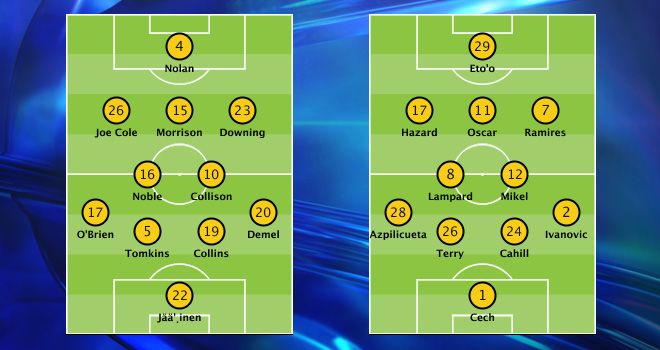 West Ham v Chelsea starting formations
Selection
Allardyce elected to persist without a recognised striker as Andy Carroll continues to recover from injury. Joey O'Brien was recalled to the team in place of Razvan Rat at left-back but the rest of the line-up remained unchanged from the side that lost 3-1 at Norwich before the international break.
That meant Joe Cole and Stewart Downing were the men on the flanks with Matt Jarvis forced to settle for a place on the bench. In the centre of the pitch, Jack Collison was preferred to Mohamed Diame, while Kevin Nolan was handed the most advanced role with strikers Carlton Cole and Modibo Maiga among the substitutes.
Jose Mourinho also made just one change to his team, introducing Mikel in favour of Willian in a cautious move that saw Ramires move to the right flank. Cesar Azpilicueta was again deployed at left-back ahead of Ashley Cole, while Samuel Eto'o took the central striker role instead of Demba Ba. Juan Mata had to be content with a place on the bench.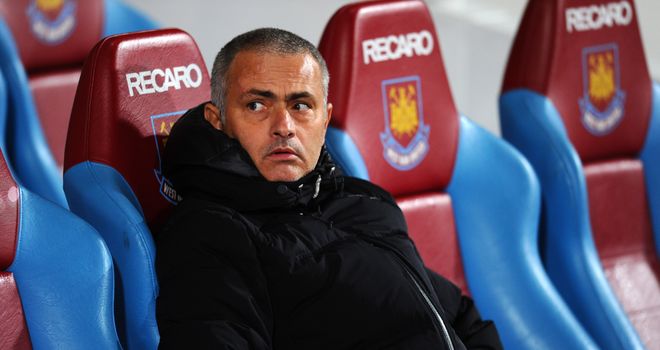 Mourinho's selection of Mikel gave his Chelsea side added control at Upton Park
Where it was won and lost
"They can play different styles," Mourinho had said of West Ham before the game. "They can play a traditional Sam style with long balls and look to win first and second balls. They can also play without a target man and with an extra man in midfield. They can pass the ball more and try to catch an opponent in transitional moments."
Much of the focus had been on West Ham's 4-6-0 but, in truth, the shape was not so dissimilar to that of the visitors on paper with Nolan effectively playing as a striker for the Hammers. That may be the ongoing story of frustration at Upton Park but it was simple defensive errors that cost the home side in the first half.
Demel's execution when knocking the ball back to Jaaskelainen with his thigh proved costly as Oscar nipped in ahead of Jaaskelainen and was brought down for the penalty. "I hold Guy Demel totally responsible for that," said Niall Quinn on co-commentary. Lampard duly blasted the ball home to net for the third time in a row against his former club.
History is written by the winners but until that point the plan had been working reasonably well for Allardyce's team, as shown by the fact they had enjoyed 49 per cent of possession after the opening 30 minutes of a largely scrappy first half.
Downing had succeeded in getting in behind Ivanovic, with the winger well fed by O'Brien, and 50 per cent of the Hammers attacks came down that left third of the field in the first half. One Downing cross found Nolan at the far post with his header falling nicely for Cole, only for the former Chelsea man to see his shot blocked from close range.
The problem for the Hammers wasn't so much that they were playing without a striker but that the player asked to play the role was not able to perform his duties effectively. "As Terry heads that 50 yards up the field, another reminder of how West Ham could do with Andy Carroll back," added Quinn.
Nobody completed more passes than Noble (32) in the first half but only five of them were in the opposition half as West Ham struggled to get a foothold in the final third without a specialist focal point. Despite Nolan's strength, holding up the ball as a target man is a different challenge. The more diminutive Eto'o completed more passes than Nolan in the first half and the key was that, through clever movement and supply, the Cameroon international rarely found himself isolated.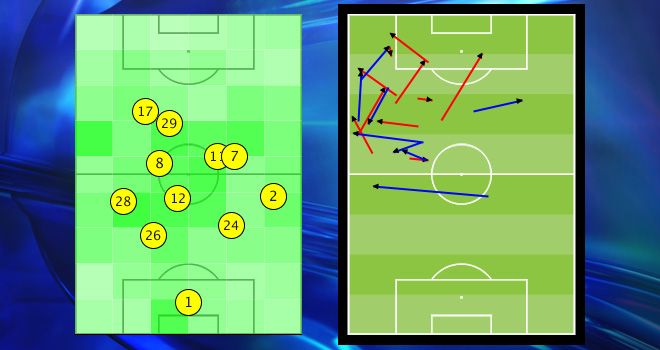 Hazard (17) played alongside Eto'o (29) and they interacted well (Hazard red / Eto'o blue)
The link-up play between Hazard and Eto'o was hugely encouraging with the Belgium playmaker finding his striker with 10 passes in the match. Nobody other than Noble found Nolan more than twice. Part of the reason for that was how advanced up the pitch Hazard played, even ahead of Eto'o in the average position map. He played 23 of his 24 first-half passes in the opposition half.
Although Hazard troubled Demel on the flank, he was not afraid to drift inside, occupying pockets of space between the lines and this proved critical for the second goal. Seeing Hazard unmarked in the centre, Collins made the mistake of jumping in to try and win the ball first from a Lampard forward pass and paid the prize. Hazard spotted him.
"He's trying to anticipate it but these players have wing mirrors," said Jamie Redknapp at the interval. "As soon as Collins goes in there, the back-four is disrupted. It's a bad decision. Winston Reid is such a big miss in there." With Oscar left free, the Brazilian had time to pick his spot and beat Jaaskelainen from the edge of the area.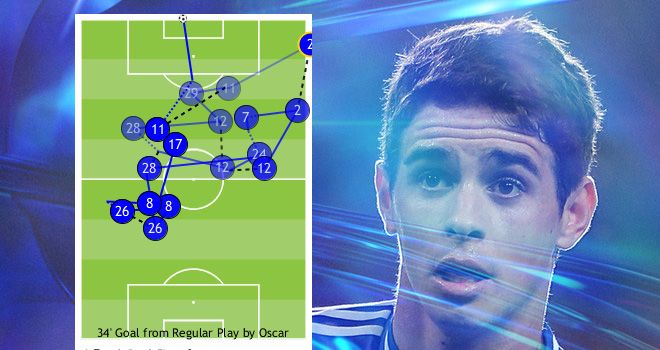 Oscar's goal involved all 10 of Chelsea's outfield players as West Ham were bypassed
Although Mata remains a fan favourite, the debate must now focus on where the Spaniard can fit around Oscar because this was another fine display from the 22-year-old in that central attacking midfield role. Not only did he show his quality on the ball but he also made seven tackles - three more than any other player on either side.
"Oscar was fantastic. I've never seen a No.10 with such work-rate on and off the ball."
Frank Lampard Quotes of the week
"Oscar was fantastic in the first half, closing balls down in the corner and working hard," said Lampard in his post-match interview. "I've never seen a No.10 with such work-rate on and off the ball. He's constant movement. He plays with a maturity of someone much older."
Allardyce's decision to make two changes before the break was a recognition that the line-up he had selected was ill-suited to chasing the game and while there were boos when the popular Cole was withdrawn, the Hammers right side had offered little. Mohamed Diame entered the fray, while the introduction of Maiga for Collison gave the home side a presence in attack.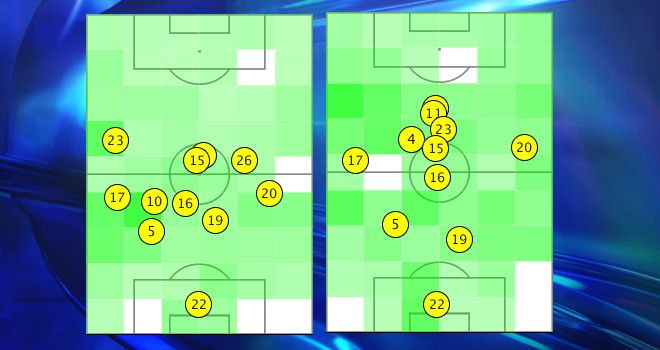 West Ham changed shape after 40 minutes - removing Collison (10) and Cole (26)
"I tried to bring some stability to the midfield by playing Mikel. I think Frank was happy with that as it gave him more freedom."
Jose Mourinho Quotes of the week
Unfortunately for West Ham, unlike Newcastle in Chelsea's previous away fixture, Mourinho looked to have got the midfield blend right on Saturday evening. The routine passing of Mikel might not catch the eye but his presence in the centre of the park was a reliable one as he completed more passes (64) than anyone in a Chelsea shirt and boasted the best passing accuracy (93.8%) of any starter on either side.
"I tried to bring some stability to the midfield by playing Mikel," explained Mourinho afterwards. "I think Frank was happy with that as it gave him more freedom." It was a sentiment echoed by the two-goal hero himself. Lampard added: "Today with Obi coming in it gave me and Rami a bit more licence to get forward and the manager told us to push on." It paid off when the veteran midfielder fired in the third goal to kill off West Ham hopes late on.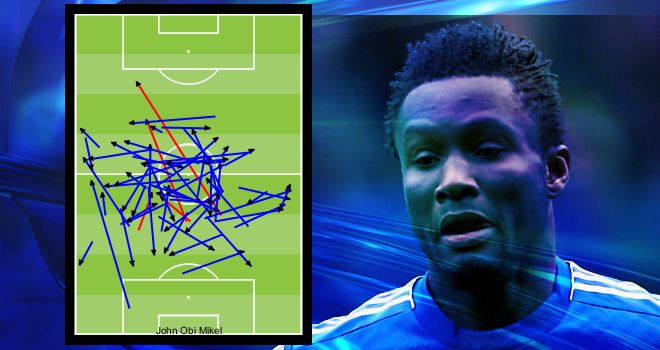 Mikel kept the ball well - the red passes are the ones that did not find their target

If Mikel can provide the platform for Chelsea's more gifted players to perform, Mourinho can certainly hope to improve on an away record that had yielded just a solitary win from five attempts prior to the trip to Upton Park. The Portuguese coach acknowledged that he hoped the template will give his team some confidence. "The performance was an example to the players of how you can win matches away," he added.
As for West Ham and Allardyce, although they had their moments as the game opened up in the second half - and Maiga should have pulled one back with a poorly directed shot - the fact that they failed to produce a shot on target until injury time tells its own story. In Carroll's absence, January cannot come soon enough but there are points to play for before then. "It's been a cruel lesson but one they have to learn from," said Quinn. With the Hammers only out of the drop zone on goal difference, it's hard to argue.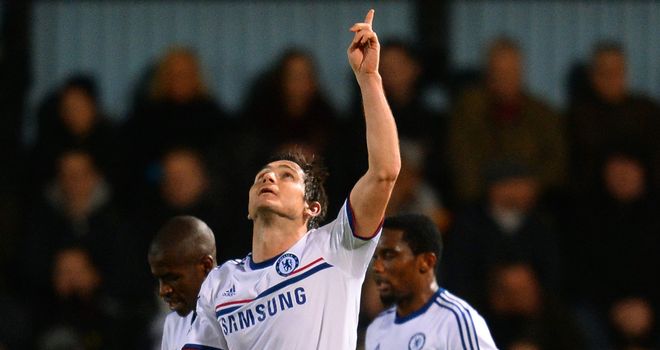 Lampard scored twice as he enjoyed the freedom of playing alongside Mikel
Allardyce's view
"The ultimate of any season in the Premier League is how well you do against the teams that, if you're in the bottom when you play them, or even if you're not in the bottom when you play them, it's how well you do against them. I think that we've got two games in four days against Fulham and Crystal Palace, and we've got to go all out to get as many points as we possibly can. We're getting to the stage where we've got to be winning now rather than drawing."
Mourinho's view
"I think Chelsea from the first minute looked very solid, very compact and very comfortable. Even though we didn't score in the opening stages, the team was always in control. We identified well the qualities of our opponent and we coped well with the difficulties they could give us. After that it was very solid. We played with great discipline. We were aggressive with the attacks from the second ball. Hazard and Oscar pressed high and created difficulties for them. The third goal should have come earlier but it's an important victory as we need to get more points away."
Jamie's view
"What West Ham did was football suicide. They gave a goal away that was so cheap. You have to play football with intensity. That's the Sam Allardyce teams I remember from his days at Bolton. But with this team, it's all too easy. They also need a focal point in attack and they need it now because if they don't win these two games against Fulham at home and Crystal Palace away then they are in a relegation scrap. In fact, they are in it now."
Player ratings
While the link-up between Hazard and Eto'o was encouraging and Oscar offered a masterclass in terms of how to perform the duties of a modern No.10, nothing grabs the headlines quite like goals and Chelsea's all-time top goalscorer netted two of them. "That second goal just sums him up," said Quinn of Lampard. "He's come back to his old club, he's worked as hard as anyone tonight and his finishing once again has been superb. It's been a terrific return for him."
LIVE and exclusive on Sky Sports
Table
Barclays Premier League