The real deal?
Whilst few would deny Arsenal were full value for their 2-0 win over Liverpool on Saturday evening, there are still those who are sceptical over whether they have enough to last the course. Alex Dunn is slowly starting to believe a trophy drought may be ended this season at the Emirates
By Alex Dunn - @skysportsaldunn. Last Updated: 03/11/13 7:40pm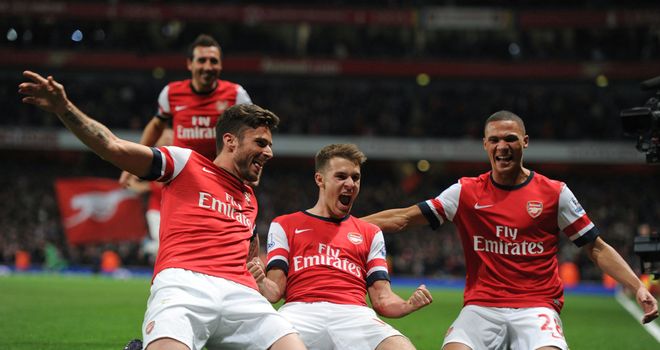 Not a bad Saturday night for Arsenal as they move five points clear at the Premier League summit
Billed as an audition as to whether either Arsenal or Liverpool have the ability to last the distance in this season's Premier League title race, it will be the former granted a call back after they were magnificent at times in claiming a 2-0 victory that gives them a five-point lead at the summit.
Chelsea's surprise defeat at Newcastle earlier in the day gave both in-form sides a pre-match fillip and an Emirates faithful described this week by Arsene Wenger as being 'sceptical' last season, sounded fully convinced throughout by an Arsenal team now brimming with vim and verve and in possession of a midfield quintet as interchangeable and easy on the eye as any in Europe at present.
Santi Cazorla registered with his first goal of the season to give Arsenal a first half advantage before after the interval the home side made light of a Liverpool tactical reshuffle to extend their lead, as the now positively statuesque Aaron Ramsey pushed his tally for the campaign into double figures with a strike he conceded was one of his finest to date post-match.
Selection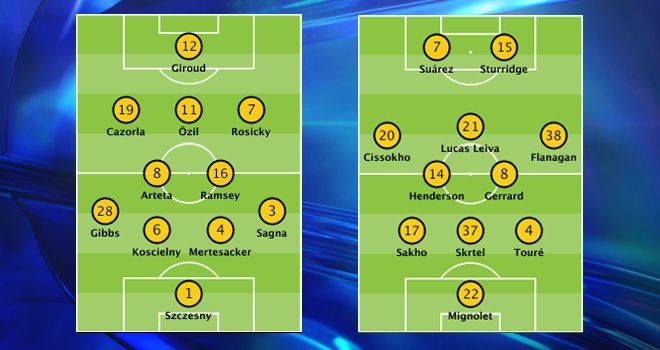 Starting line-ups for Arsenal versus Liverpool, Emirates Stadium
The late withdrawal of Glen Johnson gave Brendan Rodgers a conundrum he could have well done without, with the Liverpool boss explaining his surprise decision to draft in Jon Flanagan for his first Premier League start in 18 months: "We've only just found out that Glen Johnson can't play any part due to illness. He travelled down with the team but it was only today that it happened. I had a choice: I can either change the structure of the side or bring in one of my young players whose attitude has been brilliant since I came in."
In the Saturday Night Football studio Jamie Redknapp conceded he held reservations about whether Rodgers would have been better served by moving Jordan Henderson into a right wing-back berth. "When you play in any wing-back position it's a big ask. It's a high energy position. He probably would have wondered whether to play Jordan Henderson there. It's a hard position, he'll have Gibbs and Cazorla coming at him at the same time. It's not ideal for Rodgers to have made that decision so late in the day." His words would prove prophetic.
For Arsenal there was no Jack Wilshere as a knock saw him join Mathieu Flamini on the treatment table. It was the Frenchman's absence in a midweek defeat to Chelsea which was widely credited as flaring Arsenal's perennial Achilles heel of offering scant midfield protection to an oft exposed back four. Mikel Arteta was asked to sit in a holding role, with Tomas Rosicky brought in to complete Arsenal's effervescent attacking triumvirate behind Olivier Giroud.
Where it was won and lost
It was interesting to note how both Wenger and Rodgers claimed possession would be the game's key factor when posed with the question before kick-off.
Rodgers said: "Our idea is always to dominate the ball, keep the opponent running. That's a difficult challenge against a team who also has that as their ethos. It's important that we keep that composure, keep the ball and work it up the pitch quickly to our front two. We have to work as a team."
While the stats point to the fact Arsenal enjoyed 59% per cent possession in the first ten minutes it was actually at this stage of the contest, along with the same spell of the second half, that Liverpool enjoyed their best spells. It's unlikely Rodgers would have been worried at this juncture as it's noticeable how Liverpool's overall dominance of the ball this season has dropped from 57 to 53 per cent, while conversely their chance conversion rate is up from 13.45 to 15.45%. Passing opponents to death is no longer Rodgers' raison d'etre, with the stats on half an hour showing Arsenal were still ahead possession-wise on 56.4 per cent to 43.6.
Looking to continue their tactical trope of the season in pressing their opponents high up the field, Liverpool started well as they snapped into their opponents in the early sparring. A prime example of Liverpool's pressing presented their best chance of the half when Henderson harried Cazorla on halfway before making inroads into the area as Per Mertesacker backtracked to match Luis Suarez's run. Only the finish was lacking as he pulled his shot meekly wide.
Gary Neville noted: "Arsenal have seen a little more of the ball but it doesn't tell the full story." As commentator curses go, it was a particularly stinging one for Liverpool.
A minute later, the 18th of an absorbing content, Arsenal were ahead. In an incident that exposed all the potential limitations of playing with wing-backs, Cazorla opened the scoring. First Arsenal found joy down Liverpool's left when Aly Cissokho allowed the buccaneering Bacary Sagna, who offered more than either of Liverpool's more advance wide players and topped Arsenal's crossing list with four deliveries, to get in behind.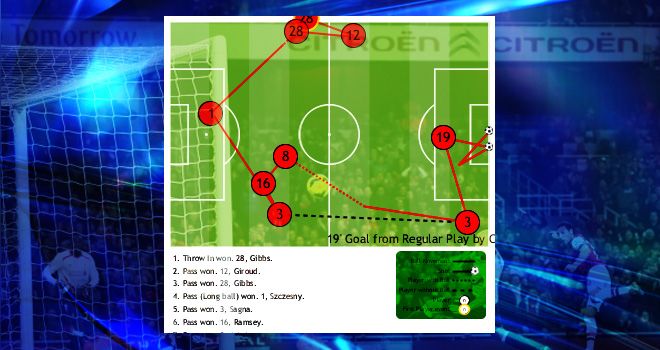 How Santi Cazorla scored Arsenal's opener at the Emirates
When Giroud made for the penalty spot Kolo Toure found himself overloaded by Cazorla's dart for the box. Whilst none of Liverpool's middle three covered themselves in glory in tracking back - the ineffective Lucas in particular peripheral throughout - the obvious culprit was Flanagan. Had he been more switched on and moved inside from the right it's unlikely the diminutive Cazorla would have had time to direct his header from 15-yards with such accuracy. That is to take nothing away from his searing finish though, as when the ball came back off the post into his path he was confident enough in his technique to thrash the rebound past Simon Mignolet.
With the wind in their sails Arsenal started to click, as Liverpool struggled to contain the irrepressible trio ahead of Arteta. Managing to be both intuitive and intelligent, Ozil, Cazorla and Ramsey rendered Liverpool's equivalents dull in comparison. The latter will steal the headline for his wonder strike but it was Arteta who was key to this performance.
There will not be many better performances this season in a holding role. In the first half Arteta had more touches (67), competed in more duels (11), made more tackles (5) and completed more passes (57) than any other player. A pass success rate of 96.5 per cent is testimony to the fact his quality matches his competiveness.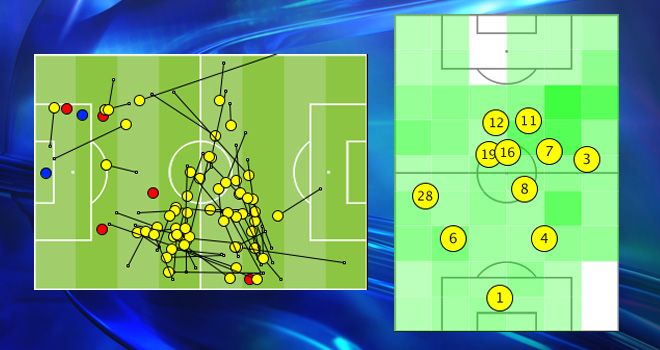 Arteta's (8) first half tackles (red), passes (yellow), blocks (green), clearances (blue), interceptions (purple) + Arsenal's average positions
Whilst Arsenal attacked in waves of red, Liverpool's forward forays looked disjointed in comparison. Given Daniel Sturridge and Suarez have been responsible for 14 of Liverpool's 17 league goals this season the battle with Metesacker and Laurent Koscielny was always going to be paramount. On the day Arsenal's defensive duo hardly put a foot wrong.
Koscielny has said 'on man-marking, I don't let the striker breathe', and true to his word he played up close to Suarez all evening. Happy to hunt his man the Frenchman was content to step up, leaving Mertesacker to pick up Sturridge in a deeper position. His lack of pace could have been an area for Liverpool to isolate but in unison with Koscielny he marshalled Arsenal's back form with assured aplomb. In this respect they are developing into quite the partnership; Koscielny the aggressor and Mertesacker a reassuring zonal presence.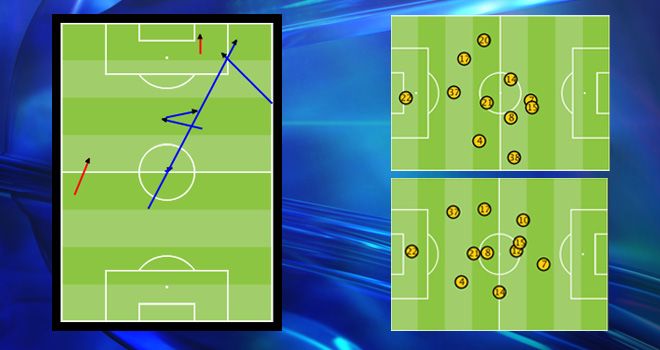 Sturridge and Suarez combined only sporadically, while a change in formation failed to yield too much improvement for Liverpool
Coutinho's introduction at half-time for Cissokho, on a booking for upending Sagna, saw Liverpool switch to a back four with Steven Gerrard sat deeper. Just as they started quickly out of the blocks in the first half, so they did in the second, as Suarez twice rolled Koscielny to get in promising positions. Had Henderson better controlled a far post volley the game could have been different, but as Rodgers conceded, it was Arsenal who always looked the more likely.
Giroud's dink should have punished Toure's lackadaisical square ball, while had the Frenchman's later poke for goal had more purchase it would have capped a fine moving involving Rosicky and Cazorla. In this type of form there are few more edifying sights in football than Arsenal conducing mini-masterpieces on the edge of an opponent's box. Cue Ramsey's goal to cap off a majestic display on 59 minutes.

The unusually subdued Mesut Ozil, who shone only in pockets of play, ended a run of four games without an assist as he spotted Ramsey with a cute dinked pass infield from the right flank. Liverpool's middle three were caught in a line as Lucas and Gerrard were drawn to the ball and Henderson failed to pick up Ramsey. After one touch to steady himself the renaissance man powered a wonderful dipping drive from range past Mignolet; Toure's decision to turn his back will not win any medals for bravery. Ramsey has now scored more goals this season than the previous six combined.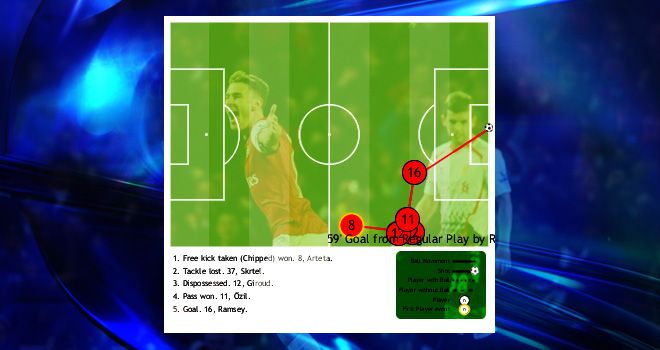 Aaron Ramsey's tenth goal of a remarkable season was arguably his finest so far
If ever a player exemplified the virtues of patience it's Arsenal's number 16, who just last season was considered not good enough for Arsenal by many a sage critic. That's why Arsene Wenger is Arsenal manager and alas, we are not.
It would be hyperbolic to suggest Liverpool were not without decent moments of their own and this was far from a disastrous performance. Suarez was inches from reducing the deficit when he took the ball off Sturridge's foot with 20 minutes still remaining, while his strike partner had chances of his own. Their performance was perhaps best surmised though at the death when an exasperated Sturridge could barely contain his ire, as Suarez went for goal rather than look for his team-mate. They exchanged just four passes over the ninety minutes. Both will have better days at the office.
Indeed were it not for two fine low smothering saves by Wojciech Szczesny to deny Sturridge and Coutinho late on Arsenal would not have recorded their third clean sheet of the season. The Pole's performances this season belong to the file marked 'told you so' in Wenger's top drawer. In pursuit of the aforementioned shut out, it's worth noting that Arsenal finished the game with two defenders in wide positions. When Wenger starts to be pragmatic in pursuit of points it's time to start taking Arsenal seriously.
On this performance, only a fool would argue otherwise.
Wenger's view
"It was a convincing win against a good team, and that's what we wanted. What you want is good focus, great dynamic in the team and overall it was a very convincing performance. We got a good goal, and after that I felt we had many opportunities to make the difference and then Ramsey scored a stunning goal, but we had chances before and after. But overall what you want is good focus, great dynamic in the team and overall it was a very convincing performance."
Rodgers' view
"I thought the best team won. Their mobility and passing was better than ours and we could've done better with the two goals. We kept going all night, the players have been brilliant in their application. They went right to the end. We created chances, we just couldn't put the ball in the net."
Jamie's view
"They were very comfortable at times and it was a really good performance that showed what they are about. It sets them up for this week - Dortmund on Wednesday and then going to Old Trafford on Sunday. It sets them up and gives them real confidence."
LIVE and exclusive on Sky Sports
Table
Barclays Premier League
Related