Match analysis
As part of a new post-match analysis series, we dissect how Manchester United claimed the Community Shield by comfortably beating Wigan at Wembley on Sunday.
By Alex Dunn. Last Updated: 12/08/13 10:47am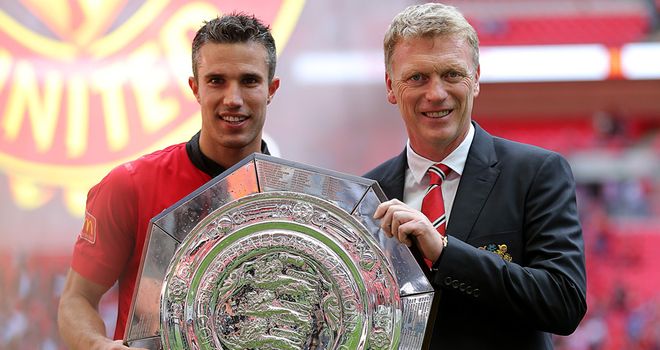 A satisfactory afternoon's work for Robin van Persie and David Moyes at Wembley
Solid, cohesive, comfortable. Hardly adjectives to get Europe's elite cowering, but when David Moyes flicks through Monday's back pages, he'll do so in the knowledge the first real(ish) test of his Manchester United tenure has been negotiated with minimum fuss. Just the way he likes it.
Given this was the first time since 1985 United have contested a Community/Charity Shield without Sir Alex growling 'there's no such thing as a bloody friendly' from the touchline, it will come as little surprise that pre-match chat at Wembley centred almost entirely on Moyes. The phrases most liberally used in the build-up were 'hiding to nothing' and 'no-win game'.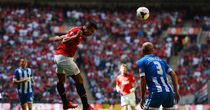 Van Persie breaks the deadlock
The overriding emotion then for United's new management team will be one of relief after a contest in which Robin van Persie's double was more than enough to see off a Wigan Athletic side that mustered not a single shot on target. In truth, this was a contest that alternated between lethargic and languid throughout 90 searing, draining minutes in the capital sun.
A Wembley classic this was not, but after a close-season of performances that in the Scot's own words have been 'mixed', Wayne Rooney's less than helpful truculent behaviour and transfer pursuits that have involved more meanders down garden paths than an episode of Ground Force, a first piece of silverware safely ensconced at the first attempt will not be sniffed at.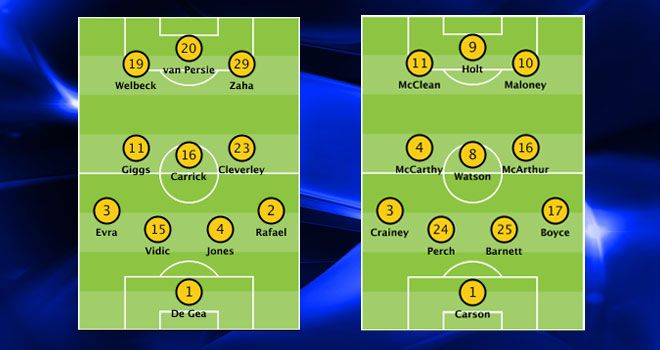 Manchester United and Wigan Athletic's starting XIs for Sunday's Community Shield at Wembley
Selection
Considering the amount of column inches that have been dedicated to a lack of options in United's midfield, it was a brave call on Moyes' part to select 39-year-old Ryan Giggs, playing his 21st club game at Wembley, in a tucked-in role alongside Tom Cleverley and Michael Carrick. A standing ovation upon his substitution in the 67th minute more than justified his inclusion.
Giggs given big ovation as he is substituted at Wembley. Reckon he's got at least one more appearance here left in him

- Oliver Holt (@OllieHolt22) August 11, 2013
From United's most experienced player to their least, it was an even bigger day for Wilfried Zaha. A series of exciting displays on the club's largely indifferent tour of the Far East won him a starting spot down United's right flank.
Rooney's shoulder injury prohibited his involvement, though Moyes conceded he was happy for England to use the player in midweek against Scotland and insisted post-match that he was going nowhere: "I didn't fall out with Wayne. He trained with the reserves at his asking. I'm quite enjoying talking about Wayne, because so many of you are getting it wrong. He will not be sold."
For Wigan, last week's 4-0 thumping of Barnsley saw them go into the game in optimum spirits, with new boss Owen Coyle able to call on five of those who stunned Manchester City in May at the same venue. His other noticeable selection was James McClean, who made his debut for the Latics having joined from Sunderland last week. The three-man backline favoured by his predecessor Roberto Martinez has been ditched for a 4-3-3 formation, which on a rudimentary level mirrored their opponents.
Where it was won and lost
What can be gleaned from United barely getting out of second gear to beat a Wigan side that won 53 fewer points than them last term and finished 17 places below them in the final standings is debatable, but what cannot be disputed is the influence of Van Persie. The Dutchman's double, on the back of 30 goals in 48 appearances last season, again proved the difference for a United side now capable of being as pragmatic as they were once swashbuckling in grinding out the right result.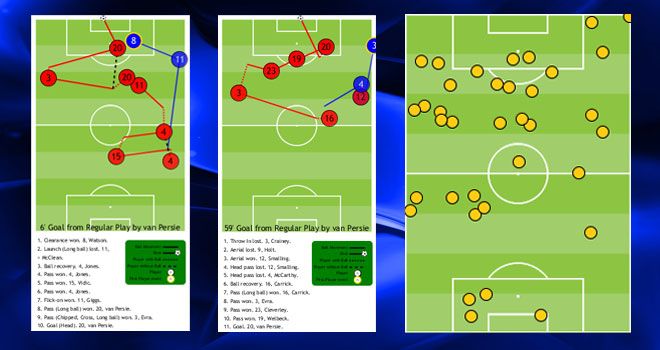 How Robin van Persie's goals were constructed, along with a touch map for his 84 minutes on the field
His first goal was exquisite. Giggs, whose own cute flick in the build-up (see diagram above) was a rare piece of ingenuity amid the more prosaic offerings on show, was quick to pay tribute to his team-mate's contribution: "The first goal is a brilliant goal. We hope Robin can produce the form that he showed last year." If he doesn't, or suffers injury, it's difficult to see where sufficient goals will come from.
His second goal was interesting in that it encapsulated all that is good and at the same time infuriating about Danny Welbeck. The England man was intuitive in his link-up play all afternoon (he enjoyed a 90% pass accuracy and played two key passes) and in dropping deep allowed Van Persie to concentrate on his own work in the key final third. It is though a reluctance to shoot that is a source of frustration for many and while his lay-off to his team-mate on this occasion proved productive, it's perhaps no surprise that a striker who cocks the trigger often but rarely ever pulls it troubled the scoresheet just twice last season.
As a support striker, though, there's no doubt he's developing into a top-class talent. The watching Rooney and Shinji Kagawa will perhaps have enjoyed Welbeck's performance as a No.10 less than his manager.
A display that was at once muscular and mature will not have gone unnoticed by Roy Hodgson either.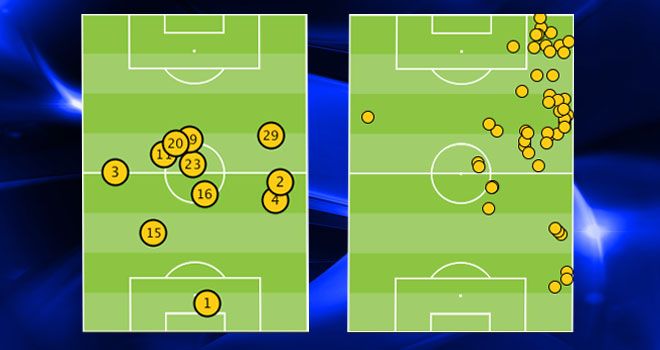 The first diagram highlights the average positions of United's starting XI, the second Wilfried Zaha's touches
Perhaps the only individual who may have felt more nervous than Moyes before kick-off will have been Zaha. It was expected the summer recruit from Crystal Palace would have been eased into United's first team in a slowly-slowly manner, as befitting of a talent seemingly as raw as it is explosive, but injuries to Nani and Ashley Young opened up the door for the 20-year-old in the close-season and it would not be a surprise if he were to usurp either or both in Moyes' thinking.
Although he hobbled off just after Van Persie's second goal, it's not thought to be a serious injury and Hodgson will likely have seen enough from the precociously talented wide man to grant him a first cap at the same ground on Wednesday. On a day on which it was confirmed Antonio Valencia has relinquished his No.7 shirt after failing to exorcise the spectres of Ronaldo, Beckham, Cantona and Robson that so haunted him last term, it was refreshing to see a winger in no doubt of his ability.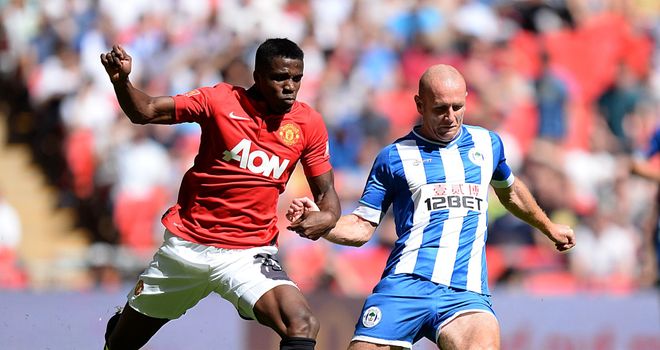 Wilfried Zaha could well have done enough on Sunday to earn a first England cap in midweek
At times, he overplayed but United supporters reared on Ronaldo will forgive him the odd overindulgent flick or trick as long as he continues to graft down his flank as he did on Sunday. With Giggs employed largely as a third central midfielder, in the process repeatedly making space for the ever buccaneering Patrice Evra down the left (see diagram 1 above), it was imperative that Zaha kept width by hugging the right touchline. In this respect, it was a remarkably disciplined performance from a player whose natural inclination is to drift centrally.
Giggs just having a quiet word with Zaha, whose careless back-heel gave #wafc the ball briefly v #mufc

- Henry Winter (@henrywinter) August 11, 2013
A pass completion rate of 86.5% put him down the list of United's most accurate in tenth place, but other than a loose back heel and wayward cross field pass - both in the first half - he was for the most part intelligent in his overall play and showed a willingness to defend that will have impressed his manager.
Moyes' view
"I class that as another piece of silverware for Sir Alex. It was his team that won the Premier League last year. A big thank you to him, it's for him today. The next ones will be down to me. Wilfried Zaha has done well in pre-season and it was right for him to feature today. He picked up an injury. We are looking forward to using him as the season goes on."
Van Persie's view
"We're doing really well and I believe in this team. We are the champions and based on that we are clear favourites. I believe in this team and I believe that we will compete until the end again. It's always nice to score, especially at Wembley. It's a great day for the fans, for us and for the manager as well. All of us."
Coyle's view
"We always knew that it would be a tough afternoon, we conceded an unbelievable finish. The header could only go in one place. But we had a good spell either side of it and United got a fortuitous second goal which finished the game. We are trying to get back to playing these elite teams every week. We are building a good side here, I am still looking to add to that, though my chief executive may not want to hear that!"