Switzerland claimed a last-gasp victory over Cyprus in World Cup qualifying
Last Updated: 08/06/13 7:58pm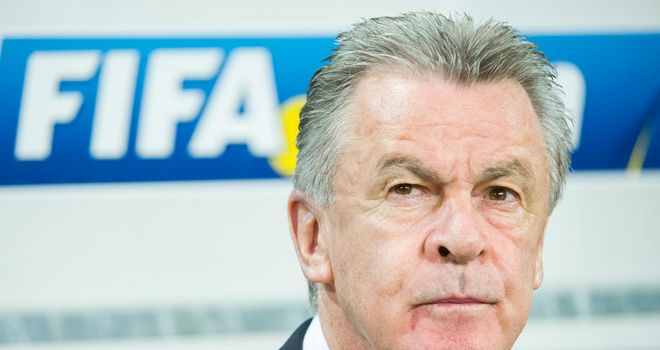 Ottmar Hitzfeld: On course to qualify for the World Cup in Brazil
Switzerland claimed a last-gasp victory over Cyprus to take a stranglehold of their World Cup qualifying group.
The two nations looked set to repeat the goalless draw they shared in Nicosia in March until Swiss substitute Haris Seferovic popped up in the 90th minute to earn his side a deserved win.
The result leaves Ottmar Hitzfeld's team with a four-point advantage at the top of Group E over Albania and five points clear of Iceland in third.
With both Albania and Iceland dropping points last night, Switzerland knew they could significantly boost their World Cup hopes with a win today, but it appeared they would ultimately be frustrated by a fine performance from Cyprus goalkeeper Antonis Georgallides.
Georgallides enjoyed some luck early on when Mario Gavranovic's eighth-minute header came back off the post, but the veteran custodian then kept the Swiss at bay with superb saves to deny Xherdan Shaqiri and Gavranovic either side of half-time.
Switzerland goalkeeper Diego Benaglio was then called into the action to tip behind efforts from Nektarios Alexandrou and Charalambos Kyriakou as last-placed Cyprus rallied before Georgallides found himself back in the firing line.
With nine minutes to go he did brilliantly well to keep out a Gavranovic shot at the expense of a corner, and then in the 88th minute he parried Shaqiri's left-footed shot with his feet.
However, with a clean sheet almost within his grasp, Georgallides was finally beaten right at the end as Swiss replacement Seferovic raced on to Shaqiri's superb through-ball before cleverly dinking his shot over the Cyprus goalkeeper.
Tables
FIFA World Cup European Qualifying Group A
FIFA World Cup European Qualifying Group B
FIFA World Cup European Qualifying

| Pos | Team | P | Pts |
| --- | --- | --- | --- |
| 1 | Italy | 10 | 22 |
| 2 | Denmark | 10 | 16 |
| 3 | Czech Republic | 10 | 15 |
| 4 | Bulgaria | 10 | 13 |
| 5 | Armenia | 10 | 13 |
| 6 | Malta | 10 | 3 |
FIFA World Cup European Qualifying Group C
FIFA World Cup European Qualifying

| Pos | Team | P | Pts |
| --- | --- | --- | --- |
| 1 | Germany | 10 | 28 |
| 2 | Sweden | 10 | 20 |
| 3 | Austria | 10 | 17 |
| 4 | Republic of Ireland | 10 | 14 |
| 5 | Kazakhstan | 10 | 5 |
| 6 | Faroe Islands | 10 | 1 |
FIFA World Cup European Qualifying Group D
FIFA World Cup European Qualifying Group E
FIFA World Cup European Qualifying

| Pos | Team | P | Pts |
| --- | --- | --- | --- |
| 1 | Switzerland | 10 | 24 |
| 2 | Iceland | 10 | 17 |
| 3 | Slovenia | 10 | 15 |
| 4 | Norway | 10 | 12 |
| 5 | Albania | 10 | 11 |
| 6 | Cyprus | 10 | 5 |
FIFA World Cup European Qualifying Group F
FIFA World Cup European Qualifying

| Pos | Team | P | Pts |
| --- | --- | --- | --- |
| 1 | Russia | 10 | 22 |
| 2 | Portugal | 10 | 21 |
| 3 | Israel | 10 | 14 |
| 4 | Azerbaijan | 10 | 9 |
| 5 | Northern Ireland | 10 | 7 |
| 6 | Luxembourg | 10 | 6 |
FIFA World Cup European Qualifying Group G
FIFA World Cup European Qualifying Group H
FIFA World Cup European Qualifying Group I
FIFA World Cup European Qualifying

| Pos | Team | P | Pts |
| --- | --- | --- | --- |
| 1 | Spain | 8 | 20 |
| 2 | France | 8 | 17 |
| 3 | Finland | 8 | 9 |
| 4 | Georgia | 8 | 5 |
| 5 | Belarus | 8 | 4 |