European U21 Championship qualifying: Netherlands U21s beat Scotland 6-1
Last Updated: 29/05/14 11:42am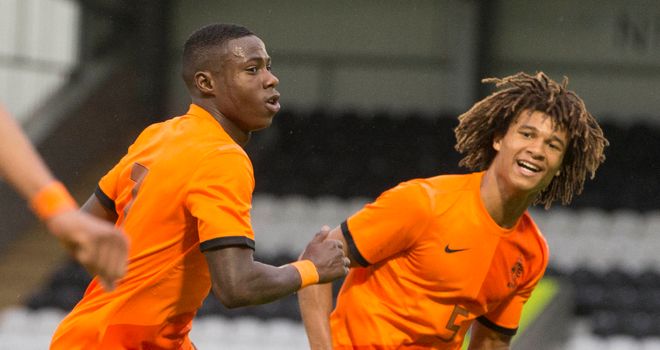 Quincy Promes: Celebrates goal with Nathan Ake
Quincy Promes boosted his chances of making Louis van Gaal's Netherlands squad for the World Cup as his stunning first-half hat-trick helped the Dutch Under-21s to a 6-1 victory over Scotland U21s at St Mirren Park.
Scotland began Wednesday night's UEFA European Under-21 Championship qualifying Group 6 clash brightly, with Ryan Fraser playing a good through-ball to Stuart Armstrong. However, the Dundee United midfielder flicked the ball just wide of Warner Hahn's far post.
Luc Castaignos had a good opportunity to open the scoring for the Dutch in the 20th minute, but he blasted Mike te Weirek's cutback over the crossbar.
Callum McGregor should have broken the deadlock five minutes later when Fraser floated a cross into the box for the Celtic man, who rose unchallenged but flashed his header wide.
And Scotland were made to pay for the missed chance in the 26th minute by pacey FC Twente winger Promes.
The 22-year-old cut in from the right and twice dragged the ball with his studs past three Scottish players before thundering home left-footed from the edge of the area.
Scotland almost grabbed an instant equaliser when Jean-Paul Boetius was caught in possession by John McGinn, who hit a powerful shot which beat Hahn but could not beat the post.
But they fell further behind in the 40th minute after Manchester City's Karim Rekik played a searching left-to-right ball for the ever-dangerous Promes.
The winger shuffled the ball between his left and right foot to leave two Scotland defenders trailing in his wake before smashing the ball past Jordan Archer off the underside of the crossbar.
Two minutes later, Promes latched onto a through-ball from Chelsea's Marco van Ginkel before drilling home right-footed in emphatic fashion.
A minute after the restart, Promes almost turned provider when he laid the ball off to Boetius, who hit a curled effort ball inches over the bar.
But Promes was instrumental in Holland's fifth after 50 minutes. His corner found the head of van Ginkel, whose effort was cleared off the line but Rekik followed up to rifle the home.
They should have made it five on the hour-mark, when Castaignos retrieved Tonny Vilhena's corner but he curled his effort past Archer's far post.
Vilhena was replaced by Hakim Ziyech in the 75th minute and the midfielder scored within 60 seconds of coming with a right-footed volley from 25 yards.
Ziyech got his second in the 79th minute when another substitute Ola John crossed from the byline for the Heerenveen man to guide his volley in with his left foot.
But Stark's side managed an 85th-minute consolation when St Johnstone's Stevie May latched on to a mislaid pass from Sven Beek to score from the edge of the area.
LIVE and exclusive on Sky Sports
Tables
European Under-21 Championship Qualifying Group One
European Under-21 Championship Qualifying

| Pos | Team | P | Pts |
| --- | --- | --- | --- |
| 1 | England U21 | 10 | 28 |
| 2 | Finland U21 | 10 | 16 |
| 3 | Moldova U21 | 10 | 16 |
| 4 | Wales U21 | 10 | 12 |
| 5 | Lithuania U21 | 10 | 8 |
| 6 | San Marino U21 | 10 | 4 |
European Under-21 Championship Qualifying Group Two
European Under-21 Championship Qualifying

| Pos | Team | P | Pts |
| --- | --- | --- | --- |
| 1 | Denmark U21 | 10 | 26 |
| 2 | Russia U21 | 10 | 22 |
| 3 | Slovenia U21 | 10 | 17 |
| 4 | Bulgaria U21 | 10 | 9 |
| 5 | Estonia U21 | 10 | 9 |
| 6 | Andorra U21 | 10 | 1 |
European Under-21 Championship Qualifying Group Three
European Under-21 Championship Qualifying

| Pos | Team | P | Pts |
| --- | --- | --- | --- |
| 1 | Slovakia U21 | 8 | 17 |
| 2 | Holland U21 | 8 | 16 |
| 3 | Georgia U21 | 8 | 11 |
| 4 | Scotland U21 | 8 | 11 |
| 5 | Luxembourg U21 | 8 | 1 |
European Under-21 Championship Qualifying Group Four
European Under-21 Championship Qualifying

| Pos | Team | P | Pts |
| --- | --- | --- | --- |
| 1 | Spain U21 | 6 | 18 |
| 2 | Austria U21 | 6 | 12 |
| 3 | Hungary U21 | 6 | 6 |
| 4 | Bosnia U21 | 6 | 6 |
| 5 | Albania U21 | 8 | 6 |
European Under-21 Championship Qualifying Group Five
European Under-21 Championship Qualifying

| Pos | Team | P | Pts |
| --- | --- | --- | --- |
| 1 | Croatia U21 | 8 | 19 |
| 2 | Ukraine U21 | 8 | 19 |
| 3 | Switzerland U21 | 8 | 15 |
| 4 | Latvia U21 | 8 | 6 |
| 5 | Liechtenstein U21 | 8 | 0 |
European Under-21 Championship Qualifying Group Six
European Under-21 Championship Qualifying

| Pos | Team | P | Pts |
| --- | --- | --- | --- |
| 1 | Germany U21 | 8 | 20 |
| 2 | Romania U21 | 8 | 12 |
| 3 | Montenegro U21 | 8 | 11 |
| 4 | Rep of Ireland U21 | 8 | 8 |
| 5 | Faroe Islands U21 | 8 | 4 |
European Under-21 Championship Qualifying Group Seven
European Under-21 Championship Qualifying

| Pos | Team | P | Pts |
| --- | --- | --- | --- |
| 1 | Sweden U21 | 8 | 16 |
| 2 | Greece U21 | 8 | 15 |
| 3 | Poland U21 | 8 | 15 |
| 4 | Turkey U21 | 8 | 13 |
| 5 | Malta U21 | 8 | 0 |
European Under-21 Championship Qualifying Group Eight
European Under-21 Championship Qualifying

| Pos | Team | P | Pts |
| --- | --- | --- | --- |
| 1 | Portugal U21 | 8 | 24 |
| 2 | Israel U21 | 8 | 15 |
| 3 | Norway U21 | 8 | 9 |
| 4 | Azerbaijan U21 | 8 | 7 |
| 5 | Macedonia U21 | 8 | 4 |
European Under-21 Championship Qualifying Group Nine
European Under-21 Championship Qualifying

| Pos | Team | P | Pts |
| --- | --- | --- | --- |
| 1 | Italy U21 | 8 | 18 |
| 2 | Serbia U21 | 8 | 16 |
| 3 | Belgium U21 | 8 | 16 |
| 4 | Cyprus U21 | 8 | 6 |
| 5 | N Ireland U21 | 8 | 3 |
European Under-21 Championship Qualifying Group Ten
European Under-21 Championship Qualifying

| Pos | Team | P | Pts |
| --- | --- | --- | --- |
| 1 | France U21 | 8 | 22 |
| 2 | Iceland U21 | 8 | 16 |
| 3 | Kazakhstan U21 | 8 | 9 |
| 4 | Armenia U21 | 8 | 9 |
| 5 | Belarus U21 | 8 | 3 |
European Under-21 Championship Qualifying Group Eleven
European Under-21 Championship Qualifying

| Pos | Team | P | Pts |
| --- | --- | --- | --- |
| 1 | Sweden U21 | 2 | 6 |
| 2 | Denmark U21 | 2 | 3 |
| 3 | Macedonia U21 | 2 | 0 |
European Under-21 Championship Qualifying Group Twelve
European Under-21 Championship Qualifying

| Pos | Team | P | Pts |
| --- | --- | --- | --- |
| 1 | Bulgaria U21 | 2 | 6 |
| 2 | Ukraine U21 | 2 | 3 |
| 3 | Croatia U21 | 2 | 0 |
European Under-21 Championship Qualifying Group Thirteen
European Under-21 Championship Qualifying

| Pos | Team | P | Pts |
| --- | --- | --- | --- |
| 1 | Israel U21 | 2 | 4 |
| 2 | Turkey U21 | 2 | 2 |
| 3 | Wales U21 | 2 | 1 |
European Under-21 Championship Qualifying Group Fourteen
European Under-21 Championship Qualifying

| Pos | Team | P | Pts |
| --- | --- | --- | --- |
| 1 | France U21 | 2 | 6 |
| 2 | Slovenia U21 | 2 | 3 |
| 3 | Scotland U21 | 2 | 0 |
Related