Silvio Berlusconi descended on the Milanello training ground ahead of AC Milan's trip to Napoli
Last Updated: 16/11/12 5:23pm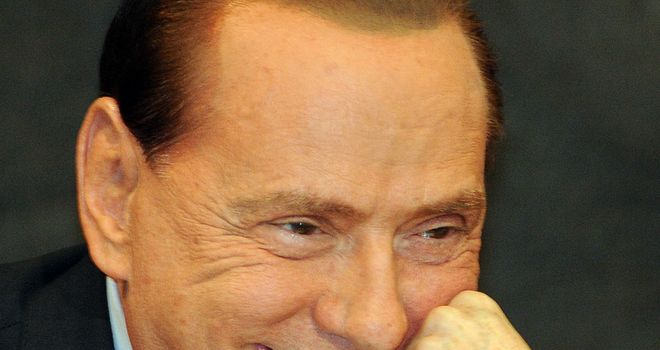 Silvio Berlusconi: Visited training on Friday
Silvio Berlusconi descended on the Milanello training ground ahead of AC Milan's trip to Napoli.
Berlusconi descended on the club's Milanello training ground to get a closer look at the work being done on the eve of an important, if not crucial, week for coach Massimiliano Allegri.
Defeat to Fiorentina last weekend has left Milan languishing in 13th position in Serie A, just five points above the relegation zone and eight adrift of the top five and a place in Europe next season.
On Wednesday, they travel to face Anderlecht in the Champions League needing to avoid defeat to keep alive their hopes of reaching the knockout stage of the competition.
First, though, they travel to Serie A high-flyers Napoli needing to put things right on the domestic front, and Allegri is confident he can turn things around in the coming weeks.
"There is still time to lift ourselves up," he said. "Between now and December 22, there are still plenty of important matches in the league and the Champions League and we are concentrating on them.
"Despite our ugly league position, we are the side with statistically the most possession, so we just need to defend better and be more alert in certain situations."
That may be one reason why Berlusconi paid the team a visit on Friday, to keep them on their toes ahead of a crucial few weeks.
Allegri did not see his visit as a vote of confidence in his own position, though, saying he "enjoys a great personal relationship" with the president, who "has always shown his faith in me."
"He was in great form and I hope we are on the same level tomorrow," added Allegri.
There can be no denying the poor form of Milan at present, but that, according to Napoli coach Walter Mazzarri, is precisely what makes them such a dangerous adversary.
"Milan have a lot of quality and they can show that from one moment to the next," he warned. "We have everything to lose in this game because everybody is taking it for granted that we will beat them because they are in mid-table, but that's not true.
"They have star players who can make the difference at any moment."
Edinson Cavani has similar characteristics, but he will be without his usual partner Goran Pandev.
Italy under-21 striker Lorenzo Insigne will instead take his place, but Mazzarri is not putting the former Pescara forward under any undue pressure.
"I have told him to do what he does best, that's all," said Mazzarri. "He has talent and quality and he needs the freedom to show this when he is called upon."