No goals at Torino
Last Updated: 08/05/13 10:30pm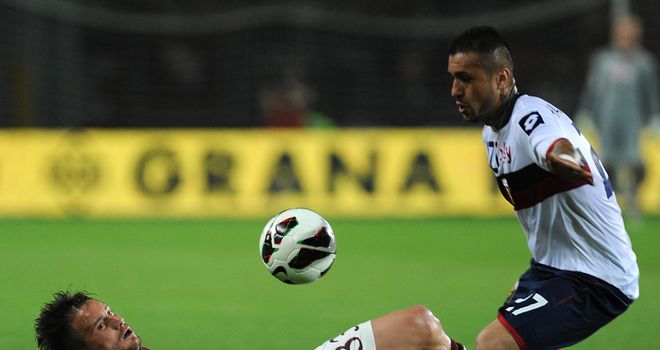 Matteo Brighi is tackled by Matuzalem.
Torino and Genoa must still wait to find out whether they will be plying their trade in Serie A next season after playing out a goalless draw at the Stadio Olimpico.
Although the result will satisfy both sides, whose fans are linked by a long-standing friendship, the only favour it really does is to struggling Palermo, who are still within reach of both teams with two games to go.
There were hardly any chances of note in a game which was played at a pedestrian pace, the result of which sees Genoa leading Palermo by four points with Torino a point better off.
It was more like a defensive chess encounter than a Serie A match with neither side wanting to commit to the opening gambit.
The news that Udinese had taken the lead over Palermo further contributed to a relaxed atmosphere on the field.
Rolando Bianchi tried to muster something in the 26th minute, but he missed the target as the first murmurings of discontent could be heard from the fans, who still wanted something in the way of entertainment.
They were not going to get much better in the second half either as the updates on the situation in Sicily made a draw an even more enticing result for both sides.
Only when Palermo levelled that game did a bit of life filter into the fixture, but aside from Paulo Barreto's speculative effort, which only just missed the target deep into stoppage time, neither goalkeeper had any work to do.
The final whistle was met by a chorus of whistles from the unsatisfied crowd, although the draw took both Torino and Genoa a step closer to safety.
Italian Serie A

Wed 8th May

Pescara

0 - 4

AC Milan

Sampdoria

1 - 1

Catania

Siena

0 - 1

Fiorentina

Torino

0 - 0

Genoa

Atalanta

0 - 1

Juventus

Inter

1 - 3

Lazio

Bologna

0 - 3

Napoli

Cagliari

0 - 1

Parma

Palermo

2 - 3

Udinese