Gladbach remain in Euro hunt
Last Updated: 06/04/13 6:11pm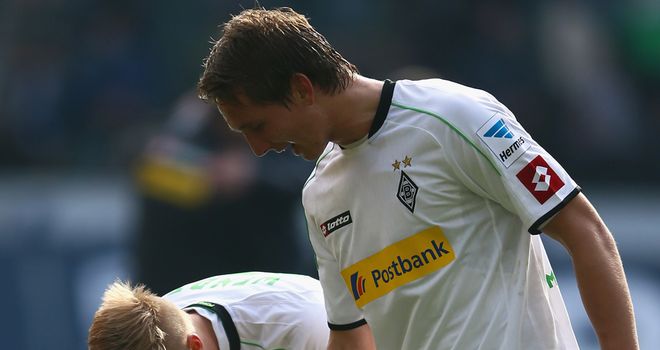 Luuk de Jong (r) netted the game's only goal
Borussia Monchengladbach remained in the running for European football next season with an uninspiring 1-0 home win over 10-man Greuther Furth.
Luuk de Jong scored the only goal of the match in the 74th minute for Gladbach, eight minutes after Furth went a man down when Matthias Zimmermann was given a second yellow card.
Gladbach have lost just once in their last six matches to move to 41 points while last-placed Furth have not won in eight matches to remain on 15 points - nine points from the relegation play-off spot.
There was little quality attacking play although Patrick Herrmann's long-range shot from the left went just over the bar in the 32nd minute for Gladbach.
The hosts went close again three minutes later but Juan Arango's attempt went wide right.
And Herrmann put another attempt just over the bar from 19 yards four minutes from the break.
Gladbach had a series of chances shortly after the re-start with Herrmann shooting just over the bar, Amin Younes then followed suit and Furth goalkeeper Wolfgang Hesl kept out De Jong a minute later.
The visitors nearly went ahead in the 53rd minute but Edgar Prib's shot on the counter attack went just inches past the right post.
Furth then went a man down after 66 minutes as Zimmermann received two yellow cards in the space of five minutes.
Gladbach took advantage to go ahead in the 74th minute with De Jong letting Younes' pass go to Oscar Wendt, who crossed back to De Jong and the Dutchman hit home from seven yards.
Furth had one more chance in the 90th minute but Iler Azemi's header from 14 yards was narrowly wide.