Three and easy for Hoffenheim
Last Updated: 09/03/13 5:53pm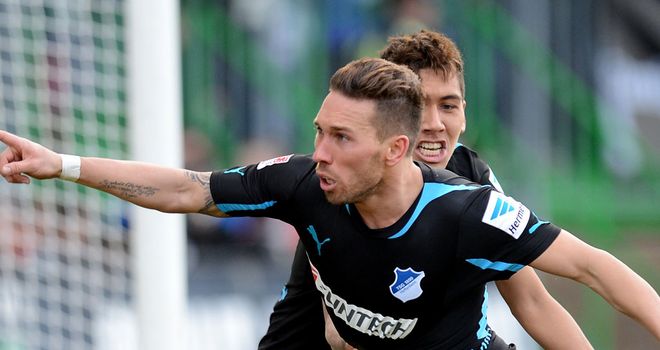 Tobias Weis celebrates his goal for Hoffenheim
Hoffenheim picked up a crucial victory in the fight against relegation from the Bundesliga, winning at bottom club Greuther Furth.
Roberto Firmino gave Hoffenheim the lead in the 10th minute before Joselu made it 2-0 after 16 minutes and Tobias Weis wrapped up the win five minutes into the second half.
Hoffenheim, who came into game as the league's worst away team, jumped to 19 points for 17th place - just two points behind the relegation play-off spot.
Furth have collected just four points at home, scoring four goals in the process, and have just 14 points.
The hosts had the first chance after five minutes as Johannes Geis' free-kick from 40 yards out sailed just wide of the goal.
Hoffenheim grabbed the lead five minutes later as Weis fed Firmino, who shot just outside the reach of Furth goalkeeper Max Grun into the bottom corner.
The visitors made it 2-0 after 17 minutes with a counter attack as Weis passed forward to Kevin Volland, who in a two-on-one situation passed to Joselu for an easy finish.
Furth were unable to create any real chances and Hoffenheim upped the advantage to 3-0 five minutes after the break with Weis passing to Joselu and the Spaniard returned to favour with Weis hitting his first goal of the season.
The hosts did not give up and were close to pulling a goal back in the 57th minute but Milorad Pekovic's 18-yard shot found only the side-netting.
Hoffenheim nearly made it 4-0 after 66 minutes but Weis saw his blast from six yards out strike the bar.
The hosts had little to offer after that and Hoffenheim looked the most likely scorers in the closing stages.