Stalemate at Hoffenheim
Last Updated: 29/09/12 6:50pm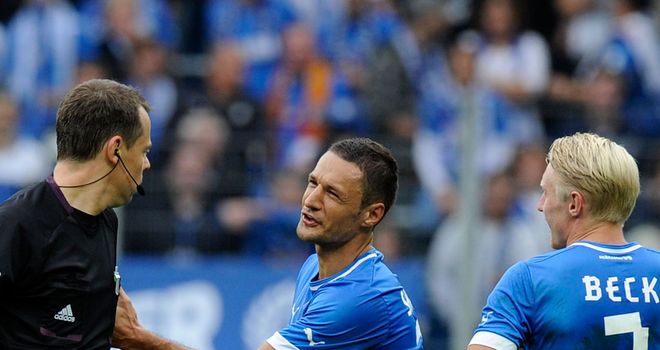 Sejad Salihovic is sent off late on
Hoffenheim and Augsburg struggled to focus on playing football in a game which ended goalless at the Rhein-Neckar Arena.
Playing just 24 hours after a car crash left Hoffenheim midfielder Boris Vukcevic in a coma in hospital, neither side managed to create any major chances to win the points as thoughts were clearly elsewhere.
An moment of madness then cost Sejad Salihovic a red card in the 88th minute of an otherwise tame stalemate.
Hoffenheim's players chose not to request a postponement of the game with their team-mate lying in intensive care.
Instead, they emerged for the pre-match warm-up with shirts dedicating their efforts to the Croatian midfielder.
Takashi Usami came close to opening the deadlock with a shot from the edge of the penalty area which whistled just wide of the left-hand post.
Augsburg's response was from a 25-yard free-kick which Marcel de Jong struck into the wall.
Hoffenheim played some neat one-touch football, ensuring a fast pace to the game, albeit without many clear-cut goalscoring opportunities.
For their part, Augsburg seemed happy to wait for one of those passes to go astray and then break quickly, but they lacked the accuracy with their own passes to cause Hoffenheim any real problems.
That was the tone of the game in the second half, with the play looking more like a friendly encounter at times.
Salihovic did not share that thought, though, as he went in dangerously on Tobias Werner and was duly shown a red card in the 87th minute, apologetically patting the injured Augsburg player on his back as he left the field.
Hoffenheim coach Markus Babbel was also sent into the stands as he vented his frustration at the referee's decision, but all he saw from a better vantage point was a lacklustre contest which ended, fairly, with a point apiece.