Expert Analysis
England need to keep possession better, according to Sky Sports pundit and former Northern Ireland international Iain Dowie, but Roy Hodgson can look back on a positive tournament for his side.
Last Updated: 25/06/12 6:29am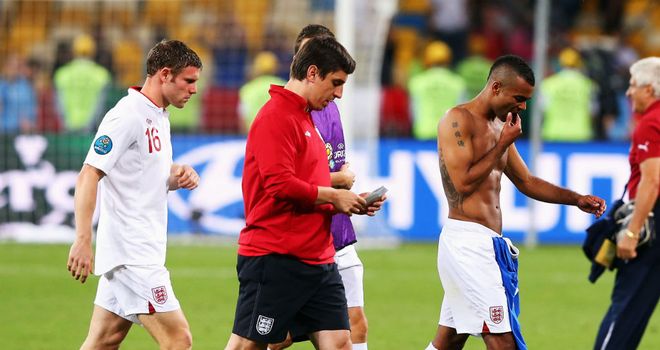 Quarter-final exit: Iain Dowie picks the positives from England's possession lesson
There's never been any question in terms of the spirit of the team. There's been lots of organisation and they put the bodies on the line. There's no question of that. But they never had a foothold in the game because they couldn't get enough of the ball. There were lots of little moments where you've got to have that bit of movement. The other teams, they have options on the ball.
Don't forget, in the first half for the first 25 minutes there was lots of good movement. I thought England passed the ball well against an accomplished side and I thought they were slightly the better side in the first half. If you look at the possession stats it was only something like 57% to 43% to Italy but as the game wore on they got less and less possession. Roy changed it with some positive substitutions but the die was already cast.
At times, when you watched the Italians when they cleared the ball it was relaxed and they played their way out. They didn't panic. When England cleared the ball it was different. Whether it was Andy Carroll or Danny Welbeck they became more isolated and in the end we defended deeper and deeper.
But when you look at it, I thought Glen Johnson was far and away the best player for England. Ashley Cole was pretty close. Steven Gerrard and Scott Parker put in great energy. Andy Carroll did nothing wrong when he came on and neither did Theo Walcott - he just couldn't get enough of the ball. Joleon Lescott looked accomplished as a centre-half and Joe Hart did little wrong as well. So there were positives to take out of it. But in the end, as you've seen against Ukraine at times, we allowed them to dictate the ball.
Movement
Is there anything England can do about that? Yes there is. You look at what Swansea have done this year in terms of dominating games. It's a mind-set of trying to keep possession. I do think allowing the front four to rotate more would help. As soon as you lose the ball, get into shape but we need more movement when we have the ball. England get the full-backs forward at times but other than it wasn't a particularly attack-minded side.
It's easy to say but this is no criticism of Roy Hodgson because he's had little time and he's organised them very well. I do think they've got through games because of Roy's organisation. He's made positive substitutions - Walcott has changed a game. Carroll and Welbeck have both scored. But he's lost a lot of senior players from the squad - even in terms of penalty takers - and that's a blow. Roy just needs to come up with a team plan for the qualifiers that allows us to get a foothold in possession.
I do think Jack Wilshere is a big blow for the tournament. He gives England that bit of ball retention. Other than Gerrard, they didn't have that player who could receive the ball under pressure. I think Wilshere can do that.
I don't think Roy will say it is a success because they've been knocked out in the quarter-finals. Why couldn't England have got to the semi-finals? So you've got to be careful of saying success is getting out of the group. But I think it is a positive tournament. What I would say is that in terms of what he has lost and the players he had available to him, he's done a good job under very difficult circumstances. I think Roy, when he wakes up in the morning, will know he hasn't done a lot wrong.
Tables
European Championships Group A
European Championships

| Pos | Team | P | Pts |
| --- | --- | --- | --- |
| 1 | Czech Republic | 3 | 6 |
| 2 | Greece | 3 | 4 |
| 3 | Russia | 3 | 4 |
| 4 | Poland | 3 | 2 |
European Championships Group B
European Championships Group C
European Championships Group D
Related