Troyes move off the bottom
Last Updated: 09/03/13 9:47pm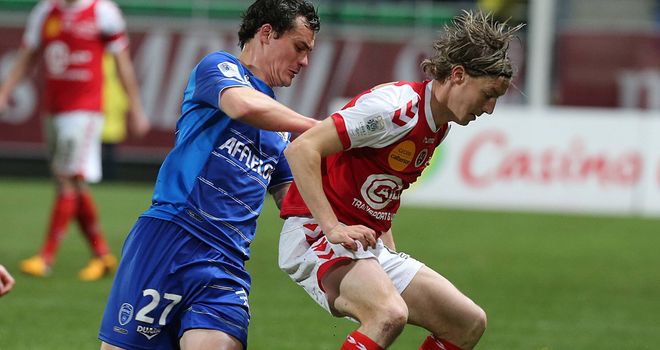 Julien Faussurier puts Franck Signorino under pressure.
A woeful display from Reims goalkeeper Kossi Agassa helped Troyes lift themselves off the foot of the Ligue 1 table with a 4-2 win and drag the away side ever closer to the drop zone.
Corentin Jean and Julien Faussurier goals put the home two in front with an hour gone before a late scoring spree, including Jean's second and a late effort from Mohamed Yattare added to the excitement.
Nicolas de Preville and Odair Fortes were on target for the visitors, making it 2-1 and then 3-2.
The result moves Troyes into 19th, four shy of Reims, who are now above the bottom three on goal difference only.
Jean's goal came from the first decent chance of the game, Marcos Dos Santos providing the assist but goalkeeper Agassa also partly responsible as he clumsily let the ball slide over the line.
There was little else to note in the first period as both sides struggled to create, Jean seeing a second shot on goals saved and Fortes having an effort charged down by Dos Santos.
The real enjoyment came after the break.
First Faussurier doubled the advantage in the 54th minute, powerfully converting Granddi Ngoyi's cross.
Ten minutes later Reims found the net.
Franck Signorino teed up De Preville and he struck a strong drive that comfortably beat Yohann Thuram.
Agassa again fumbled as Troyes restored the two-goal cushion after 70 minutes, gathering a cross and then spilling it to allow Jeremie Brechet to feed the waiting Jean.
Despite that sucker punch, Reims were in no mood to surrender and hit back again with 14 minutes remaining.
Fortes was the scorer, with a sublime volleyed finish that left Thuram nowhere and gave the visitors hope.
But the faltering Agassa had one more mistake to make in the last minute, a poor clearance handing Troyes possession which led to Yattare walking the ball home after rounding the keeper.