Libya v Senegal preview
Libya aim to defy the odds to reach the quarter-finals
Last Updated: 29/01/12 11:01am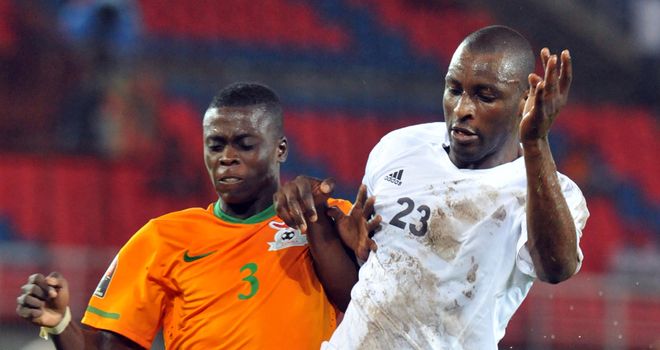 Libya in action
Libya could defy all the odds and qualify for the quarter-finals of the Africa Cup of Nations if they defeat eliminated Senegal in their final group game on Sunday.
The Mediterranean Knights lost 1-0 to co-hosts Equatorial Guinea before holding Zambia to a 2-2 draw, but with the Lions of Teranga having lost both their ties, 2-1 to Zambia and 2-1 to the already qualified Nzalang Nacional, a win for Marcos Paqueta's side may well see his side progress.
The North Africans must, however, hope that Zambia lose to Equatorial Guinea, preferably by more than one goal.
Senegal, meanwhile, just have pride to play for after their disastrous tournament that has seen large sections of its support base back home call for coach Amara Traore's head.
But with the beleaguered coach refusing to throw in the towel he will need a much improved performance at Estadio de Bata in order to keep his detractors at bay.
Ahead of their must-win toe, Paqueta said: "We still have a chance to qualify, but it partly depends on the outcome of the other game (Equatorial Guinea against Zambia).
"Senegal are a good team, but we want to fight and win and stay in this tournament."
Libya captain Samir Aboud said: "We know the coming match is crucial and a key match for our qualification for the next round.
"I know Senegal should have won the group, but we have seen the weakness of their defence. Senegal are in a bad situation so we will try to beat them.
"We will do our best and then wait for the result of the other match in Malabo (between group leaders Equatorial Guinea and second-placed Zambia)."
A defiant Senegal captain Mamadou Niang has, however, vowed to give his country something to cheer about by at least ending his side's tournament on a high with a win over Libya, who have failed to get past the first round of the Africa Cup of Nations since losing on penalties to Ghana in the final when they were the hosts in 1982
He said: "We will prepare very seriously for the match against Libya and play with honour till the end.
"We have been unlucky and also we are a young team with most of the players here for the very first time.
"This disappointment can only make us grow and make progress."
Tables
Africa Cup of Nations Group A
Africa Cup of Nations Group B
Africa Cup of Nations Group C
Africa Cup of Nations Group D
Related