World Cup qualifying: Faroe Islands secure first point with Kazakhstan draw
Last Updated: 11/10/13 9:13pm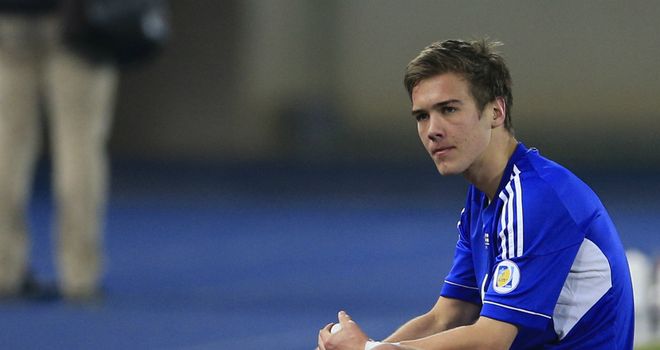 Hallur Hansson: Scored the goal that secured the Faroe Islands a point against Kazakhstan
The Faroe Islands secured their first point of the 2014 World Cup qualifying campaign with a 1-1 draw against Kazakhstan.
Having lost their previous eight Group C matches, manager Lars Olsen, captain of Denmark when they won Euro 1992, saw his side take the lead as half-time approached.
Hallur Hansson's effort in the 41st minute at Torsvollur was just the Faroes fourth of qualifying and their first since their trip to Kazakhstan last month.
Jonas Tor Naes provided the assist from the right wing and Hansson fired home a fine right-footed strike from 25 yards out.
Any hopes of a victory, though, took a major blow 10 minutes into the second half.
Having scored in 2-1 defeat of the Faroes last month in Astana, striker Andrey Finochenko got on the scoresheet again as he headed home a Nurbol Zhumaskaliyev's corner from close range.
The hosts pushed for a winner for the remainder of the half with Hansson continuing to threaten, but the Kazakhs held out for a share of the spoils in Torshavn.
FIFA World Cup European Qualifying

Fri 11th Oct - Group B

Armenia

2 - 1

Bulgaria

Malta

1 - 4

Czech Rep

Denmark

2 - 2

Italy

Fri 11th Oct - Group G

Lithuania

2 - 0

Latvia

Bos&Herz

4 - 1

Liechtenstein

Greece

1 - 0

Slovakia

Fri 11th Oct - Group A

Croatia

1 - 2

Belgium

Wales

1 - 0

Macedonia

Fri 11th Oct - Group F

Azerbaijan

2 - 0

N Ireland

Luxembourg

0 - 4

Russia

Portugal

1 - 1

Israel

Fri 11th Oct - Group H

Moldova

3 - 0

S Marino

Ukraine

1 - 0

Poland

England

4 - 1

Montenegro

Fri 11th Oct - Group C

Faroe Isl

1 - 1

Kazakhstan

Sweden

2 - 1

Austria

Germany

3 - 0

Rep Ire

Fri 11th Oct - Group E

Albania

1 - 2

Switzerlnd

Slovenia

3 - 0

Norway

Iceland

2 - 0

Cyprus

Fri 11th Oct - Group D

Holland

8 - 1

Hungary

Andorra

0 - 4

Romania

Estonia

0 - 2

Turkey

Fri 11th Oct - Group I
Tables
FIFA World Cup European Qualifying Group A
FIFA World Cup European Qualifying Group B
FIFA World Cup European Qualifying

| Pos | Team | P | Pts |
| --- | --- | --- | --- |
| 1 | Italy | 10 | 22 |
| 2 | Denmark | 10 | 16 |
| 3 | Czech Republic | 10 | 15 |
| 4 | Bulgaria | 10 | 13 |
| 5 | Armenia | 10 | 13 |
| 6 | Malta | 10 | 3 |
FIFA World Cup European Qualifying Group C
FIFA World Cup European Qualifying

| Pos | Team | P | Pts |
| --- | --- | --- | --- |
| 1 | Germany | 10 | 28 |
| 2 | Sweden | 10 | 20 |
| 3 | Austria | 10 | 17 |
| 4 | Republic of Ireland | 10 | 14 |
| 5 | Kazakhstan | 10 | 5 |
| 6 | Faroe Islands | 10 | 1 |
FIFA World Cup European Qualifying Group D
FIFA World Cup European Qualifying Group E
FIFA World Cup European Qualifying

| Pos | Team | P | Pts |
| --- | --- | --- | --- |
| 1 | Switzerland | 10 | 24 |
| 2 | Iceland | 10 | 17 |
| 3 | Slovenia | 10 | 15 |
| 4 | Norway | 10 | 12 |
| 5 | Albania | 10 | 11 |
| 6 | Cyprus | 10 | 5 |
FIFA World Cup European Qualifying Group F
FIFA World Cup European Qualifying

| Pos | Team | P | Pts |
| --- | --- | --- | --- |
| 1 | Russia | 10 | 22 |
| 2 | Portugal | 10 | 21 |
| 3 | Israel | 10 | 14 |
| 4 | Azerbaijan | 10 | 9 |
| 5 | Northern Ireland | 10 | 7 |
| 6 | Luxembourg | 10 | 6 |
FIFA World Cup European Qualifying Group G
FIFA World Cup European Qualifying Group H
FIFA World Cup European Qualifying Group I
FIFA World Cup European Qualifying

| Pos | Team | P | Pts |
| --- | --- | --- | --- |
| 1 | Spain | 8 | 20 |
| 2 | France | 8 | 17 |
| 3 | Finland | 8 | 9 |
| 4 | Georgia | 8 | 5 |
| 5 | Belarus | 8 | 4 |