Klose helps Germany home
Historic goal edges Low's men one step closer to Brazil 2014
Last Updated: 06/09/13 10:48pm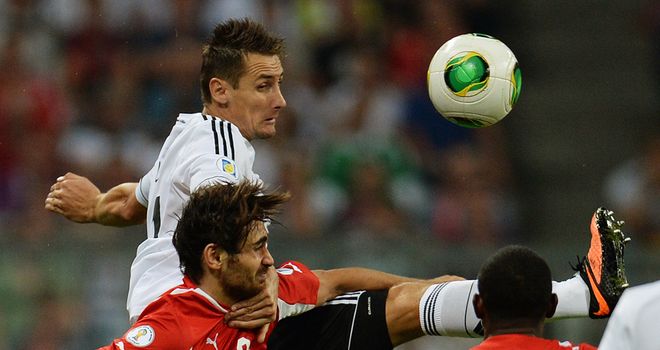 Miroslav Klose wins an aerial battle
Miroslav Klose made history in Munich and helped Germany put one foot in Brazil in the process - as they saw off Austria 3-0.
The Lazio striker's 33rd-minute goal was his 68th in German colours and took him level with Gerd Muller as the country's all-time leading scorer.
It was a memorable enough moment in isolation but the goal, added to Toni Kroos' second-half goal, ensured Germany moved on to 19 points in qualifying Group C.
Austria had been five points behind their rivals prior to kick-off but now trail by eight, with second spot in the group - with three games to go - in the hands of Sweden.
Only something catastrophic will deny Germany now and, with Klose as potent now as he was when he scored on his debut against Albania in 2001, the signs are promising.
Germany had found the going somewhat tough before Klose's intervention, having to survive an early chance which fell to Emanuel Pogatetz.
The defender headed over, though, and Germany grew after that, with Klose hitting wide and then Sami Khedira doing the same.
The pressure was gradually increased and Robert Almer had to perform a brilliant double save to keep out first Marco Reus and then then Klose on the rebound with a header.
Klose's magical moment arrived not long after that, taking in - as he has done for so many goals - a pass from Thomas Muller before doing the rest.
The mood in the stadium was naturally euphoric as a result of the frenzied celebrations which followed, but David Alaba nearly killed it with a low strike which Manuel Neuer dealt with.
Kroos would make sure any nerves quickly disappeared after the break, though, as he rattled in a second from 25 yards.
Muller then embarked on a duel with Almer who twice denied him from close range, with Austria's efforts boiling down to a hit from Julian Baumgartlinger.
Muller would not be denied, though, and two minutes from the end he took in a pass from Benedikt Howedes before crowning a memorable night in the German capital.
FIFA World Cup European Qualifying

Fri 6th Sep - Group F

Russia

4 - 1

Luxembourg

N Ireland

2 - 4

Portugal

Fri 6th Sep - Group C

Kazakhstan

2 - 1

Faroe Isl

Rep Ire

1 - 2

Sweden

Germany

3 - 0

Austria

Fri 6th Sep - Group B

Czech Rep

1 - 2

Armenia

Malta

1 - 2

Denmark

Italy

1 - 0

Bulgaria

Fri 6th Sep - Group A

Macedonia

2 - 1

Wales

Serbia

1 - 1

Croatia

Scotland

0 - 2

Belgium

Fri 6th Sep - Group E

Norway

2 - 0

Cyprus

Slovenia

1 - 0

Albania

Switzerlnd

4 - 4

Iceland

Fri 6th Sep - Group H

Ukraine

9 - 0

S Marino

Poland

1 - 1

Montenegro

England

4 - 0

Moldova

Fri 6th Sep - Group D

Turkey

5 - 0

Andorra

Romania

3 - 0

Hungary

Estonia

2 - 2

Holland

Fri 6th Sep - Group G

Latvia

2 - 1

Lithuania

Bos&Herz

0 - 1

Slovakia

Liechtenstein

0 - 1

Greece

Fri 6th Sep - Group I

Georgia

0 - 0

France

Finland

0 - 2

Spain
Tables
FIFA World Cup European Qualifying Group A
FIFA World Cup European Qualifying Group B
FIFA World Cup European Qualifying

| Pos | Team | P | Pts |
| --- | --- | --- | --- |
| 1 | Italy | 10 | 22 |
| 2 | Denmark | 10 | 16 |
| 3 | Czech Republic | 10 | 15 |
| 4 | Bulgaria | 10 | 13 |
| 5 | Armenia | 10 | 13 |
| 6 | Malta | 10 | 3 |
FIFA World Cup European Qualifying Group C
FIFA World Cup European Qualifying

| Pos | Team | P | Pts |
| --- | --- | --- | --- |
| 1 | Germany | 10 | 28 |
| 2 | Sweden | 10 | 20 |
| 3 | Austria | 10 | 17 |
| 4 | Republic of Ireland | 10 | 14 |
| 5 | Kazakhstan | 10 | 5 |
| 6 | Faroe Islands | 10 | 1 |
FIFA World Cup European Qualifying Group D
FIFA World Cup European Qualifying Group E
FIFA World Cup European Qualifying

| Pos | Team | P | Pts |
| --- | --- | --- | --- |
| 1 | Switzerland | 10 | 24 |
| 2 | Iceland | 10 | 17 |
| 3 | Slovenia | 10 | 15 |
| 4 | Norway | 10 | 12 |
| 5 | Albania | 10 | 11 |
| 6 | Cyprus | 10 | 5 |
FIFA World Cup European Qualifying Group F
FIFA World Cup European Qualifying

| Pos | Team | P | Pts |
| --- | --- | --- | --- |
| 1 | Russia | 10 | 22 |
| 2 | Portugal | 10 | 21 |
| 3 | Israel | 10 | 14 |
| 4 | Azerbaijan | 10 | 9 |
| 5 | Northern Ireland | 10 | 7 |
| 6 | Luxembourg | 10 | 6 |
FIFA World Cup European Qualifying Group G
FIFA World Cup European Qualifying Group H
FIFA World Cup European Qualifying Group I
FIFA World Cup European Qualifying

| Pos | Team | P | Pts |
| --- | --- | --- | --- |
| 1 | Spain | 8 | 20 |
| 2 | France | 8 | 17 |
| 3 | Finland | 8 | 9 |
| 4 | Georgia | 8 | 5 |
| 5 | Belarus | 8 | 4 |
Related