World Cup qualifier: Lithuania cruise to 2-0 victory over Latvia
Last Updated: 11/10/13 7:45pm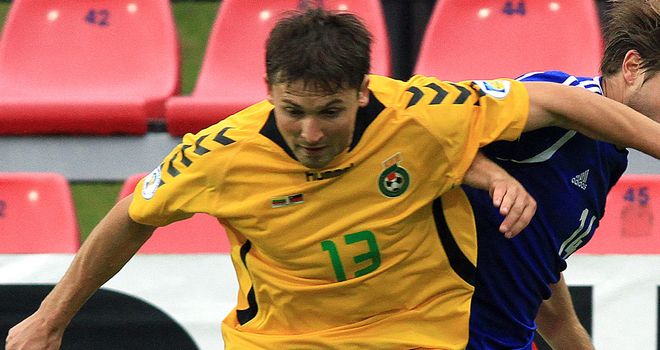 Fedor Cernych: On the scoresheet for Lithuania
Fedor Cernych and Saulius Mikoliunas efforts secured Lithuania a 2-0 win in their Group G World Cup qualifier against Latvia.
The hosts took an early lead at the LFF Stadium, with Cernych rising at the near post to head the hosts in front after just eight minutes in Vilnius.
Valerijs Sabala wasted a chance to level soon after, although Lithuania looked in control of the Group G encounter for the most part.
Mindaugas Kalonas rattled the crossbar straight after half-time, with the home side eventually putting the game out of sight in the 68th minute.
Former Hearts man Mikoliunas doubled Lithuania's advantage, slotting past Latvia goalkeeper Andris Vanins after finding himself in space following an impressive breakaway.
Latvia substitute Eduards Visnakovs saw an attempt at reducing the deficit blocked late on.
The result lifts fourth-placed Lithuania on to 11 points in Group G, four more than fifth-placed Latvia and one behind Slovakia in third.
FIFA World Cup European Qualifying

Fri 11th Oct - Group B

Armenia

2 - 1

Bulgaria

Malta

1 - 4

Czech Rep

Denmark

2 - 2

Italy

Fri 11th Oct - Group G

Lithuania

2 - 0

Latvia

Bos&Herz

4 - 1

Liechtenstein

Greece

1 - 0

Slovakia

Fri 11th Oct - Group A

Croatia

1 - 2

Belgium

Wales

1 - 0

Macedonia

Fri 11th Oct - Group F

Azerbaijan

2 - 0

N Ireland

Luxembourg

0 - 4

Russia

Portugal

1 - 1

Israel

Fri 11th Oct - Group H

Moldova

3 - 0

S Marino

Ukraine

1 - 0

Poland

England

4 - 1

Montenegro

Fri 11th Oct - Group C

Faroe Isl

1 - 1

Kazakhstan

Sweden

2 - 1

Austria

Germany

3 - 0

Rep Ire

Fri 11th Oct - Group E

Albania

1 - 2

Switzerlnd

Slovenia

3 - 0

Norway

Iceland

2 - 0

Cyprus

Fri 11th Oct - Group D

Holland

8 - 1

Hungary

Andorra

0 - 4

Romania

Estonia

0 - 2

Turkey

Fri 11th Oct - Group I
Tables
FIFA World Cup European Qualifying Group A
FIFA World Cup European Qualifying Group B
FIFA World Cup European Qualifying

| Pos | Team | P | Pts |
| --- | --- | --- | --- |
| 1 | Italy | 10 | 22 |
| 2 | Denmark | 10 | 16 |
| 3 | Czech Republic | 10 | 15 |
| 4 | Bulgaria | 10 | 13 |
| 5 | Armenia | 10 | 13 |
| 6 | Malta | 10 | 3 |
FIFA World Cup European Qualifying Group C
FIFA World Cup European Qualifying

| Pos | Team | P | Pts |
| --- | --- | --- | --- |
| 1 | Germany | 10 | 28 |
| 2 | Sweden | 10 | 20 |
| 3 | Austria | 10 | 17 |
| 4 | Republic of Ireland | 10 | 14 |
| 5 | Kazakhstan | 10 | 5 |
| 6 | Faroe Islands | 10 | 1 |
FIFA World Cup European Qualifying Group D
FIFA World Cup European Qualifying Group E
FIFA World Cup European Qualifying

| Pos | Team | P | Pts |
| --- | --- | --- | --- |
| 1 | Switzerland | 10 | 24 |
| 2 | Iceland | 10 | 17 |
| 3 | Slovenia | 10 | 15 |
| 4 | Norway | 10 | 12 |
| 5 | Albania | 10 | 11 |
| 6 | Cyprus | 10 | 5 |
FIFA World Cup European Qualifying Group F
FIFA World Cup European Qualifying

| Pos | Team | P | Pts |
| --- | --- | --- | --- |
| 1 | Russia | 10 | 22 |
| 2 | Portugal | 10 | 21 |
| 3 | Israel | 10 | 14 |
| 4 | Azerbaijan | 10 | 9 |
| 5 | Northern Ireland | 10 | 7 |
| 6 | Luxembourg | 10 | 6 |
FIFA World Cup European Qualifying Group G
FIFA World Cup European Qualifying Group H
FIFA World Cup European Qualifying Group I
FIFA World Cup European Qualifying

| Pos | Team | P | Pts |
| --- | --- | --- | --- |
| 1 | Spain | 8 | 20 |
| 2 | France | 8 | 17 |
| 3 | Finland | 8 | 9 |
| 4 | Georgia | 8 | 5 |
| 5 | Belarus | 8 | 4 |