World Cup qualifying: Russia ease past Luxembourg to stay top of group
Last Updated: 11/10/13 10:33pm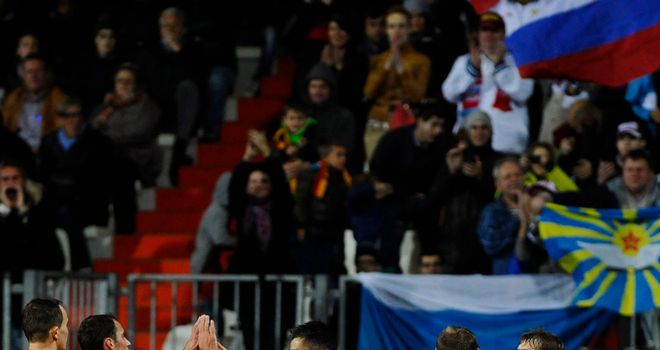 Celebrations for Russia.
Russia remained on course to qualify for next year's World Cup finals after recording a 4-0 victory over Luxembourg.
Fabio Capello's men had lost their previous two away games in Group F, going down 1-0 to both Portugal and Northern Ireland, but rarely looked like slipping up against minnows Luxembourg as they ensured they remained top of the standings.
The match was as good as over by half-time with goals from Alexander Samedov, Viktor Faitzulin and Dennis Glushakov giving Russia a 3-0 lead.
Alexander Kerzhakov then wrapped up the scoring with a fourth goal midway through the second half as Russia made it eight wins out of 10 in the group.
FIFA World Cup European Qualifying

Fri 11th Oct - Group B

Armenia

2 - 1

Bulgaria

Malta

1 - 4

Czech Rep

Denmark

2 - 2

Italy

Fri 11th Oct - Group G

Lithuania

2 - 0

Latvia

Bos&Herz

4 - 1

Liechtenstein

Greece

1 - 0

Slovakia

Fri 11th Oct - Group A

Croatia

1 - 2

Belgium

Wales

1 - 0

Macedonia

Fri 11th Oct - Group F

Azerbaijan

2 - 0

N Ireland

Luxembourg

0 - 4

Russia

Portugal

1 - 1

Israel

Fri 11th Oct - Group H

Moldova

3 - 0

S Marino

Ukraine

1 - 0

Poland

England

4 - 1

Montenegro

Fri 11th Oct - Group C

Faroe Isl

1 - 1

Kazakhstan

Sweden

2 - 1

Austria

Germany

3 - 0

Rep Ire

Fri 11th Oct - Group E

Albania

1 - 2

Switzerlnd

Slovenia

3 - 0

Norway

Iceland

2 - 0

Cyprus

Fri 11th Oct - Group D

Holland

8 - 1

Hungary

Andorra

0 - 4

Romania

Estonia

0 - 2

Turkey

Fri 11th Oct - Group I
Tables
FIFA World Cup European Qualifying Group A
FIFA World Cup European Qualifying Group B
FIFA World Cup European Qualifying

| Pos | Team | P | Pts |
| --- | --- | --- | --- |
| 1 | Italy | 10 | 22 |
| 2 | Denmark | 10 | 16 |
| 3 | Czech Republic | 10 | 15 |
| 4 | Bulgaria | 10 | 13 |
| 5 | Armenia | 10 | 13 |
| 6 | Malta | 10 | 3 |
FIFA World Cup European Qualifying Group C
FIFA World Cup European Qualifying

| Pos | Team | P | Pts |
| --- | --- | --- | --- |
| 1 | Germany | 10 | 28 |
| 2 | Sweden | 10 | 20 |
| 3 | Austria | 10 | 17 |
| 4 | Republic of Ireland | 10 | 14 |
| 5 | Kazakhstan | 10 | 5 |
| 6 | Faroe Islands | 10 | 1 |
FIFA World Cup European Qualifying Group D
FIFA World Cup European Qualifying Group E
FIFA World Cup European Qualifying

| Pos | Team | P | Pts |
| --- | --- | --- | --- |
| 1 | Switzerland | 10 | 24 |
| 2 | Iceland | 10 | 17 |
| 3 | Slovenia | 10 | 15 |
| 4 | Norway | 10 | 12 |
| 5 | Albania | 10 | 11 |
| 6 | Cyprus | 10 | 5 |
FIFA World Cup European Qualifying Group F
FIFA World Cup European Qualifying

| Pos | Team | P | Pts |
| --- | --- | --- | --- |
| 1 | Russia | 10 | 22 |
| 2 | Portugal | 10 | 21 |
| 3 | Israel | 10 | 14 |
| 4 | Azerbaijan | 10 | 9 |
| 5 | Northern Ireland | 10 | 7 |
| 6 | Luxembourg | 10 | 6 |
FIFA World Cup European Qualifying Group G
FIFA World Cup European Qualifying Group H
FIFA World Cup European Qualifying Group I
FIFA World Cup European Qualifying

| Pos | Team | P | Pts |
| --- | --- | --- | --- |
| 1 | Spain | 8 | 20 |
| 2 | France | 8 | 17 |
| 3 | Finland | 8 | 9 |
| 4 | Georgia | 8 | 5 |
| 5 | Belarus | 8 | 4 |
Related