World Cup qualifier: Bosnia in pole position after sixth victory
Last Updated: 10/09/13 11:02pm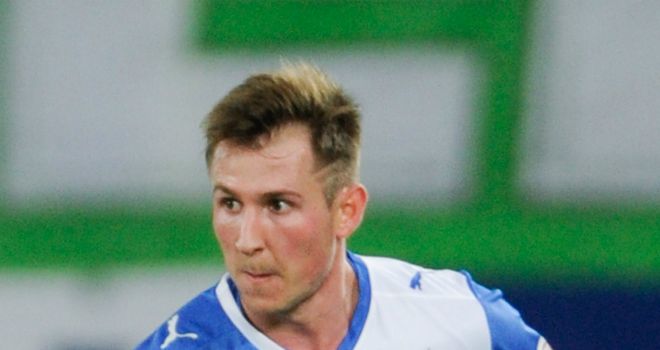 Izet Hajrovic grabbed the winner as Bosnia retained their place at the summit of Group G in the 2014 World Cup qualifying campaign
Goals from unlikely sources steered Bosnia to a comeback 2-1 win over Slovakia in their World Cup Group G qualifier on Tuesday and kept them on course to reach their first major tournament as an independent nation.
The result left the Bosnians top of their section with 19 points from eight games, three more than Greece who were hosting Latvia later in the day while Slovakia remain third with 12 points.
Defender Ermin Bicakcic and second-half substitute Izet Hajrovic delighted several thousand visiting Bosnian fans in a packed Zilina stadium after Marek Hamsik had given the hosts a 42nd-minute lead.
Both sides missed plenty of good chances, with Slovakia keeper Jan Mucha producing a string of superb saves before midfielder Hamsik got on the end of an Adam Nemec pass and beat Asmir Begovic with a crisp left-footed shot from 10 metres.
Bosnia, who dominated from start to finish, piled on the pressure after the break and drew level in the 69th minute after Emir Spahic headed a corner into Bicakcic's path and the left back buried the ball into the roof of the net from close range.
With Manchester City striker Edin Dzeko enduring a quiet evening thanks to some rugged Slovakia defending, Hajrovic grabbed a spectacular winner in the 78th minute when he left Mucha clutching at air with a thunderbolt from 25 metres.
Victory means Bosnia are guaranteed a play-off place, and will automatically qualify for the 2014 World Cup with wins in Lithuania and at home to Liechtenstein.
FIFA World Cup European Qualifying

Tue 10th Sep - Group F

Russia

3 - 1

Israel

Luxembourg

3 - 2

N Ireland

Tue 10th Sep - Group G

Lithuania

2 - 0

Liechtenstein

Slovakia

1 - 2

Bos&Herz

Greece

1 - 0

Latvia

Tue 10th Sep - Group B

Armenia

0 - 1

Denmark

Malta

1 - 2

Bulgaria

Italy

2 - 1

Czech Rep

Tue 10th Sep - Group C

Kazakhstan

0 - 1

Sweden

Austria

1 - 0

Rep Ire

Faroe Isl

0 - 3

Germany

Tue 10th Sep - Group E

Norway

0 - 2

Switzerlnd

Cyprus

0 - 2

Slovenia

Iceland

2 - 1

Albania

Tue 10th Sep - Group I

Georgia

0 - 1

Finland

Belarus

2 - 4

France

Tue 10th Sep - Group D

Romania

0 - 2

Turkey

Andorra

0 - 2

Holland

Hungary

5 - 1

Estonia

Tue 10th Sep - Group A

Macedonia

1 - 2

Scotland

Wales

0 - 3

Serbia

Tue 10th Sep - Group H

S Marino

1 - 5

Poland

Ukraine

0 - 0

England
Tables
FIFA World Cup European Qualifying Group A
FIFA World Cup European Qualifying Group B
FIFA World Cup European Qualifying

| Pos | Team | P | Pts |
| --- | --- | --- | --- |
| 1 | Italy | 10 | 22 |
| 2 | Denmark | 10 | 16 |
| 3 | Czech Republic | 10 | 15 |
| 4 | Bulgaria | 10 | 13 |
| 5 | Armenia | 10 | 13 |
| 6 | Malta | 10 | 3 |
FIFA World Cup European Qualifying Group C
FIFA World Cup European Qualifying

| Pos | Team | P | Pts |
| --- | --- | --- | --- |
| 1 | Germany | 10 | 28 |
| 2 | Sweden | 10 | 20 |
| 3 | Austria | 10 | 17 |
| 4 | Republic of Ireland | 10 | 14 |
| 5 | Kazakhstan | 10 | 5 |
| 6 | Faroe Islands | 10 | 1 |
FIFA World Cup European Qualifying Group D
FIFA World Cup European Qualifying Group E
FIFA World Cup European Qualifying

| Pos | Team | P | Pts |
| --- | --- | --- | --- |
| 1 | Switzerland | 10 | 24 |
| 2 | Iceland | 10 | 17 |
| 3 | Slovenia | 10 | 15 |
| 4 | Norway | 10 | 12 |
| 5 | Albania | 10 | 11 |
| 6 | Cyprus | 10 | 5 |
FIFA World Cup European Qualifying Group F
FIFA World Cup European Qualifying

| Pos | Team | P | Pts |
| --- | --- | --- | --- |
| 1 | Russia | 10 | 22 |
| 2 | Portugal | 10 | 21 |
| 3 | Israel | 10 | 14 |
| 4 | Azerbaijan | 10 | 9 |
| 5 | Northern Ireland | 10 | 7 |
| 6 | Luxembourg | 10 | 6 |
FIFA World Cup European Qualifying Group G
FIFA World Cup European Qualifying Group H
FIFA World Cup European Qualifying Group I
FIFA World Cup European Qualifying

| Pos | Team | P | Pts |
| --- | --- | --- | --- |
| 1 | Spain | 8 | 20 |
| 2 | France | 8 | 17 |
| 3 | Finland | 8 | 9 |
| 4 | Georgia | 8 | 5 |
| 5 | Belarus | 8 | 4 |
Related