Finland edge out Belarus
Last Updated: 07/06/13 7:21pm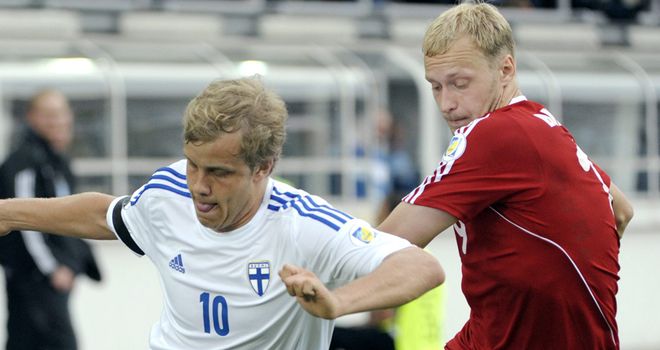 Maxim Bordachev tangles with Teemu Pukki
An Igor Shitov own goal separated Finland and Belarus as the home side edged a battle of the Group I also-rans in Helsinki on Friday night.
With Spain and France running away with the five-team World Cup qualifying group, Finland, Belarus and Georgia have been little more than cannon fodder for the European heavyweights, but this meeting gave two nations a chance to flex their own muscles.
Finland took the points and their first qualifying win thanks to Shitov's 58th-minute clanger, while Belarus ended up a man down as Pavel Nekhaychik was sent off late on.
Both could have laid claim to mathematical hopes of progression ahead of kick-off but with the company they are keeping, they would be churlish to have done so.
As it was, pride was all was at stake and few were expecting a classic and the first half played up to that with chances few and far between.
Belarus' Anton Putsila tried his luck early on but was denied by Niki Maenpaa, while at the other end, Perparim Hetemaj should have done better from six yards.
The standard got little better before the break as Hetemaj wasted another effort, while Belarus' Sergey Kisliak was equally as wasteful when he took aim from 18 yards.
The away side returned from the half-time break looking the more dangerous as Kisliak and Shitov had shots charged down but, as the hour approached, Shitov's error cost his side.
The Mordovia Saransk man put through his own goal as he looked to clear a Roman Eremenko cross, undoing the solid defensive work Belarus had been putting in.
Buoyed by the goal, Finland poured forward and Teemu Pukki was twice denied by Sergey Veremko, while Eremenko also blazed over.
They continued to dominate but further goals did not come, while Belarus ended the game a man down when Nekhaychik was shown a second yellow card.
FIFA World Cup European Qualifying

Fri 7th Jun - Group B

Armenia

0 - 1

Malta

Czech Rep

0 - 0

Italy

Fri 7th Jun - Group F

Azerbaijan

1 - 1

Luxembourg

Portugal

1 - 0

Russia

Fri 7th Jun - Group I

Fri 7th Jun - Group G

Latvia

0 - 5

Bos&Herz

Liechtenstein

1 - 1

Slovakia

Lithuania

0 - 1

Greece

Fri 7th Jun - Group A

Croatia

0 - 1

Scotland

Belgium

2 - 1

Serbia

Fri 7th Jun - Group H

Moldova

1 - 1

Poland

Montenegro

0 - 4

Ukraine

Fri 7th Jun - Group E

Albania

1 - 1

Norway

Iceland

2 - 4

Slovenia

Fri 7th Jun - Group C

Rep Ire

3 - 0

Faroe Isl

Austria

2 - 1

Sweden
Tables
FIFA World Cup European Qualifying Group A
FIFA World Cup European Qualifying Group B
FIFA World Cup European Qualifying

| Pos | Team | P | Pts |
| --- | --- | --- | --- |
| 1 | Italy | 10 | 22 |
| 2 | Denmark | 10 | 16 |
| 3 | Czech Republic | 10 | 15 |
| 4 | Bulgaria | 10 | 13 |
| 5 | Armenia | 10 | 13 |
| 6 | Malta | 10 | 3 |
FIFA World Cup European Qualifying Group C
FIFA World Cup European Qualifying

| Pos | Team | P | Pts |
| --- | --- | --- | --- |
| 1 | Germany | 10 | 28 |
| 2 | Sweden | 10 | 20 |
| 3 | Austria | 10 | 17 |
| 4 | Republic of Ireland | 10 | 14 |
| 5 | Kazakhstan | 10 | 5 |
| 6 | Faroe Islands | 10 | 1 |
FIFA World Cup European Qualifying Group D
FIFA World Cup European Qualifying Group E
FIFA World Cup European Qualifying

| Pos | Team | P | Pts |
| --- | --- | --- | --- |
| 1 | Switzerland | 10 | 24 |
| 2 | Iceland | 10 | 17 |
| 3 | Slovenia | 10 | 15 |
| 4 | Norway | 10 | 12 |
| 5 | Albania | 10 | 11 |
| 6 | Cyprus | 10 | 5 |
FIFA World Cup European Qualifying Group F
FIFA World Cup European Qualifying

| Pos | Team | P | Pts |
| --- | --- | --- | --- |
| 1 | Russia | 10 | 22 |
| 2 | Portugal | 10 | 21 |
| 3 | Israel | 10 | 14 |
| 4 | Azerbaijan | 10 | 9 |
| 5 | Northern Ireland | 10 | 7 |
| 6 | Luxembourg | 10 | 6 |
FIFA World Cup European Qualifying Group G
FIFA World Cup European Qualifying Group H
FIFA World Cup European Qualifying Group I
FIFA World Cup European Qualifying

| Pos | Team | P | Pts |
| --- | --- | --- | --- |
| 1 | Spain | 8 | 20 |
| 2 | France | 8 | 17 |
| 3 | Finland | 8 | 9 |
| 4 | Georgia | 8 | 5 |
| 5 | Belarus | 8 | 4 |