Poland frustrated by Moldova
Last Updated: 07/06/13 9:42pm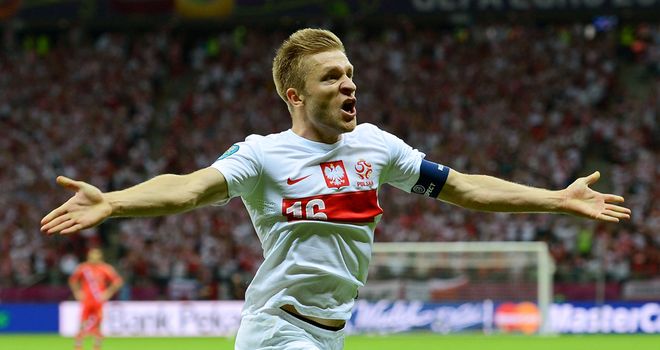 Jakub Blaszczykowski: Had fired Poland in front
Poland suffered frustration in their World Cup qualifier in Chisinau as they were held by lowly Moldova.
Needing a point to put the pressure on second-placed England in Group H, Poland got off to the perfect start when Jakub Blaszczykowski fired them ahead just six minutes into the match.
But they failed to build on it before Eugen Sidorenco levelled in the 37th minute and Poland could not find a winner as Moldova sat deep in the second half.
Things started so well for Poland when Robert Lewandowski teed up Blaszczykowski to slot home the opener into the right-hand corner of the net.
It seemed only a matter of time before a second goal came as the chances mounted, but Lewandowski and Bartosz Salamon both sent good chances over the bar before a more speculative effort from Adrian Mierzejewski was held by Stanislav Namasco.
Eugen Polanski's shot deflected wide and Salamon's header went wide from the resulting corner.
Moldova then snatched a shock equaliser with their first real opening of the game, with Alexandr Antoniuc playing in Sidorenco who supplied the finish. Poland pushed forward in the second half but found Moldova tough to break down.
Lewandowski twice tested Namasco as the hour mark approached, while Blaszczykowski shot wide in the 73rd minute and their frustration only grew.
Salamon then fired over while, late on, Alexandru Pascenco tried his luck from long range in search of an unlikely Moldovan winner, but his shot sailed wide.
FIFA World Cup European Qualifying

Fri 7th Jun - Group B

Armenia

0 - 1

Malta

Czech Rep

0 - 0

Italy

Fri 7th Jun - Group F

Azerbaijan

1 - 1

Luxembourg

Portugal

1 - 0

Russia

Fri 7th Jun - Group I

Fri 7th Jun - Group G

Latvia

0 - 5

Bos&Herz

Liechtenstein

1 - 1

Slovakia

Lithuania

0 - 1

Greece

Fri 7th Jun - Group A

Croatia

0 - 1

Scotland

Belgium

2 - 1

Serbia

Fri 7th Jun - Group H

Moldova

1 - 1

Poland

Montenegro

0 - 4

Ukraine

Fri 7th Jun - Group E

Albania

1 - 1

Norway

Iceland

2 - 4

Slovenia

Fri 7th Jun - Group C

Rep Ire

3 - 0

Faroe Isl

Austria

2 - 1

Sweden
Tables
FIFA World Cup European Qualifying Group A
FIFA World Cup European Qualifying Group B
FIFA World Cup European Qualifying

| Pos | Team | P | Pts |
| --- | --- | --- | --- |
| 1 | Italy | 10 | 22 |
| 2 | Denmark | 10 | 16 |
| 3 | Czech Republic | 10 | 15 |
| 4 | Bulgaria | 10 | 13 |
| 5 | Armenia | 10 | 13 |
| 6 | Malta | 10 | 3 |
FIFA World Cup European Qualifying Group C
FIFA World Cup European Qualifying

| Pos | Team | P | Pts |
| --- | --- | --- | --- |
| 1 | Germany | 10 | 28 |
| 2 | Sweden | 10 | 20 |
| 3 | Austria | 10 | 17 |
| 4 | Republic of Ireland | 10 | 14 |
| 5 | Kazakhstan | 10 | 5 |
| 6 | Faroe Islands | 10 | 1 |
FIFA World Cup European Qualifying Group D
FIFA World Cup European Qualifying Group E
FIFA World Cup European Qualifying

| Pos | Team | P | Pts |
| --- | --- | --- | --- |
| 1 | Switzerland | 10 | 24 |
| 2 | Iceland | 10 | 17 |
| 3 | Slovenia | 10 | 15 |
| 4 | Norway | 10 | 12 |
| 5 | Albania | 10 | 11 |
| 6 | Cyprus | 10 | 5 |
FIFA World Cup European Qualifying Group F
FIFA World Cup European Qualifying

| Pos | Team | P | Pts |
| --- | --- | --- | --- |
| 1 | Russia | 10 | 22 |
| 2 | Portugal | 10 | 21 |
| 3 | Israel | 10 | 14 |
| 4 | Azerbaijan | 10 | 9 |
| 5 | Northern Ireland | 10 | 7 |
| 6 | Luxembourg | 10 | 6 |
FIFA World Cup European Qualifying Group G
FIFA World Cup European Qualifying Group H
FIFA World Cup European Qualifying Group I
FIFA World Cup European Qualifying

| Pos | Team | P | Pts |
| --- | --- | --- | --- |
| 1 | Spain | 8 | 20 |
| 2 | France | 8 | 17 |
| 3 | Finland | 8 | 9 |
| 4 | Georgia | 8 | 5 |
| 5 | Belarus | 8 | 4 |