Greece still in the hunt
Last Updated: 07/06/13 11:10pm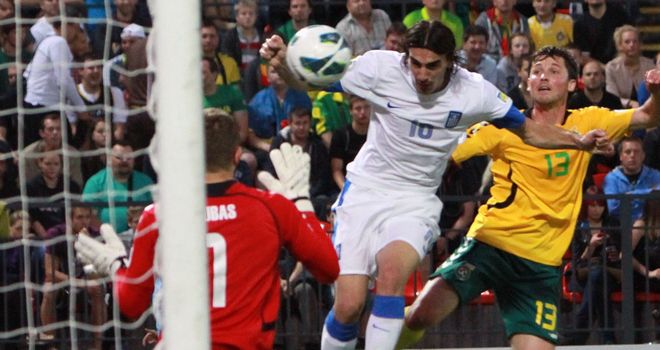 Lazaros Christodoulopoulos: On target for Greece
Lazaros Christodoulopoulos headed the only goal as Greece stayed in the hunt for first place in Group G and a place in next year's World Cup.
The leaders Bosnia-Herzegovina were busy blazing five goals past Latvia and with four rounds of matches remaining they remain three points clear of Greece, with a far superior goal difference should that become a factor.
But Greece do appear to have the easier fixtures ahead, including home and away games against Liechtenstein, so head coach Fernando Santos can still look up the table rather than consolidating second place and aiming for the play-off route to Brazil 2014.
Lithuania had just one win from their opening five games, inevitably coming against group minnows Liechtenstein, but they had the first half-chance with Mindaugas Panka drilling a left-footed shot off target from 35 yards.
The goal came in the 20th minute, with Jose Holebas crossing from the left and Christodoulopoulos, the 26-year-old Bologna forward, charging in at the far post to power his header beyond the unshielded goalkeeper Emilijus Zubas.
Zubas had to make a strong parry in the 33rd minute to prevent a second Greek goal after Vassilis Torosidis crossed and Theofanis Gekas produced a thumping header.
It was Gekas again with the terrific header early in the second half, following a cross by Giorgos Karagounis, but Zubas matched it with a punch to safety.
Lithuania's Kestutis Ivaskevicius twice threatened in the second half with ambitious long-range efforts, the first being gathered by Orestis Karnezis and the second sailing off to the right of goal.
Gekas and Georgios Samaras spurned openings for Greece, who went closest to doubling their lead in the 89th minute when substitute Dimitris Salpingidis curled a right-footed shot against the crossbar from the edge of the penalty area.
FIFA World Cup European Qualifying

Fri 7th Jun - Group B

Armenia

0 - 1

Malta

Czech Rep

0 - 0

Italy

Fri 7th Jun - Group F

Azerbaijan

1 - 1

Luxembourg

Portugal

1 - 0

Russia

Fri 7th Jun - Group I

Fri 7th Jun - Group G

Latvia

0 - 5

Bos&Herz

Liechtenstein

1 - 1

Slovakia

Lithuania

0 - 1

Greece

Fri 7th Jun - Group A

Croatia

0 - 1

Scotland

Belgium

2 - 1

Serbia

Fri 7th Jun - Group H

Moldova

1 - 1

Poland

Montenegro

0 - 4

Ukraine

Fri 7th Jun - Group E

Albania

1 - 1

Norway

Iceland

2 - 4

Slovenia

Fri 7th Jun - Group C

Rep Ire

3 - 0

Faroe Isl

Austria

2 - 1

Sweden
Tables
FIFA World Cup European Qualifying Group A
FIFA World Cup European Qualifying Group B
FIFA World Cup European Qualifying

| Pos | Team | P | Pts |
| --- | --- | --- | --- |
| 1 | Italy | 10 | 22 |
| 2 | Denmark | 10 | 16 |
| 3 | Czech Republic | 10 | 15 |
| 4 | Bulgaria | 10 | 13 |
| 5 | Armenia | 10 | 13 |
| 6 | Malta | 10 | 3 |
FIFA World Cup European Qualifying Group C
FIFA World Cup European Qualifying

| Pos | Team | P | Pts |
| --- | --- | --- | --- |
| 1 | Germany | 10 | 28 |
| 2 | Sweden | 10 | 20 |
| 3 | Austria | 10 | 17 |
| 4 | Republic of Ireland | 10 | 14 |
| 5 | Kazakhstan | 10 | 5 |
| 6 | Faroe Islands | 10 | 1 |
FIFA World Cup European Qualifying Group D
FIFA World Cup European Qualifying Group E
FIFA World Cup European Qualifying

| Pos | Team | P | Pts |
| --- | --- | --- | --- |
| 1 | Switzerland | 10 | 24 |
| 2 | Iceland | 10 | 17 |
| 3 | Slovenia | 10 | 15 |
| 4 | Norway | 10 | 12 |
| 5 | Albania | 10 | 11 |
| 6 | Cyprus | 10 | 5 |
FIFA World Cup European Qualifying Group F
FIFA World Cup European Qualifying

| Pos | Team | P | Pts |
| --- | --- | --- | --- |
| 1 | Russia | 10 | 22 |
| 2 | Portugal | 10 | 21 |
| 3 | Israel | 10 | 14 |
| 4 | Azerbaijan | 10 | 9 |
| 5 | Northern Ireland | 10 | 7 |
| 6 | Luxembourg | 10 | 6 |
FIFA World Cup European Qualifying Group G
FIFA World Cup European Qualifying Group H
FIFA World Cup European Qualifying Group I
FIFA World Cup European Qualifying

| Pos | Team | P | Pts |
| --- | --- | --- | --- |
| 1 | Spain | 8 | 20 |
| 2 | France | 8 | 17 |
| 3 | Finland | 8 | 9 |
| 4 | Georgia | 8 | 5 |
| 5 | Belarus | 8 | 4 |