Slovakia deny Liechtenstein
Last Updated: 07/06/13 10:18pm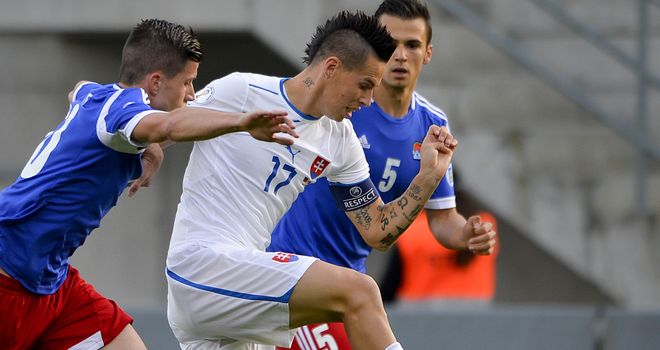 Marek Hamsik battles his way forward
Liechtenstein claimed just their second point of the World Cup qualification campaign with a draw against Slovakia.
It could have been even better as they were heading for only their third ever World Cup qualifying victory until the 73rd minute.
Martin Buchel put Liechtenstein ahead in the 13th minute only for Jan Durica to head home the second-half equaliser, but the draw was an unappealing result for Slovakia who started the match third in Group G, two points behind second-placed Greece.
Despite there being few expectations of the hosts, they were first to show with Sandro Wieser and Nicolas Hasler on target.
They took a shock lead in the 13th minute with only their third goal of the campaign as Buchel slotted home Andreas Christen's cross from the left.
That sparked Slovakia into life. Peter Jehle tipped over Marek Hamsik's shot and Filip Holosko's header went just wide.
However, Liechtenstein went close to doubling their lead when Mathias Christen's 20-yard shot was parried by Dusan Kuciak.
Marek Sapara's free-kick was parried by Jehle four minutes into the second half and Miroslav Stoch drilled wide as Slovakia continued to search for an equaliser.
With Slovakia threatening, Liechtenstein were moving towards an improbable victory but their hopes were dashed with 17 minutes left.
Sapara's cross from the right found Jan Durica in the six-yard box and he headed into the top left corner of the goal.
Wieser then shot wide for Liechtenstein while Kuciak had to punch clear Mathias Christen's corner, before Jehle repelled Marian Cisovsky's header and Stoch's free-kick as both sides looked for a winner.
FIFA World Cup European Qualifying

Fri 7th Jun - Group B

Armenia

0 - 1

Malta

Czech Rep

0 - 0

Italy

Fri 7th Jun - Group F

Azerbaijan

1 - 1

Luxembourg

Portugal

1 - 0

Russia

Fri 7th Jun - Group I

Fri 7th Jun - Group G

Latvia

0 - 5

Bos&Herz

Liechtenstein

1 - 1

Slovakia

Lithuania

0 - 1

Greece

Fri 7th Jun - Group A

Croatia

0 - 1

Scotland

Belgium

2 - 1

Serbia

Fri 7th Jun - Group H

Moldova

1 - 1

Poland

Montenegro

0 - 4

Ukraine

Fri 7th Jun - Group E

Albania

1 - 1

Norway

Iceland

2 - 4

Slovenia

Fri 7th Jun - Group C

Rep Ire

3 - 0

Faroe Isl

Austria

2 - 1

Sweden
Tables
FIFA World Cup European Qualifying Group A
FIFA World Cup European Qualifying Group B
FIFA World Cup European Qualifying

| Pos | Team | P | Pts |
| --- | --- | --- | --- |
| 1 | Italy | 10 | 22 |
| 2 | Denmark | 10 | 16 |
| 3 | Czech Republic | 10 | 15 |
| 4 | Bulgaria | 10 | 13 |
| 5 | Armenia | 10 | 13 |
| 6 | Malta | 10 | 3 |
FIFA World Cup European Qualifying Group C
FIFA World Cup European Qualifying

| Pos | Team | P | Pts |
| --- | --- | --- | --- |
| 1 | Germany | 10 | 28 |
| 2 | Sweden | 10 | 20 |
| 3 | Austria | 10 | 17 |
| 4 | Republic of Ireland | 10 | 14 |
| 5 | Kazakhstan | 10 | 5 |
| 6 | Faroe Islands | 10 | 1 |
FIFA World Cup European Qualifying Group D
FIFA World Cup European Qualifying Group E
FIFA World Cup European Qualifying

| Pos | Team | P | Pts |
| --- | --- | --- | --- |
| 1 | Switzerland | 10 | 24 |
| 2 | Iceland | 10 | 17 |
| 3 | Slovenia | 10 | 15 |
| 4 | Norway | 10 | 12 |
| 5 | Albania | 10 | 11 |
| 6 | Cyprus | 10 | 5 |
FIFA World Cup European Qualifying Group F
FIFA World Cup European Qualifying

| Pos | Team | P | Pts |
| --- | --- | --- | --- |
| 1 | Russia | 10 | 22 |
| 2 | Portugal | 10 | 21 |
| 3 | Israel | 10 | 14 |
| 4 | Azerbaijan | 10 | 9 |
| 5 | Northern Ireland | 10 | 7 |
| 6 | Luxembourg | 10 | 6 |
FIFA World Cup European Qualifying Group G
FIFA World Cup European Qualifying Group H
FIFA World Cup European Qualifying Group I
FIFA World Cup European Qualifying

| Pos | Team | P | Pts |
| --- | --- | --- | --- |
| 1 | Spain | 8 | 20 |
| 2 | France | 8 | 17 |
| 3 | Finland | 8 | 9 |
| 4 | Georgia | 8 | 5 |
| 5 | Belarus | 8 | 4 |