Norway peg back Albania
Last Updated: 07/06/13 9:57pm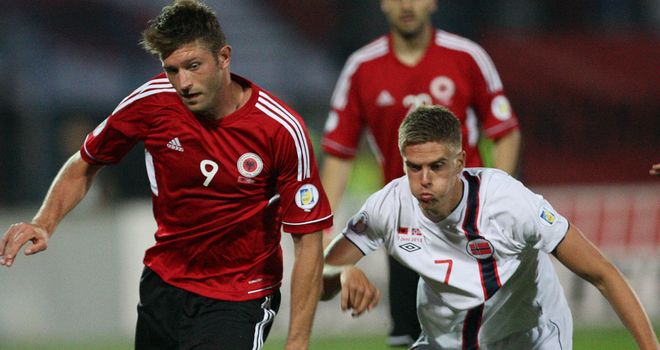 Edgar Cani competes with Norway's Markus Henriksen
Norway put the brakes on Albania's surge towards a first World Cup appearance as Tom Hogli forced a draw in Friday night's Group E meeting.
Victory would have seen Albania leapfrog Switzerland to leave Norway struggling in the wrong half of the table, and Valdet Rama's opener certainly gave the Scandinavians food for thought.
But Norway's determination to avoid an embarrassing double defeat to Friday night's opponents helped Hogli rescue a point at the death.
Egil Olsen's men arrived in Tirana with the added pressure of avenging a shock 1-0 loss to the Albanians in March.
The hosts sensed that anxiety as Mergim Mavray forced Rune Almenning Jarstein to tip over in a matter of seconds.
Hamdi Salihi, who scored in Oslo, then went close after Joshua King had tested Etrit Berisha's reflexes at the other end.
But four minutes before the break it was Rama who cut inside from the left wing to beat Jarstein at his near post.
Emiljano Vila missed from distance as play resumed and Salihi sent Jarstein sprawling with a header in the 67th minute.
Norway struggled to respond but hush would eventually descend in Tirana three minutes from time.
Hogli was the man best placed to nod home Espen Ruud's corner and the plucky Albanians were left to wonder what might have been.
FIFA World Cup European Qualifying

Fri 7th Jun - Group B

Armenia

0 - 1

Malta

Czech Rep

0 - 0

Italy

Fri 7th Jun - Group F

Azerbaijan

1 - 1

Luxembourg

Portugal

1 - 0

Russia

Fri 7th Jun - Group I

Fri 7th Jun - Group G

Latvia

0 - 5

Bos&Herz

Liechtenstein

1 - 1

Slovakia

Lithuania

0 - 1

Greece

Fri 7th Jun - Group A

Croatia

0 - 1

Scotland

Belgium

2 - 1

Serbia

Fri 7th Jun - Group H

Moldova

1 - 1

Poland

Montenegro

0 - 4

Ukraine

Fri 7th Jun - Group E

Albania

1 - 1

Norway

Iceland

2 - 4

Slovenia

Fri 7th Jun - Group C

Rep Ire

3 - 0

Faroe Isl

Austria

2 - 1

Sweden
Tables
FIFA World Cup European Qualifying Group A
FIFA World Cup European Qualifying Group B
FIFA World Cup European Qualifying

| Pos | Team | P | Pts |
| --- | --- | --- | --- |
| 1 | Italy | 10 | 22 |
| 2 | Denmark | 10 | 16 |
| 3 | Czech Republic | 10 | 15 |
| 4 | Bulgaria | 10 | 13 |
| 5 | Armenia | 10 | 13 |
| 6 | Malta | 10 | 3 |
FIFA World Cup European Qualifying Group C
FIFA World Cup European Qualifying

| Pos | Team | P | Pts |
| --- | --- | --- | --- |
| 1 | Germany | 10 | 28 |
| 2 | Sweden | 10 | 20 |
| 3 | Austria | 10 | 17 |
| 4 | Republic of Ireland | 10 | 14 |
| 5 | Kazakhstan | 10 | 5 |
| 6 | Faroe Islands | 10 | 1 |
FIFA World Cup European Qualifying Group D
FIFA World Cup European Qualifying Group E
FIFA World Cup European Qualifying

| Pos | Team | P | Pts |
| --- | --- | --- | --- |
| 1 | Switzerland | 10 | 24 |
| 2 | Iceland | 10 | 17 |
| 3 | Slovenia | 10 | 15 |
| 4 | Norway | 10 | 12 |
| 5 | Albania | 10 | 11 |
| 6 | Cyprus | 10 | 5 |
FIFA World Cup European Qualifying Group F
FIFA World Cup European Qualifying

| Pos | Team | P | Pts |
| --- | --- | --- | --- |
| 1 | Russia | 10 | 22 |
| 2 | Portugal | 10 | 21 |
| 3 | Israel | 10 | 14 |
| 4 | Azerbaijan | 10 | 9 |
| 5 | Northern Ireland | 10 | 7 |
| 6 | Luxembourg | 10 | 6 |
FIFA World Cup European Qualifying Group G
FIFA World Cup European Qualifying Group H
FIFA World Cup European Qualifying Group I
FIFA World Cup European Qualifying

| Pos | Team | P | Pts |
| --- | --- | --- | --- |
| 1 | Spain | 8 | 20 |
| 2 | France | 8 | 17 |
| 3 | Finland | 8 | 9 |
| 4 | Georgia | 8 | 5 |
| 5 | Belarus | 8 | 4 |