Malta off the mark with win
Last Updated: 07/06/13 7:39pm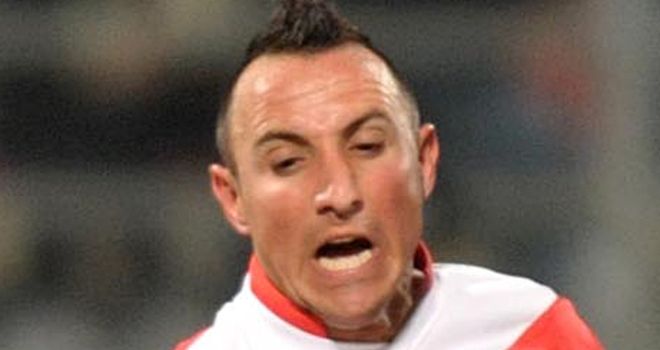 Michael Mifsud: Winning goal for Malta
Malta finally earned their first points of the World Cup qualifying campaign as they scored early to beat fellow strugglers Armenia in Yerevan.
The visitors, defeated in all five of their qualifiers to date, struck after just seven minutes when Michael Mifsud fired into the top right-hand corner of the goal from close range.
Marcos Pizzelli, Yura Movsiyan, and Aras Ozbiliz all tested Malta goalkeeper Justin Haber without success as Armenia tried to keep their faint qualification hopes alive, Pizzelli seeing a long-range effort palmed over the crossbar and Movsiyan seeing his header pushed to safety early in the second half.
But Malta looked much improved from their performances to date and had further chances to score, the best of them a header which Clayton Failla sent over when well placed.
The chances dried up late on, and after Henrikh Mkhitaryan had sent a free-kick over for Armenia 10 minutes from time, Malta comfortable saw the game out.
FIFA World Cup European Qualifying

Fri 7th Jun - Group B

Armenia

0 - 1

Malta

Czech Rep

0 - 0

Italy

Fri 7th Jun - Group F

Azerbaijan

1 - 1

Luxembourg

Portugal

1 - 0

Russia

Fri 7th Jun - Group I

Fri 7th Jun - Group G

Latvia

0 - 5

Bos & Herz

Liechtenstein

1 - 1

Slovakia

Lithuania

0 - 1

Greece

Fri 7th Jun - Group A

Croatia

0 - 1

Scotland

Belgium

2 - 1

Serbia

Fri 7th Jun - Group H

Moldova

1 - 1

Poland

Montenegro

0 - 4

Ukraine

Fri 7th Jun - Group E

Albania

1 - 1

Norway

Iceland

2 - 4

Slovenia

Fri 7th Jun - Group C

Rep Ireland

3 - 0

Faroe Islands

Austria

2 - 1

Sweden
Tables
FIFA World Cup European Qualifying Group A
FIFA World Cup European Qualifying Group B
FIFA World Cup European Qualifying

| Pos | Team | P | Pts |
| --- | --- | --- | --- |
| 1 | Italy | 10 | 22 |
| 2 | Denmark | 10 | 16 |
| 3 | Czech Republic | 10 | 15 |
| 4 | Bulgaria | 10 | 13 |
| 5 | Armenia | 10 | 13 |
| 6 | Malta | 10 | 3 |
FIFA World Cup European Qualifying Group C
FIFA World Cup European Qualifying

| Pos | Team | P | Pts |
| --- | --- | --- | --- |
| 1 | Germany | 10 | 28 |
| 2 | Sweden | 10 | 20 |
| 3 | Austria | 10 | 17 |
| 4 | Republic of Ireland | 10 | 14 |
| 5 | Kazakhstan | 10 | 5 |
| 6 | Faroe Islands | 10 | 1 |
FIFA World Cup European Qualifying Group D
FIFA World Cup European Qualifying Group E
FIFA World Cup European Qualifying

| Pos | Team | P | Pts |
| --- | --- | --- | --- |
| 1 | Switzerland | 10 | 24 |
| 2 | Iceland | 10 | 17 |
| 3 | Slovenia | 10 | 15 |
| 4 | Norway | 10 | 12 |
| 5 | Albania | 10 | 11 |
| 6 | Cyprus | 10 | 5 |
FIFA World Cup European Qualifying Group F
FIFA World Cup European Qualifying

| Pos | Team | P | Pts |
| --- | --- | --- | --- |
| 1 | Russia | 10 | 22 |
| 2 | Portugal | 10 | 21 |
| 3 | Israel | 10 | 14 |
| 4 | Azerbaijan | 10 | 9 |
| 5 | Northern Ireland | 10 | 7 |
| 6 | Luxembourg | 10 | 6 |
FIFA World Cup European Qualifying Group G
FIFA World Cup European Qualifying Group H
FIFA World Cup European Qualifying Group I
FIFA World Cup European Qualifying

| Pos | Team | P | Pts |
| --- | --- | --- | --- |
| 1 | Spain | 8 | 20 |
| 2 | France | 8 | 17 |
| 3 | Finland | 8 | 9 |
| 4 | Georgia | 8 | 5 |
| 5 | Belarus | 8 | 4 |