Belgium take charge of group
Last Updated: 07/06/13 10:23pm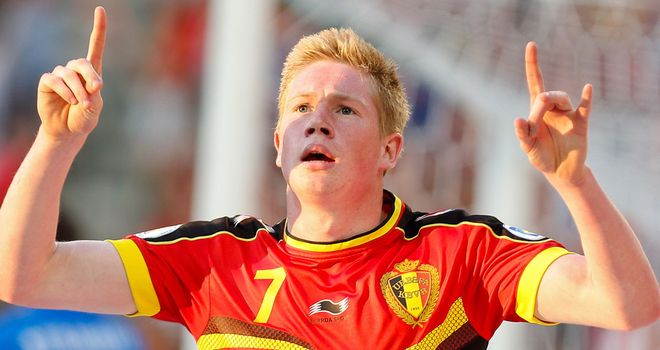 Kevin De Bruyne fired Belgium into the lead
Belgium took a major step towards the World Cup finals on a night when they got it right and Group A rivals Croatia took a potentially decisive stumble.
Headed goals from midfielders Kevin De Bruyne and Marouane Fellaini gave the Belgians a fine home victory over Serbia, dangerous opponents who were professionally put away.
There were roars at the King Baudouin stadium for both goals, but also when news came through of the strike against Croatia that earned Scotland a surprise win in Zagreb.
The slight concern in that regard may be that Belgium go to Scotland next, in September.
But Belgium could on Friday look down on the rest of the group, armed with a three-point lead over Croatia, the only side that can catch them in the hunt for the automatic place in next summer's finals.
Coach Marc Wilmots was captain of his country the last time Belgium reached a major tournament, the 2002 World Cup. He netted three times but could not help the team go beyond the last 16, where they bowed out to eventual winners Brazil.
Another taste of Brazil, hosts of next year's finals, is what the new generation of players are pursuing. And despite Serbia's Aleksandar Kolarov firing in a late free-kick to add some late tension, the home side held on in Brussels.
After Kevin Mirallas and Kolarov traded early 20-yard strikes that did no damage, Belgium made a 13th-minute breakthrough when Jan Vertonghen crossed and De Bruyne headed in.
The 22-year-old is a Chelsea player, but has yet to be seen in action for the Blues, having had loans with Genk and Werder Bremen since committing to the London club in January 2012. His turn could be just around the corner, under new manager Jose Mourinho.
Serbia sought a leveller and Branislav Ivanovic, scorer of Chelsea's winner in the Europa League final last month, volleyed off target before Lazar Markovic saw a close-range shot blocked by Toby Alderweireld.
Belgium's young goalkeeper Thibaut Courtois - another Chelsea player yet to play for the Blues, spending two years at Atletico Madrid - saved his side early in the second half by tipping wide a 20-yard shot from Dusan Basta.
De Bruyne would play a key role in the second goal, this time as the provider as his corner from the left found Fellaini whose prowess in the air saw him win the battle for the ball, with the result being him finding the bottom right corner.
It came seconds before the hour was up, and put Belgium in control.
Belgium have the strength in depth these days that they could replace Mirallas with Eden Hazard, an active Chelsea player, in the 64th minute.
Chances came and were spurned at both ends before Serbia struck late.
Axel Witsel fouled Basta on the edge of the Belgium penalty area and Kolarov, a specialist from such positions, found the bottom left corner.
FIFA World Cup European Qualifying

Fri 7th Jun - Group B

Armenia

0 - 1

Malta

Czech Rep

0 - 0

Italy

Fri 7th Jun - Group F

Azerbaijan

1 - 1

Luxembourg

Portugal

1 - 0

Russia

Fri 7th Jun - Group I

Fri 7th Jun - Group G

Latvia

0 - 5

Bos & Herz

Liechtenstein

1 - 1

Slovakia

Lithuania

0 - 1

Greece

Fri 7th Jun - Group A

Croatia

0 - 1

Scotland

Belgium

2 - 1

Serbia

Fri 7th Jun - Group H

Moldova

1 - 1

Poland

Montenegro

0 - 4

Ukraine

Fri 7th Jun - Group E

Albania

1 - 1

Norway

Iceland

2 - 4

Slovenia

Fri 7th Jun - Group C

Rep Ireland

3 - 0

Faroe Islands

Austria

2 - 1

Sweden
Tables
FIFA World Cup European Qualifying Group A
FIFA World Cup European Qualifying Group B
FIFA World Cup European Qualifying

| Pos | Team | P | Pts |
| --- | --- | --- | --- |
| 1 | Italy | 10 | 22 |
| 2 | Denmark | 10 | 16 |
| 3 | Czech Republic | 10 | 15 |
| 4 | Bulgaria | 10 | 13 |
| 5 | Armenia | 10 | 13 |
| 6 | Malta | 10 | 3 |
FIFA World Cup European Qualifying Group C
FIFA World Cup European Qualifying

| Pos | Team | P | Pts |
| --- | --- | --- | --- |
| 1 | Germany | 10 | 28 |
| 2 | Sweden | 10 | 20 |
| 3 | Austria | 10 | 17 |
| 4 | Republic of Ireland | 10 | 14 |
| 5 | Kazakhstan | 10 | 5 |
| 6 | Faroe Islands | 10 | 1 |
FIFA World Cup European Qualifying Group D
FIFA World Cup European Qualifying Group E
FIFA World Cup European Qualifying

| Pos | Team | P | Pts |
| --- | --- | --- | --- |
| 1 | Switzerland | 10 | 24 |
| 2 | Iceland | 10 | 17 |
| 3 | Slovenia | 10 | 15 |
| 4 | Norway | 10 | 12 |
| 5 | Albania | 10 | 11 |
| 6 | Cyprus | 10 | 5 |
FIFA World Cup European Qualifying Group F
FIFA World Cup European Qualifying

| Pos | Team | P | Pts |
| --- | --- | --- | --- |
| 1 | Russia | 10 | 22 |
| 2 | Portugal | 10 | 21 |
| 3 | Israel | 10 | 14 |
| 4 | Azerbaijan | 10 | 9 |
| 5 | Northern Ireland | 10 | 7 |
| 6 | Luxembourg | 10 | 6 |
FIFA World Cup European Qualifying Group G
FIFA World Cup European Qualifying Group H
FIFA World Cup European Qualifying Group I
FIFA World Cup European Qualifying

| Pos | Team | P | Pts |
| --- | --- | --- | --- |
| 1 | Spain | 8 | 20 |
| 2 | France | 8 | 17 |
| 3 | Finland | 8 | 9 |
| 4 | Georgia | 8 | 5 |
| 5 | Belarus | 8 | 4 |