Slovakia denied in Zilina
Durica levels Sernas' opener but hosts unable to find winner
Last Updated: 22/03/13 11:11pm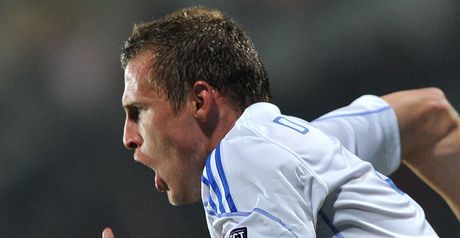 Jan Durica: Scored for Slovakia
Slovakia were denied a share of second place in World Cup qualifying Group G as Lithuania ground out a creditable 1-1 draw in Zilina.
The hosts quickly cancelled out Darvydas Sernas' opener but, despite their dominance all over the pitch, a header from Jan Durica was the sum total of their efforts.
The draw saw third-placed Slovakia move up to eight points, two points behind second-placed Greece, while Lithuania remain in fourth with five points.
The visitors survived two early scares before taking the lead.
First, Juraj Kucka nodded Marek Sapara's free-kick just over the crossbar before Marek Hamsik drilled off target.
Surprise
So it was a surprise when Sernas found space and time in the box to fire the visitors ahead in the 32nd minute.
Slovakia responded strongly and, after Zydrunas Karcemarskas had parried another Hamsik drive, the scores were level within seven minutes.
This time a Sapara free-kick resulted in a goal as Durica rose highest to beat Karcemarskas.
Deividas Matulevicius had Dusan Kuciak sprawling after the break but Slovakia pushed on for the victory, Sapara rattling a post in the 58th minute.
With time ticking away, Hamsik, Kucka and Sapara all blazed shots wide before Sernas' own late bid for a shock winner sailed into the stands.
FIFA World Cup European Qualifying

Fri 22nd Mar - Group F

Israel

3 - 3

Portugal

Luxembourg

0 - 0

Azerbaijan

Fri 22nd Mar - Group B

Bulgaria

6 - 0

Malta

Czech Rep

0 - 3

Denmark

Fri 22nd Mar - Group A

Croatia

2 - 0

Serbia

Macedonia

0 - 2

Belgium

Scotland

1 - 2

Wales

Fri 22nd Mar - Group E

Slovenia

1 - 2

Iceland

Norway

0 - 1

Albania

Fri 22nd Mar - Group C

Kazakhstan

0 - 3

Germany

Austria

6 - 0

Faroe Isl

Sweden

0 - 0

Rep Ire

Fri 22nd Mar - Group D

Andorra

0 - 2

Turkey

Hungary

2 - 2

Romania

Holland

3 - 0

Estonia

Fri 22nd Mar - Group G

Liechtenstein

1 - 1

Latvia

Slovakia

1 - 1

Lithuania

Bos&Herz

3 - 1

Greece

Fri 22nd Mar - Group H

Moldova

0 - 1

Montenegro

Poland

1 - 3

Ukraine

S Marino

0 - 8

England

Fri 22nd Mar - Group I

Spain

1 - 1

Finland

France

3 - 1

Georgia
Tables
FIFA World Cup European Qualifying Group A
FIFA World Cup European Qualifying Group B
FIFA World Cup European Qualifying

| Pos | Team | P | Pts |
| --- | --- | --- | --- |
| 1 | Italy | 10 | 22 |
| 2 | Denmark | 10 | 16 |
| 3 | Czech Republic | 10 | 15 |
| 4 | Bulgaria | 10 | 13 |
| 5 | Armenia | 10 | 13 |
| 6 | Malta | 10 | 3 |
FIFA World Cup European Qualifying Group C
FIFA World Cup European Qualifying

| Pos | Team | P | Pts |
| --- | --- | --- | --- |
| 1 | Germany | 10 | 28 |
| 2 | Sweden | 10 | 20 |
| 3 | Austria | 10 | 17 |
| 4 | Republic of Ireland | 10 | 14 |
| 5 | Kazakhstan | 10 | 5 |
| 6 | Faroe Islands | 10 | 1 |
FIFA World Cup European Qualifying Group D
FIFA World Cup European Qualifying Group E
FIFA World Cup European Qualifying

| Pos | Team | P | Pts |
| --- | --- | --- | --- |
| 1 | Switzerland | 10 | 24 |
| 2 | Iceland | 10 | 17 |
| 3 | Slovenia | 10 | 15 |
| 4 | Norway | 10 | 12 |
| 5 | Albania | 10 | 11 |
| 6 | Cyprus | 10 | 5 |
FIFA World Cup European Qualifying Group F
FIFA World Cup European Qualifying

| Pos | Team | P | Pts |
| --- | --- | --- | --- |
| 1 | Russia | 10 | 22 |
| 2 | Portugal | 10 | 21 |
| 3 | Israel | 10 | 14 |
| 4 | Azerbaijan | 10 | 9 |
| 5 | Northern Ireland | 10 | 7 |
| 6 | Luxembourg | 10 | 6 |
FIFA World Cup European Qualifying Group G
FIFA World Cup European Qualifying Group H
FIFA World Cup European Qualifying Group I
FIFA World Cup European Qualifying

| Pos | Team | P | Pts |
| --- | --- | --- | --- |
| 1 | Spain | 8 | 20 |
| 2 | France | 8 | 17 |
| 3 | Finland | 8 | 9 |
| 4 | Georgia | 8 | 5 |
| 5 | Belarus | 8 | 4 |
Related