Sigurdsson sinks Slovenia
Spurs ace notches brace to boost Iceland qualification hopes
Last Updated: 22/03/13 7:27pm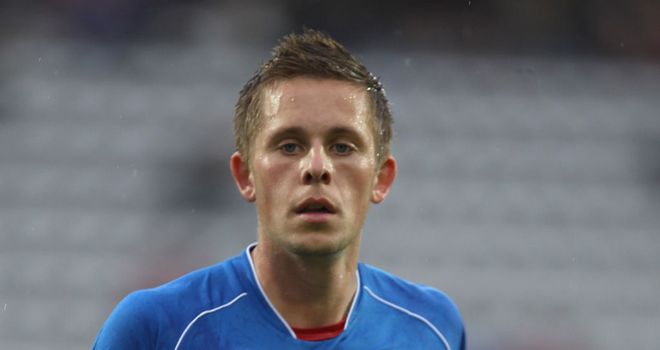 Gylfi Sigurdsson: Notched brace for Iceland
Tottenham midfielder Gylfi Sigurdsson scored both goals to sink Slovenia and keep Iceland's hopes of World Cup qualification alive.
Sigurdsson struck the winner in the 78th minute after being played in by former Chelsea veteran Eidur Gudjohnsen.
Gudjohnsen, 34, had been on the pitch just two minutes after coming off the bench to replace Emil Hallfredsson.
The three points take Iceland on to nine in Group E and they were a just reward for their perseverance after a niggly match littered with fouls.
Milivoje Novakovic, Slovenia's 33-year-old spearhead who plies his trade in Japan's J League with Omiya Ardija, had put the hosts ahead in the first half.
Novakovic, who had earlier been shown the yellow card for a foul, sent a left-foot shot from the right side of the box sailing into the top left corner.
Reputation
Slovenia pressed for the winner in a hectic second half, forcing a string of corners, but they could not make their territorial dominance pay.
Instead, Sigurdsson demonstrated his reputation as a dead-ball specialist when he blasted a right-foot shot into the top corner for a 55th-minute equaliser after Birkir Bjarnason had been fouled on the edge of the penalty area.
Sigurdsson then struck the winner with a right-foot shot from the centre of the penalty box.
As a result of the defeat, Slovenia remain on three points with just one win from their five matches.
FIFA World Cup European Qualifying

Fri 22nd Mar - Group F

Israel

3 - 3

Portugal

Luxembourg

0 - 0

Azerbaijan

Fri 22nd Mar - Group B

Bulgaria

6 - 0

Malta

Czech Rep

0 - 3

Denmark

Fri 22nd Mar - Group A

Croatia

2 - 0

Serbia

Macedonia

0 - 2

Belgium

Scotland

1 - 2

Wales

Fri 22nd Mar - Group E

Slovenia

1 - 2

Iceland

Norway

0 - 1

Albania

Fri 22nd Mar - Group C

Kazakhstan

0 - 3

Germany

Austria

6 - 0

Faroe Isl

Sweden

0 - 0

Rep Ire

Fri 22nd Mar - Group D

Andorra

0 - 2

Turkey

Hungary

2 - 2

Romania

Holland

3 - 0

Estonia

Fri 22nd Mar - Group G

Liechtenstein

1 - 1

Latvia

Slovakia

1 - 1

Lithuania

Bos&Herz

3 - 1

Greece

Fri 22nd Mar - Group H

Moldova

0 - 1

Montenegro

Poland

1 - 3

Ukraine

S Marino

0 - 8

England

Fri 22nd Mar - Group I

Spain

1 - 1

Finland

France

3 - 1

Georgia
Tables
FIFA World Cup European Qualifying Group A
FIFA World Cup European Qualifying Group B
FIFA World Cup European Qualifying

| Pos | Team | P | Pts |
| --- | --- | --- | --- |
| 1 | Italy | 10 | 22 |
| 2 | Denmark | 10 | 16 |
| 3 | Czech Republic | 10 | 15 |
| 4 | Bulgaria | 10 | 13 |
| 5 | Armenia | 10 | 13 |
| 6 | Malta | 10 | 3 |
FIFA World Cup European Qualifying Group C
FIFA World Cup European Qualifying

| Pos | Team | P | Pts |
| --- | --- | --- | --- |
| 1 | Germany | 10 | 28 |
| 2 | Sweden | 10 | 20 |
| 3 | Austria | 10 | 17 |
| 4 | Republic of Ireland | 10 | 14 |
| 5 | Kazakhstan | 10 | 5 |
| 6 | Faroe Islands | 10 | 1 |
FIFA World Cup European Qualifying Group D
FIFA World Cup European Qualifying Group E
FIFA World Cup European Qualifying

| Pos | Team | P | Pts |
| --- | --- | --- | --- |
| 1 | Switzerland | 10 | 24 |
| 2 | Iceland | 10 | 17 |
| 3 | Slovenia | 10 | 15 |
| 4 | Norway | 10 | 12 |
| 5 | Albania | 10 | 11 |
| 6 | Cyprus | 10 | 5 |
FIFA World Cup European Qualifying Group F
FIFA World Cup European Qualifying

| Pos | Team | P | Pts |
| --- | --- | --- | --- |
| 1 | Russia | 10 | 22 |
| 2 | Portugal | 10 | 21 |
| 3 | Israel | 10 | 14 |
| 4 | Azerbaijan | 10 | 9 |
| 5 | Northern Ireland | 10 | 7 |
| 6 | Luxembourg | 10 | 6 |
FIFA World Cup European Qualifying Group G
FIFA World Cup European Qualifying Group H
FIFA World Cup European Qualifying Group I
FIFA World Cup European Qualifying

| Pos | Team | P | Pts |
| --- | --- | --- | --- |
| 1 | Spain | 8 | 20 |
| 2 | France | 8 | 17 |
| 3 | Finland | 8 | 9 |
| 4 | Georgia | 8 | 5 |
| 5 | Belarus | 8 | 4 |
Related