Expert analysis
Sky Sports' Luther Blisset assessed the performance of Wayne Rooney in England's win over Ukraine and thinks, while there are obvious fitness problems, the Manchester United star is now a man the Three Lions can trust
Last Updated: 20/06/12 7:48am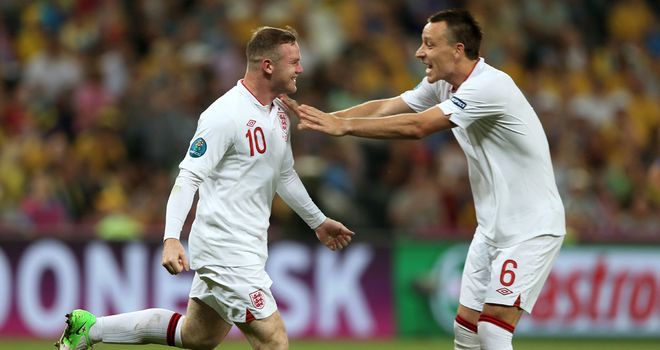 Wayne Rooney: Returned to England's first XI in style with the winner against Ukraine
Wayne Rooney returned to England's first XI in style on Tuesday night as he scored the goal which secured a 1-0 win over Ukraine and booked a date with Italy in the quarter-finals of Euro 2012. The Manchester United star had been suspended for the Three Lions' first two games at the finals after being sent off in their final qualifier. Here, Sky Sports' Luther Blisset thinks there is obvious room for improvement in Rooney's fitness but believes the striker is now trustworthy.
You will always get 100 per cent from Wayne Rooney. He has got so much pride. When he wears the shirt, he gives his all.
But there were one or two things off from his game against Ukraine. Fitness was a major aspect. He did not seem as sharp and have the power and strength in his legs we often see with Rooney.
When he was put through in the second half with Andriy Yarmolenko, we would normally see him get away from his marker. But, on the plus side, he managed to hold the ball up and laid it off to a team-mate.
There was also a cross in the first half and he showed some super movement. But then he did not have the strength or the timing to head the ball on target. He headed wide and it was a great chance, which would have given England the lead in the early stages.
It would have been a preference for Rooney to come off the bench. It is always better when you have been out for a while, and everyone else has been working on their match fitness, to come back as a substitute.
When everyone has been running around in a match for 45 minutes or an hour, and you have not played for a while, it is better to come on as a substitute and use your freshness to bridge the gap.
Good job
But you cannot take it away from Rooney. He scored the goal. He was in the right place at the right time. He came in at the far post and had the scoring instincts to finish that chance.
Roy Hodgson has again done a good job. One of the players who he has made as a change or a substitution has won the game for England.
When Rooney spoke at his press conference this week, he also seemed to be mentally well in control of everything and knew how he had to conduct himself.
He is fully aware he let everyone down in getting sent off against Montenegro in the last qualifier for doing such a silly thing as kicking out at an opponent.
We are now seeing a more mature Rooney. He is moving on from the petulance we have seen over a number of years. He is getting to that level where England can trust him.
Tables
European Championships Group A
European Championships

| Pos | Team | P | Pts |
| --- | --- | --- | --- |
| 1 | Czech Republic | 3 | 6 |
| 2 | Greece | 3 | 4 |
| 3 | Russia | 3 | 4 |
| 4 | Poland | 3 | 2 |
European Championships Group B
European Championships Group C
European Championships Group D
Related