Expert analysis
Republic of Ireland's hopes of advancing to the Euro 2012 knock-out stages were demolished on Thursday as holders Spain sailed to a comprehensive 4-0 win. Sky Sports pundit and Ireland and Reading defender Ian Harte feels the defeat was a lesson in football for Giovanni Trapattoni's men
Last Updated: 14/06/12 11:00pm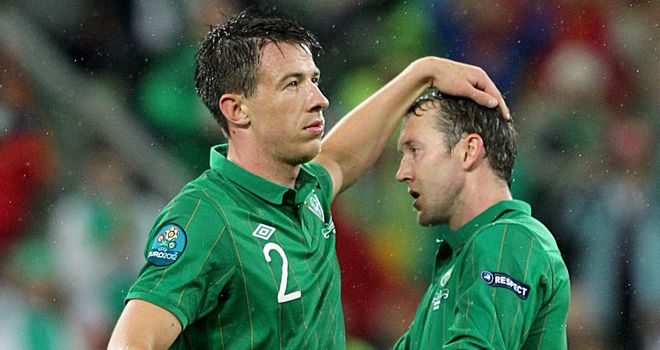 Shortlived campaign: Ireland suffered defeats in their opening two games
Giovanni Trapattoni thinks he picked his strongest team tonight but it just goes to show, he made mistakes. I do not think Ireland played their strongest team.
He should have put on Jonathan Walters from the start and Shane Long from the start. Long has got a hell of a lot of pace. He is fantastic in the air, even though people look at him and think he is quite short, he has got a great leap. Plus he is hungry. I think he would have done a better job. I am not the manager, but I hope he will play in the next game.
Simon Cox was chasing shadows around the midfield, which is probably what the manager said to him, 'drop into midfield and try and stop them getting on the ball'. He was running around and by the time he got close they had moved onto another midfielder. He was lost in that position, whereas if they had gone 4-4-2 they might have caused more problems in the first half. Kicking long balls up to Robbie Keane, the two centre-halves are like, 'thanks very much', and then it kept coming wave after wave.
Ireland were so tired when they got the ball they just ended up hoofing it back and then the Spanish, because they kept the ball so well, they were not really tired. It is like Barcelona, who lose it but then hunt all over the pitch to try and get it back as quickly as possible, which is what the Spanish team did tonight.
In the second half, just before we conceded Fernando Torres' second goal, we started to put a bit of pressure on them and started getting higher up the pitch, but by then it was too late.
You would think Ireland would have come out of the blocks a bit brighter in the second half. It is just embarrassing for us, really. I think we could have come out and been a lot braver. There is not one Irish player who can go in after the game and say, 'I've actually done alright', because they were all well off the pace. It was a lesson on how to play football.
World-class
The majority of Spain's players are playing for Real Madrid and Barcelona. You look at the strength in depth as well, you look at the bench. They're taking off Torres and bringing on Cesc Fabregas. It is a world-class squad. Ireland were punching well above their weight.
Most of Ireland's players have never played on this stage. Keane has been at the World Cup, and Shay Given and Richard Dunne, but the rest of them, they have never played at this level. A few of the lads have played European football but it is stepping up with the big boys now and it is a different kettle of fish. You are playing against some of the world's best players and if you stand off them and respect them too much then they will punish you and that is what happened tonight.
By the time James McClean is trying to get into the game it is over and done with. You could see the reception as soon as he came on. He has done so well at Sunderland this year and he might be a bit raw but you need to give players like him an opportunity. There is a great chance to do that now in the Italian game. If he does get tired, you can always take him off. The Italian team and manager will not know too much about him and it is probably a bit similar to what Michael Owen was like a few years ago. He was given the opportunity and he scored against Argentina.
They have got nothing to lose now. They have just got to go out and give the best that they possibly can. The last thing they want is to be coming home after being beaten in three games. It is all about playing for pride now. If they do what they have done in the previous games they will be in for another scalping.
The fans were all singing and they follow them all over the world. As long as they see the players going out and trying to do their best they are happy enough. But they'll be disappointed this evening and probably go out and drown their sorrows. For the Irish fans now it will be a bit of party time and in the last game hopefully we can have a bit of passion and pride.
Tables
European Championships Group A
European Championships

| Pos | Team | P | Pts |
| --- | --- | --- | --- |
| 1 | Czech Republic | 3 | 6 |
| 2 | Greece | 3 | 4 |
| 3 | Russia | 3 | 4 |
| 4 | Poland | 3 | 2 |
European Championships Group B
European Championships Group C
European Championships Group D
Related
Spain v Republic of Ireland

Sky Sports looks at the issues facing Giovanni Trapattoni after Ireland's Euro 2012 failure.

We look around the continent for newspaper reaction to the Republic of Ireland's 4-0 defeat to Spain.

Giovanni Trapattoni has demanded his Republic of Ireland players finish their Euro 2012 campaign with the right attitude against Italy on Monday.