Belarus earn opening win
Georgia suffer second defeat in France and Spain's Group I
Last Updated: 16/10/12 8:13pm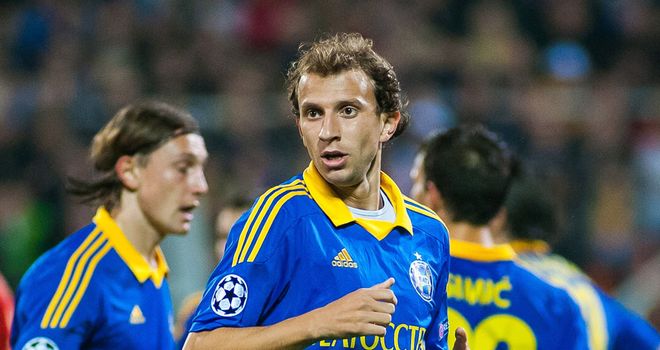 Renan Bressan: Scored Belarus's opener against Georgia before creating the second
Renan Bressan inspired Belarus to a comfortable 2-0 home win over Georgia as they opened their World Cup qualifying account in Group I.
Bressan, who scored in BATE Borisov's shock Champions League win over Bayern Munich earlier this month, broke the deadlock in Minsk inside six minutes and set up the second goal for Stanislav Dragun.
Dragun served notice of what was to come when he threatened in the second minute by shooting wide, but it was only a further five minutes before Bressan gave the home side the lead with a low right-footed finish from six yards.
The BATE playmaker turned provider in the 28th minute when his delivery from the left channel was headed in by Dragun.
Control
Those two goals put Belarus in control after a first half in which Bressan went close twice more, while Georgia's limited threat amounted to little more than David Targamadze's often optimistic free-kicks.
In the second period, Vitaly Rodionov was denied by keeper Nukri Revishvili and then hit the post as Belarus sought to put the result beyond doubt.
Jaba Kankava headed wide from close range in Georgia's clearest sight of goal, while Alexander Kobakhidze and Levan Kenia were off target from 25 yards.
The much-needed win avenged Belarus' opening defeat in Tbilisi, since when they have lost to France and Spain.
FIFA World Cup European Qualifying

Tue 16th Oct - Group F

Russia

1 - 0

Azerbaijan

Israel

3 - 0

Luxembourg

Portugal

1 - 1

N Ireland

Tue 16th Oct - Group I

Belarus

2 - 0

Georgia

Spain

1 - 1

France

Tue 16th Oct - Group G

Latvia

2 - 0

Liechtenstein

Bos&Herz

3 - 0

Lithuania

Slovakia

0 - 1

Greece

Tue 16th Oct - Group D

Andorra

0 - 1

Estonia

Romania

1 - 4

Holland

Hungary

3 - 1

Turkey

Tue 16th Oct - Group A

Croatia

2 - 0

Wales

Macedonia

1 - 0

Serbia

Belgium

2 - 0

Scotland

Tue 16th Oct - Group B

Czech Rep

0 - 0

Bulgaria

Italy

3 - 1

Denmark

Tue 16th Oct - Group E

Cyprus

1 - 3

Norway

Iceland

0 - 2

Switzerlnd

Albania

1 - 0

Slovenia

Tue 16th Oct - Group H

Ukraine

0 - 1

Montenegro

S Marino

0 - 2

Moldova

Tue 16th Oct - Group C

Faroe Isl

1 - 4

Rep Ire

Austria

4 - 0

Kazakhstan

Germany

4 - 4

Sweden
Tables
FIFA World Cup European Qualifying Group A
FIFA World Cup European Qualifying Group B
FIFA World Cup European Qualifying

| Pos | Team | P | Pts |
| --- | --- | --- | --- |
| 1 | Italy | 10 | 22 |
| 2 | Denmark | 10 | 16 |
| 3 | Czech Republic | 10 | 15 |
| 4 | Bulgaria | 10 | 13 |
| 5 | Armenia | 10 | 13 |
| 6 | Malta | 10 | 3 |
FIFA World Cup European Qualifying Group C
FIFA World Cup European Qualifying

| Pos | Team | P | Pts |
| --- | --- | --- | --- |
| 1 | Germany | 10 | 28 |
| 2 | Sweden | 10 | 20 |
| 3 | Austria | 10 | 17 |
| 4 | Republic of Ireland | 10 | 14 |
| 5 | Kazakhstan | 10 | 5 |
| 6 | Faroe Islands | 10 | 1 |
FIFA World Cup European Qualifying Group D
FIFA World Cup European Qualifying Group E
FIFA World Cup European Qualifying

| Pos | Team | P | Pts |
| --- | --- | --- | --- |
| 1 | Switzerland | 10 | 24 |
| 2 | Iceland | 10 | 17 |
| 3 | Slovenia | 10 | 15 |
| 4 | Norway | 10 | 12 |
| 5 | Albania | 10 | 11 |
| 6 | Cyprus | 10 | 5 |
FIFA World Cup European Qualifying Group F
FIFA World Cup European Qualifying

| Pos | Team | P | Pts |
| --- | --- | --- | --- |
| 1 | Russia | 10 | 22 |
| 2 | Portugal | 10 | 21 |
| 3 | Israel | 10 | 14 |
| 4 | Azerbaijan | 10 | 9 |
| 5 | Northern Ireland | 10 | 7 |
| 6 | Luxembourg | 10 | 6 |
FIFA World Cup European Qualifying Group G
FIFA World Cup European Qualifying Group H
FIFA World Cup European Qualifying Group I
FIFA World Cup European Qualifying

| Pos | Team | P | Pts |
| --- | --- | --- | --- |
| 1 | Spain | 8 | 20 |
| 2 | France | 8 | 17 |
| 3 | Finland | 8 | 9 |
| 4 | Georgia | 8 | 5 |
| 5 | Belarus | 8 | 4 |
Related