Ronaldo the hero
Portugal power through against 10-man Bosnia
Last Updated: 16/11/11 8:04am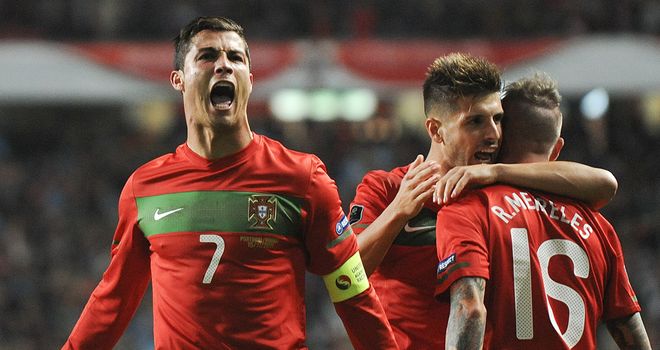 Cristiano Ronaldo: Bagged brace for Portugal
Cristiano Ronaldo inspired Portugal to storm through to the Euro 2012 finals with a thrilling win over 10-man Bosnia-Herzegovina in Lisbon.
Ronaldo struck twice, including a wonderful 35-yard free-kick after just eight minutes, to set the tone for a goal fest, with the hosts triumphing 6-2 on the night and on aggregate.
After the first leg finished goalless, Ronaldo's opener and an equally impressive strike from Nani ensured they assumed control inside half an hour.
Bosnia kept in touch when Zvjezdan Misimovic netted a penalty just before half-time, but Ronaldo struck his second soon after the resumption.
Bosnia then had Senad Lulic sent off but they battled on bravely and when skipper Emir Spahic scored on 66 minutes at 3-2 they retained belief.
Postiga
That was quickly eroded, however, as Portugal doubled their tally with Helder Postiga netting twice either side of a Miguel Veloso free-kick.
After a nervous first leg, Portugal took a firm grip of the contest thanks to memorable strikes from key men Ronaldo and Nani.
Ronaldo opened the scoring in signature style when he thumped a 35-yard free-kick, which he had won himself, that sped past the despairing dive of Asmir Begovic.
Nani doubled the lead on 28 minutes when he unleashed an unstoppable drive from almost the identical position that left Begovic grasping at thin air.
Bosnia were back in the match at half-time, though, when Fabio Coentrao was ruled to have handballed in the area and Misimovic tucked away the penalty.
Portugal restored their two-goal advantage soon after the resumption when Ronaldo rounded Begovic to score.
Emphatic
Bosnia's challenge looked done and dusted when Lulic was then sent off moments later for violent conduct, but they found a way back when Spahic poked in after Darko Maletic's mis-hit shot fell to him.
There was a hint of offside in his goal, but if Portugal felt aggrieved it lasted only a few moments as Postiga eased their concerns in emphatic style.
The striker picked his spot expertly on 72 minutes after a clever through-ball from Micael before another superb free-kick, this time from Veloso, sealed matters with 10 minutes left.
Ronaldo had been lining up the set-piece, but Veloso caught out Begovic to fizz his effort into the top-right corner.
Postiga then rounded off the victory with the simplest of tap-ins to begin the celebrations inside the Stadium of Light.
Tables
European Championship Qualifying Group A
European Championship Qualifying

| Pos | Team | P | Pts |
| --- | --- | --- | --- |
| 1 | Czech Republic | 5 | 13 |
| 2 | Iceland | 5 | 12 |
| 3 | Netherlands | 5 | 7 |
| 4 | Turkey | 5 | 5 |
| 5 | Latvia | 5 | 3 |
| 6 | Kazakhstan | 5 | 1 |
European Championship Qualifying Group B
European Championship Qualifying Group C
European Championship Qualifying

| Pos | Team | P | Pts |
| --- | --- | --- | --- |
| 1 | Slovakia | 5 | 15 |
| 2 | Spain | 5 | 12 |
| 3 | Ukraine | 5 | 9 |
| 4 | Belarus | 5 | 4 |
| 5 | Macedonia | 5 | 3 |
| 6 | Luxembourg | 5 | 1 |
European Championship Qualifying Group D
European Championship Qualifying Group E
European Championship Qualifying Group F
European Championship Qualifying

| Pos | Team | P | Pts |
| --- | --- | --- | --- |
| 1 | Romania | 5 | 13 |
| 2 | Northern Ireland | 5 | 12 |
| 3 | Hungary | 5 | 8 |
| 4 | Finland | 5 | 4 |
| 5 | Faroe Islands | 5 | 3 |
| 6 | Greece | 5 | 2 |
European Championship Qualifying Group G
European Championship Qualifying

| Pos | Team | P | Pts |
| --- | --- | --- | --- |
| 1 | Austria | 5 | 13 |
| 2 | Sweden | 5 | 9 |
| 3 | Russia | 5 | 8 |
| 4 | Montenegro | 5 | 5 |
| 5 | Liechtenstein | 5 | 4 |
| 6 | Moldova | 5 | 1 |
European Championship Qualifying Group H
European Championship Qualifying

| Pos | Team | P | Pts |
| --- | --- | --- | --- |
| 1 | Croatia | 5 | 13 |
| 2 | Italy | 5 | 11 |
| 3 | Norway | 5 | 9 |
| 4 | Bulgaria | 5 | 5 |
| 5 | Azerbaijan | 5 | 3 |
| 6 | Malta | 5 | 1 |
European Championship Qualifying Group I
European Championship Qualifying

| Pos | Team | P | Pts |
| --- | --- | --- | --- |
| 1 | Portugal | 4 | 9 |
| 2 | Denmark | 4 | 7 |
| 3 | Albania | 4 | 7 |
| 4 | Serbia | 4 | 1 |
| 5 | Armenia | 4 | 1 |
Related