Bosnia v Portugal preview
Postiga plays down off-field concerns following Bosingwa row
Last Updated: 11/11/11 2:33pm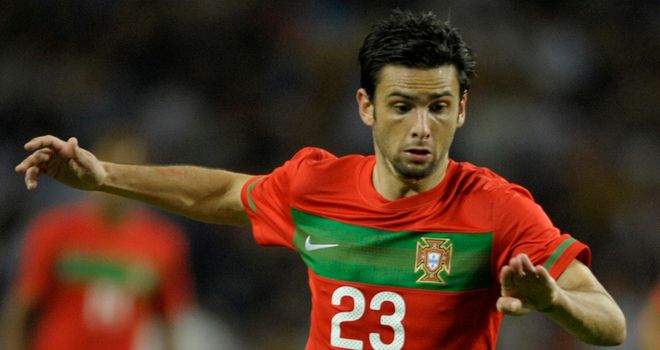 Postiga: Portugal forward focused on showdown with Bosnia
Helder Postiga has played down the off-field distractions ahead of Portugal's Euro 2012 play-off first leg in Bosnia-Herzegovina.
Jamie Redknapp's Red Hot Tips: Portugal to win 1-0 5/1
The Portuguese's preparations for the crucial encounter have been far from smooth, with Chelsea full-back Jose Bosingwa hitting out at national coach Paulo Bento following his omission from the squad.
Bosingwa criticised Bento in an interview with Portuguese newspaper A Bola, and claimed he would not wear the Portugal shirt again while the 42-year-old former Sporting Lisbon boss was at the helm.
But Postiga insisted he and his team-mates were more concerned with football matters than Bosingwa's comments, and that the state of the pitch was a bigger worry.
The in-form 29-year-old Real Zaragoza frontman said: "The rain disturbs me more.
Completely focused
"We are completely focused on Bosnia-Herzegovina, just thinking of the two games."
Bosingwa followed in the footsteps of Ricardo Carvalho in making himself unavailable for selection under Bento - something Postiga never considered.
"Each player takes his own decisions and must face the consequences of their decisions," he said.
Asked if he ever thought of giving up on his international dreams when he was not part of the squad, he replied: "I love my country. I am very patriotic and never thought of leaving."
Bento will be without Zenit St Petersburg playmaker Danny (knee) and Atletico Madrid full-back Silvio (pelvis), and has drafted Malaga defender Eliseu and PAOK Salonika midfielder Vieirinha into his group for Friday's game in Zenica.
Missed out
Portugal missed out on automatic qualification for Euro 2012 when they lost 2-1 in Denmark in their final Group H qualifier last month, having needed just a point to secure their spot in Poland and Ukraine.
Bosnia-Herzegovina were also denied top spot in Group G by a last-gasp Samir Nasri penalty equaliser for France in their final qualifier.
Coach Safet Susic will be without three first-choice defenders with Boris Pandza and Sasa Papac suspended and Mensur Mujdza sidelined with a broken foot.
Susic said at his pre-match press conference: "I have a lot of dilemmas. It is not easy to lose three regular defensive players.
"It is difficult to find a solution, especially when it comes to exceptional players, players who are in exceptional shape."
Tables
European Championship Qualifying Group A
European Championship Qualifying

| Pos | Team | P | Pts |
| --- | --- | --- | --- |
| 1 | Iceland | 3 | 9 |
| 2 | Czech Republic | 3 | 9 |
| 3 | Netherlands | 3 | 3 |
| 4 | Latvia | 3 | 2 |
| 5 | Kazakhstan | 3 | 1 |
| 6 | Turkey | 3 | 1 |
European Championship Qualifying Group B
European Championship Qualifying Group C
European Championship Qualifying

| Pos | Team | P | Pts |
| --- | --- | --- | --- |
| 1 | Slovakia | 3 | 9 |
| 2 | Spain | 3 | 6 |
| 3 | Ukraine | 3 | 6 |
| 4 | Macedonia | 3 | 3 |
| 5 | Belarus | 3 | 1 |
| 6 | Luxembourg | 3 | 1 |
European Championship Qualifying Group D
European Championship Qualifying Group E
European Championship Qualifying Group F
European Championship Qualifying

| Pos | Team | P | Pts |
| --- | --- | --- | --- |
| 1 | Northern Ireland | 3 | 9 |
| 2 | Romania | 3 | 7 |
| 3 | Finland | 3 | 4 |
| 4 | Hungary | 3 | 4 |
| 5 | Greece | 3 | 1 |
| 6 | Faroe Islands | 3 | 0 |
European Championship Qualifying Group G
European Championship Qualifying

| Pos | Team | P | Pts |
| --- | --- | --- | --- |
| 1 | Austria | 3 | 7 |
| 2 | Russia | 3 | 5 |
| 3 | Sweden | 3 | 5 |
| 4 | Montenegro | 3 | 4 |
| 5 | Moldova | 3 | 1 |
| 6 | Liechtenstein | 3 | 1 |
European Championship Qualifying Group H
European Championship Qualifying

| Pos | Team | P | Pts |
| --- | --- | --- | --- |
| 1 | Croatia | 3 | 9 |
| 2 | Italy | 3 | 9 |
| 3 | Norway | 3 | 6 |
| 4 | Bulgaria | 3 | 3 |
| 5 | Malta | 3 | 0 |
| 6 | Azerbaijan | 3 | 0 |
European Championship Qualifying Group I
European Championship Qualifying

| Pos | Team | P | Pts |
| --- | --- | --- | --- |
| 1 | Albania | 2 | 4 |
| 2 | Denmark | 3 | 4 |
| 3 | Portugal | 2 | 3 |
| 4 | Serbia | 1 | 1 |
| 5 | Armenia | 2 | 1 |
Related