Croatia roast Turkey
Olic, Mandzukic and Corluka on target for Bilic's troops
Last Updated: 11/11/11 10:48pm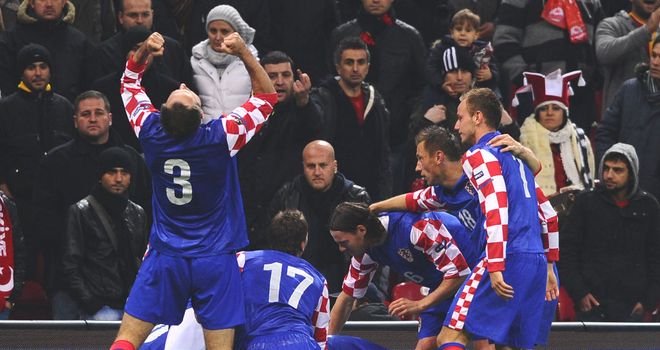 Croatia: Slaven Bilic's men celebrate their emphatic 3-0 first leg win over Turkey
Croatia have moved into firm pole position to qualify for Euro 2012 following an emphatic 3-0 win over Turkey in their play-off tie.
Slaven Bilic's troops moved in front early on with Ivica Olic finding the back of the net inside the first two minutes of the contest.
Mario Mandzukic doubled their advantage in the 32nd minute with Tottenham defender Vedran Corluka adding the icing on the cake in the second half.
Croatia got off to the best possible start, racing into a second minute lead when Bayern Munich striker Olic tapped in Corluka's cross from the left corner flag, with Turkey keeper Volkan Demirel found wanting.
That was Croatia's fastest ever goal in Euro qualifying.
With Turkey in shock Croatia's dream beginning almost got even better when Olic rose highest in the box only for Mandzukic's shot to go wide.
Corluka and his Tottenham team-mate Luka Modric were causing Turkey all sorts of problems down the left.
Presence
Turkey began to make their presence felt in midfield but just after the half hour mark Croatia doubled their lead on an electric counter-attack down the right.
Darijo Srna sent in a peach of a cross with Modric's shot blocked. The ball found its way over the right flank again and Srna tried again, this time Wolfsburg forward Mandzukic heading in by the far post.
Croatia almost added another on the stroke of half time, denied only by a great save from Demirel who rushed out to block Olic after the Bayern man was played in by Mandzukic.
At the start of the second half Turkey boss Guus Hiddink replaced right back Gokhan Gonul with attacking midfielder Gokhan Tore as the wily tactician attempted to save his side's floundering Euro 2012 bid.
But on 51 minutes Corluka compounded Turkey's misery, escaping his marker to run onto Srna's whipped free-kick to head home from five metres.
With a strangely muted Turkey becoming ever more frustrated Croatia coasted to the final whistle, many of the home fans voting with their feet having already left the stadium.
Tables
European Championship Qualifying Group A
European Championship Qualifying

| Pos | Team | P | Pts |
| --- | --- | --- | --- |
| 1 | Czech Republic | 5 | 13 |
| 2 | Iceland | 5 | 12 |
| 3 | Netherlands | 5 | 7 |
| 4 | Turkey | 5 | 5 |
| 5 | Latvia | 5 | 3 |
| 6 | Kazakhstan | 5 | 1 |
European Championship Qualifying Group B
European Championship Qualifying Group C
European Championship Qualifying

| Pos | Team | P | Pts |
| --- | --- | --- | --- |
| 1 | Slovakia | 5 | 15 |
| 2 | Spain | 5 | 12 |
| 3 | Ukraine | 5 | 9 |
| 4 | Belarus | 5 | 4 |
| 5 | Macedonia | 5 | 3 |
| 6 | Luxembourg | 5 | 1 |
European Championship Qualifying Group D
European Championship Qualifying Group E
European Championship Qualifying Group F
European Championship Qualifying

| Pos | Team | P | Pts |
| --- | --- | --- | --- |
| 1 | Romania | 5 | 13 |
| 2 | Northern Ireland | 5 | 12 |
| 3 | Hungary | 5 | 8 |
| 4 | Finland | 5 | 4 |
| 5 | Faroe Islands | 5 | 3 |
| 6 | Greece | 5 | 2 |
European Championship Qualifying Group G
European Championship Qualifying

| Pos | Team | P | Pts |
| --- | --- | --- | --- |
| 1 | Austria | 5 | 13 |
| 2 | Sweden | 5 | 9 |
| 3 | Russia | 5 | 8 |
| 4 | Montenegro | 5 | 5 |
| 5 | Liechtenstein | 5 | 4 |
| 6 | Moldova | 5 | 1 |
European Championship Qualifying Group H
European Championship Qualifying

| Pos | Team | P | Pts |
| --- | --- | --- | --- |
| 1 | Croatia | 5 | 13 |
| 2 | Italy | 5 | 11 |
| 3 | Norway | 5 | 9 |
| 4 | Bulgaria | 5 | 5 |
| 5 | Azerbaijan | 5 | 3 |
| 6 | Malta | 5 | 1 |
European Championship Qualifying Group I
European Championship Qualifying

| Pos | Team | P | Pts |
| --- | --- | --- | --- |
| 1 | Portugal | 4 | 9 |
| 2 | Denmark | 4 | 7 |
| 3 | Albania | 4 | 7 |
| 4 | Serbia | 4 | 1 |
| 5 | Armenia | 4 | 1 |
Related