Ireland end on a high
King's men see off Italy despite being reduced to nine men
Last Updated: 10/09/12 9:59pm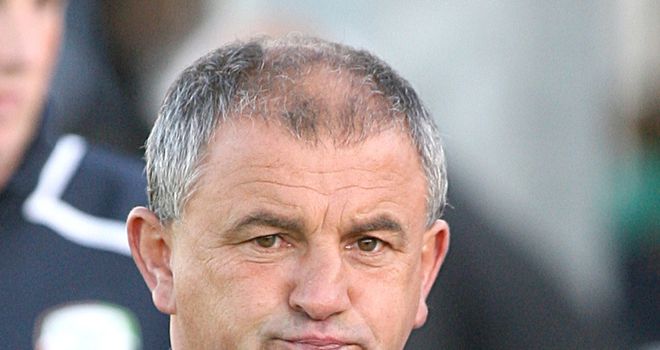 Noel King: Saw his side end their campaign with a superb performance
The Republic of Ireland's U21s brought the curtain down on their 2013 European Championship qualifying campaign with a superb 4-2 victory over Italy.
Ireland headed into the game knowing that their dreams of reaching the play-offs had already been dashed, with defeat to Hungary on Thursday ruling them out of next summer's finals.
Noel King's side were, however, able to raise their game for their final fixture, despite ending the contest with nine men following two red cards.
Sean Murray put Ireland in front in the 23rd minute but Luca Caldirola equalised on 35 for the Italians, who were already guaranteed to progress as group winners.
Another Italian victory seemed certain when Derrick Williams was sent off in the 37th minute for a professional foul, but Aaron McCarey saved the resulting penalty and instead it was the visitors who took control.
Two goals in as many minutes just before the hour from Doran and Conor Henderson gave the Irish a 3-1 lead and they made it four eight minutes from time when Doran added his second of the game.
Anthony Forde was the second Republic player to see red for two bookable offences in the final minutes, and Stephan El Shaarawy grabbed a consolation goal for the home side in injury time.
European Under-21 Championship Qualifying

Mon 10th Sep - Group One

Belarus U21

1 - 0

San Marino U21

Greece U21

1 - 0

Cyprus U21

Bosnia U21

4 - 4

Germany U21

Mon 10th Sep - Group Three

Czech R U21

5 - 0

Wales U21

Montenegro U21

0 - 0

Armenia U21

Mon 10th Sep - Group Six

Russia U21

2 - 2

Moldova U21

Poland U21

0 - 0

Portugal U21

Mon 10th Sep - Group Nine

Slovakia U21

6 - 0

Kaz'stan U21

Latvia U21

0 - 4

Romania U21

Mon 10th Sep - Group Ten

Austria U21

3 - 2

Scotland U21

Lux'bourg U21

1 - 3

Bulgaria U21

Mon 10th Sep - Group Seven

Italy U21

2 - 4

Rep Ire U21

Hungary U21

2 - 0

Liec'stein U21

Mon 10th Sep - Group Four

Serbia U21

5 - 1

Macedonia U21

Denmark U21

3 - 0

N Ireland U21

Mon 10th Sep - Group Two

Sweden U21

2 - 1

Ukraine U21

Lithuania U21

1 - 3

Finland U21

Mon 10th Sep - Group Eight

England U21

1 - 0

Norway U21

Belgium U21

5 - 0

Iceland U21

Mon 10th Sep - Group Five

Spain U21

6 - 0

Croatia U21

Switzerland U21

3 - 0

Estonia U21
Tables
European Under-21 Championship Qualifying Group One
European Under-21 Championship Qualifying

| Pos | Team | P | Pts |
| --- | --- | --- | --- |
| 1 | England U21 | 10 | 28 |
| 2 | Finland U21 | 10 | 16 |
| 3 | Moldova U21 | 10 | 16 |
| 4 | Wales U21 | 10 | 12 |
| 5 | Lithuania U21 | 10 | 8 |
| 6 | San Marino U21 | 10 | 4 |
European Under-21 Championship Qualifying Group Two
European Under-21 Championship Qualifying

| Pos | Team | P | Pts |
| --- | --- | --- | --- |
| 1 | Denmark U21 | 10 | 26 |
| 2 | Russia U21 | 10 | 22 |
| 3 | Slovenia U21 | 10 | 17 |
| 4 | Bulgaria U21 | 10 | 9 |
| 5 | Estonia U21 | 10 | 9 |
| 6 | Andorra U21 | 10 | 1 |
European Under-21 Championship Qualifying Group Three
European Under-21 Championship Qualifying

| Pos | Team | P | Pts |
| --- | --- | --- | --- |
| 1 | Slovakia U21 | 8 | 17 |
| 2 | Holland U21 | 8 | 16 |
| 3 | Georgia U21 | 8 | 11 |
| 4 | Scotland U21 | 8 | 11 |
| 5 | Luxembourg U21 | 8 | 1 |
European Under-21 Championship Qualifying Group Four
European Under-21 Championship Qualifying

| Pos | Team | P | Pts |
| --- | --- | --- | --- |
| 1 | Spain U21 | 6 | 18 |
| 2 | Austria U21 | 6 | 12 |
| 3 | Hungary U21 | 6 | 6 |
| 4 | Bosnia U21 | 6 | 6 |
| 5 | Albania U21 | 8 | 6 |
European Under-21 Championship Qualifying Group Five
European Under-21 Championship Qualifying

| Pos | Team | P | Pts |
| --- | --- | --- | --- |
| 1 | Croatia U21 | 8 | 19 |
| 2 | Ukraine U21 | 8 | 19 |
| 3 | Switzerland U21 | 8 | 15 |
| 4 | Latvia U21 | 8 | 6 |
| 5 | Liechtenstein U21 | 8 | 0 |
European Under-21 Championship Qualifying Group Six
European Under-21 Championship Qualifying

| Pos | Team | P | Pts |
| --- | --- | --- | --- |
| 1 | Germany U21 | 8 | 20 |
| 2 | Romania U21 | 8 | 12 |
| 3 | Montenegro U21 | 8 | 11 |
| 4 | Rep of Ireland U21 | 8 | 8 |
| 5 | Faroe Islands U21 | 8 | 4 |
European Under-21 Championship Qualifying Group Seven
European Under-21 Championship Qualifying

| Pos | Team | P | Pts |
| --- | --- | --- | --- |
| 1 | Sweden U21 | 8 | 16 |
| 2 | Greece U21 | 8 | 15 |
| 3 | Poland U21 | 8 | 15 |
| 4 | Turkey U21 | 8 | 13 |
| 5 | Malta U21 | 8 | 0 |
European Under-21 Championship Qualifying Group Eight
European Under-21 Championship Qualifying

| Pos | Team | P | Pts |
| --- | --- | --- | --- |
| 1 | Portugal U21 | 8 | 24 |
| 2 | Israel U21 | 8 | 15 |
| 3 | Norway U21 | 8 | 9 |
| 4 | Azerbaijan U21 | 8 | 7 |
| 5 | Macedonia U21 | 8 | 4 |
European Under-21 Championship Qualifying Group Nine
European Under-21 Championship Qualifying

| Pos | Team | P | Pts |
| --- | --- | --- | --- |
| 1 | Italy U21 | 8 | 18 |
| 2 | Serbia U21 | 8 | 16 |
| 3 | Belgium U21 | 8 | 16 |
| 4 | Cyprus U21 | 8 | 6 |
| 5 | N Ireland U21 | 8 | 3 |
European Under-21 Championship Qualifying Group Ten
European Under-21 Championship Qualifying

| Pos | Team | P | Pts |
| --- | --- | --- | --- |
| 1 | France U21 | 8 | 22 |
| 2 | Iceland U21 | 8 | 16 |
| 3 | Kazakhstan U21 | 8 | 9 |
| 4 | Armenia U21 | 8 | 9 |
| 5 | Belarus U21 | 8 | 3 |
European Under-21 Championship Qualifying Group Eleven
European Under-21 Championship Qualifying

| Pos | Team | P | Pts |
| --- | --- | --- | --- |
| 1 | Sweden U21 | 2 | 6 |
| 2 | Denmark U21 | 2 | 3 |
| 3 | Macedonia U21 | 2 | 0 |
European Under-21 Championship Qualifying Group Twelve
European Under-21 Championship Qualifying

| Pos | Team | P | Pts |
| --- | --- | --- | --- |
| 1 | Bulgaria U21 | 2 | 6 |
| 2 | Ukraine U21 | 2 | 3 |
| 3 | Croatia U21 | 2 | 0 |
European Under-21 Championship Qualifying Group Thirteen
European Under-21 Championship Qualifying

| Pos | Team | P | Pts |
| --- | --- | --- | --- |
| 1 | Israel U21 | 2 | 4 |
| 2 | Turkey U21 | 2 | 2 |
| 3 | Wales U21 | 2 | 1 |
European Under-21 Championship Qualifying Group Fourteen
European Under-21 Championship Qualifying

| Pos | Team | P | Pts |
| --- | --- | --- | --- |
| 1 | France U21 | 2 | 6 |
| 2 | Slovenia U21 | 2 | 3 |
| 3 | Scotland U21 | 2 | 0 |
Related