Wales demolished by Czechs
Wales U21s taken apart by Czechs
Last Updated: 11/09/12 8:04am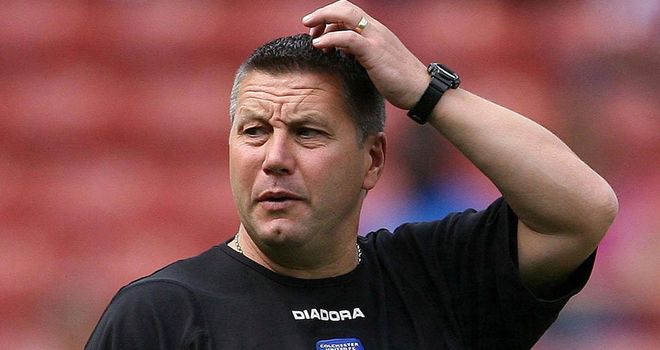 Geraint Williams: Saw his Wales U21 side taken apart by Czechs
Wales Under-21s 2013 European Championship qualification campaign was brought to an end in disappointing style as they suffered a 5-0 hammering by Czech Republic.
Geraint Williams' side could no longer advance from the group after their home loss to Armenia last month, but had been looking to end the campaign with a good performance.
But, after a bright start, those hopes were firmly dashed as Filip Novak, Tomas Wagner, Ondrej Vanek and Stanislav Tecl (2) helped the Group Three winners to an emphatic triumph in Jablonec nad Nisou.
Billy Bodin had fired wide of the target when well-placed during the early stages for the visitors, with Jake Cassidy another to waste a decent chance.
And once the Czechs got into their stride those misses proved costly.
Downhill
They took the lead in the 17th minute as Novak found the net after the visitors failed to clear a corner.
Wales held their own until the hour mark but matters went rapidly downhill once Wagner doubled the home side's lead.
Vanek then tapped in the third after goalkeeper Dai Cornell had done well to keep out Pavel Cmov's shot.
Tecl then rounded off the scoring as he netted from the spot after Adam Henley had fouled him, before bagging the fifth with 11 minutes remaining.
Wales were even denied a late consolation as Jake Taylor saw his effort saved.
European Under-21 Championship Qualifying

Mon 10th Sep - Group One

Belarus U21

1 - 0

San Marino U21

Greece U21

1 - 0

Cyprus U21

Bosnia U21

4 - 4

Germany U21

Mon 10th Sep - Group Three

Czech R U21

5 - 0

Wales U21

Montenegro U21

0 - 0

Armenia U21

Mon 10th Sep - Group Six

Russia U21

2 - 2

Moldova U21

Poland U21

0 - 0

Portugal U21

Mon 10th Sep - Group Nine

Slovakia U21

6 - 0

Kaz'stan U21

Latvia U21

0 - 4

Romania U21

Mon 10th Sep - Group Ten

Austria U21

3 - 2

Scotland U21

Lux'bourg U21

1 - 3

Bulgaria U21

Mon 10th Sep - Group Seven

Italy U21

2 - 4

Rep Ire U21

Hungary U21

2 - 0

Liec'stein U21

Mon 10th Sep - Group Four

Serbia U21

5 - 1

Macedonia U21

Denmark U21

3 - 0

N Ireland U21

Mon 10th Sep - Group Two

Sweden U21

2 - 1

Ukraine U21

Lithuania U21

1 - 3

Finland U21

Mon 10th Sep - Group Eight

England U21

1 - 0

Norway U21

Belgium U21

5 - 0

Iceland U21

Mon 10th Sep - Group Five

Spain U21

6 - 0

Croatia U21

Switzerland U21

3 - 0

Estonia U21
Tables
European Under-21 Championship Qualifying Group One
European Under-21 Championship Qualifying

| Pos | Team | P | Pts |
| --- | --- | --- | --- |
| 1 | England U21 | 10 | 28 |
| 2 | Finland U21 | 10 | 16 |
| 3 | Moldova U21 | 10 | 16 |
| 4 | Wales U21 | 10 | 12 |
| 5 | Lithuania U21 | 10 | 8 |
| 6 | San Marino U21 | 10 | 4 |
European Under-21 Championship Qualifying Group Two
European Under-21 Championship Qualifying

| Pos | Team | P | Pts |
| --- | --- | --- | --- |
| 1 | Denmark U21 | 10 | 26 |
| 2 | Russia U21 | 10 | 22 |
| 3 | Slovenia U21 | 10 | 17 |
| 4 | Bulgaria U21 | 10 | 9 |
| 5 | Estonia U21 | 10 | 9 |
| 6 | Andorra U21 | 10 | 1 |
European Under-21 Championship Qualifying Group Three
European Under-21 Championship Qualifying

| Pos | Team | P | Pts |
| --- | --- | --- | --- |
| 1 | Slovakia U21 | 8 | 17 |
| 2 | Holland U21 | 8 | 16 |
| 3 | Georgia U21 | 8 | 11 |
| 4 | Scotland U21 | 8 | 11 |
| 5 | Luxembourg U21 | 8 | 1 |
European Under-21 Championship Qualifying Group Four
European Under-21 Championship Qualifying

| Pos | Team | P | Pts |
| --- | --- | --- | --- |
| 1 | Spain U21 | 6 | 18 |
| 2 | Austria U21 | 6 | 12 |
| 3 | Hungary U21 | 6 | 6 |
| 4 | Bosnia U21 | 6 | 6 |
| 5 | Albania U21 | 8 | 6 |
European Under-21 Championship Qualifying Group Five
European Under-21 Championship Qualifying

| Pos | Team | P | Pts |
| --- | --- | --- | --- |
| 1 | Croatia U21 | 8 | 19 |
| 2 | Ukraine U21 | 8 | 19 |
| 3 | Switzerland U21 | 8 | 15 |
| 4 | Latvia U21 | 8 | 6 |
| 5 | Liechtenstein U21 | 8 | 0 |
European Under-21 Championship Qualifying Group Six
European Under-21 Championship Qualifying

| Pos | Team | P | Pts |
| --- | --- | --- | --- |
| 1 | Germany U21 | 8 | 20 |
| 2 | Romania U21 | 8 | 12 |
| 3 | Montenegro U21 | 8 | 11 |
| 4 | Rep of Ireland U21 | 8 | 8 |
| 5 | Faroe Islands U21 | 8 | 4 |
European Under-21 Championship Qualifying Group Seven
European Under-21 Championship Qualifying

| Pos | Team | P | Pts |
| --- | --- | --- | --- |
| 1 | Sweden U21 | 8 | 16 |
| 2 | Greece U21 | 8 | 15 |
| 3 | Poland U21 | 8 | 15 |
| 4 | Turkey U21 | 8 | 13 |
| 5 | Malta U21 | 8 | 0 |
European Under-21 Championship Qualifying Group Eight
European Under-21 Championship Qualifying

| Pos | Team | P | Pts |
| --- | --- | --- | --- |
| 1 | Portugal U21 | 8 | 24 |
| 2 | Israel U21 | 8 | 15 |
| 3 | Norway U21 | 8 | 9 |
| 4 | Azerbaijan U21 | 8 | 7 |
| 5 | Macedonia U21 | 8 | 4 |
European Under-21 Championship Qualifying Group Nine
European Under-21 Championship Qualifying

| Pos | Team | P | Pts |
| --- | --- | --- | --- |
| 1 | Italy U21 | 8 | 18 |
| 2 | Serbia U21 | 8 | 16 |
| 3 | Belgium U21 | 8 | 16 |
| 4 | Cyprus U21 | 8 | 6 |
| 5 | N Ireland U21 | 8 | 3 |
European Under-21 Championship Qualifying Group Ten
European Under-21 Championship Qualifying

| Pos | Team | P | Pts |
| --- | --- | --- | --- |
| 1 | France U21 | 8 | 22 |
| 2 | Iceland U21 | 8 | 16 |
| 3 | Kazakhstan U21 | 8 | 9 |
| 4 | Armenia U21 | 8 | 9 |
| 5 | Belarus U21 | 8 | 3 |
European Under-21 Championship Qualifying Group Eleven
European Under-21 Championship Qualifying

| Pos | Team | P | Pts |
| --- | --- | --- | --- |
| 1 | Sweden U21 | 2 | 6 |
| 2 | Denmark U21 | 2 | 3 |
| 3 | Macedonia U21 | 2 | 0 |
European Under-21 Championship Qualifying Group Twelve
European Under-21 Championship Qualifying

| Pos | Team | P | Pts |
| --- | --- | --- | --- |
| 1 | Bulgaria U21 | 2 | 6 |
| 2 | Ukraine U21 | 2 | 3 |
| 3 | Croatia U21 | 2 | 0 |
European Under-21 Championship Qualifying Group Thirteen
European Under-21 Championship Qualifying

| Pos | Team | P | Pts |
| --- | --- | --- | --- |
| 1 | Israel U21 | 2 | 4 |
| 2 | Turkey U21 | 2 | 2 |
| 3 | Wales U21 | 2 | 1 |
European Under-21 Championship Qualifying Group Fourteen
European Under-21 Championship Qualifying

| Pos | Team | P | Pts |
| --- | --- | --- | --- |
| 1 | France U21 | 2 | 6 |
| 2 | Slovenia U21 | 2 | 3 |
| 3 | Scotland U21 | 2 | 0 |
Related