Peru gift Chile late win
Carrillo own goal sees Chile claim top spot
Last Updated: 13/07/11 9:04am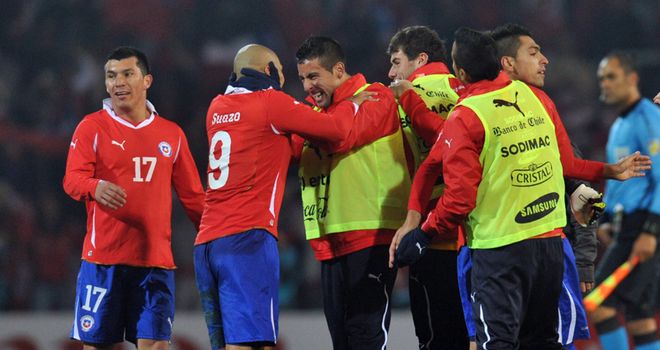 Chile celebrate their late win against Peru
Chile secured top spot in Group C with a 1-0 win over Peru thanks to Andre Carrillo's own goal in stoppage time.
The game looked to be heading for a stalemate until substitute Carrillo deflected Jorge Valdivia's corner into an open net to hand La Roja victory in the closing seconds.
Both teams were able to rest players with top-three spots in the pool - and places in the last eight - already assured. Chile made six changes to their starting line-up and Peru nine.
Claudio Borghi's side had the better of a disjointed first half but clear-cut chances were few and far between.
The game sparked into action just past the hour mark when Chile's Jean Beausejour and Peru's Giancarlo Carmona were both sent off.
Peru created their best opportunity in the 74th minute when Josepmir Ballon's cut-back found William Chiroque, but he could only sidefoot wide.
Highly-rated Chile winger Alexis Sanchez, a 58th-minute replacement for Gonzalo Fierro, looked to have set up Humberto Suazo in stoppage time but Christian Ramos got a crucial touch to his cross to avert the danger.
However, from the resulting corner, Peru goalkeeper Salomon Libman came out and got nowhere near the ball, which hit the knee of the unfortunate Carrillo in front of the open goal to settle the game in Chile's favour.